When Phillip Daniels suffered a season-ending knee injury on July 20, it set in motion several changes on the Redskins' defense.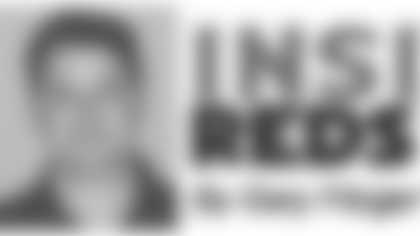 One change that has drawn little attention so far is the new role for Marcus Washington.
Washington, an outside linebacker, lined up as a pass-rushing defensive end on third downs last year. He finished the season with five sacks.
This year, Andre Carter and newcomer Jason Taylor, both pass-rushing defensive ends, will line up at defensive end on third downs.
That means Washington is expected to return to a more traditional strong-side linebacker role.
He'll focus on defending the run and also drop back in pass coverage, depending on the offensive formation.
But his pass-rushing skills should still come into play on linebacker blitzes, according to defensive coordinator Greg Blache.
That's what happened in the Redskins-New York Jets preseason game on Aug. 16.
Washington brought pressure from the outside and got a hold on quarterback Brett Favre. He was joined in the backfield by Cornelius Griffin, but it was Washington who was credited with the 10-yard sack.
Asked about his role, Washington said: "Coach Blache is going to give me the opportunity to blitz a little bit and of course put some pressure on the run and on the quarterback. I'll be expected to play coverage as well.
"As far as the plays and terminology, not much has changed."
Said Blache: "Marcus will be more of a linebacker now because you don't have the need for him to play end. Last year, we had a need. Right now, he's a luxury for us as a pass rusher. We still like to bring him from his linebacker spot and bring him on blitzes from time to time.
"I think [the addition of Taylor] allows him to focus on linebacker a little bit more and not be as divided in his learning time and his practice time. It should benefit him in the long run to be able to focus just on linebacker.
"But we'll still have occasion to bring old No. 53 [on a blitz]."
Washington, entering his ninth NFL season and fifth with the Redskins, thinks the defense has great potential in 2008.
"It helps everybody when you have two guys who can get to the quarterback like Andre and Jason can," he said. "You can play regular pass coverage and it's almost like a blitz because of how fast they get to the quarterback.
"It forces the quarterback to get rid of the ball quicker. If they don't, they're probably going to be on their back."
Washington has been slowed by a hip flexor injury in recent practices and it is uncertain if he'll play against the Carolina Panthers this Saturday.
The injury is thought to be minor, but head coach Jim Zorn said the team would "check it out."
Washington has struggled with injuries each of the last two seasons. In 2006, he was slowed by elbow and hip injuries. Last year, he missed four games due to a hamstring injury.
Blache thinks Washington could return to 2005 form, when he posted 125 tackles, 7.5 sacks and one interception for the Redskins.
Said Blache: "He has an opportunity and you can tell. He is feeling good right now."