On Friday, September 4, 2020, Washington Salute joined forces with GEICO Military to host the military kick-off event of the year featuring insight and sneak peaks from the Senior Director of the First Ladies of Football Jamilla Keene, the new Washington Football Senior Vice President of Media Julie Donaldson, Alumni & Washington Football Personality Santana Moss, and Linebacker for the Washington Football Team Cole Holcomb.
The hour and a half event featured contests and feedback from over 500 participants on the stream excited to hear the updates from Washington Football executives and personalities on what they could expect this season! As the virtual room of over 500 enjoyed the event they shared their opinions on the new team name, new name for the teams military platform, sharing where they'll be enjoying games this season, and expectations on the WFT player of the year – interviews with the Washington personalities weaved throughout the night.
The night kicked off with Jamilla Keene talking about the First Ladies of Football commitment to serving our troops overseas. A majority of the interview covered the challenges of recruiting a new team virtually and preparing for an unpredictable season. The interview concluded with a sneak peak of a new cheerleader routine filmed at FedExField earlier that day!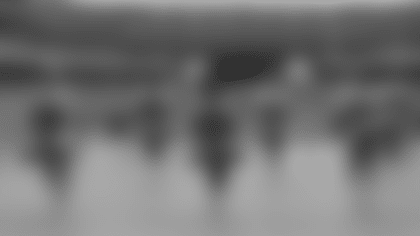 Interviews with two regular Washington Football Team personalities followed with the new Senior Vice President of Media, Julie Donaldson, and fan favorite alumni, Santana Moss. Julie talked about what fans can expect digitally this season with unprecedented behind-the-scenes views into our players lives off the field. Moss gave his predictions on the season and unapologetically praising Alex Smith's return after his 2018 leg injury. Both personalities concluded their interviews thanking the military families on the stream earlier that night.
The night wrapped as host for the night, GeNienne Samuels, had an in-depth sit down with Washington standout Linebacker Cole Holcomb. Holcomb first described his connection to the military in his father's time serving in the United States Navy. Then, adding about his experience throughout COVID and being able to train with Defensive captain Jon Allen in the offseason.
An amazing night all around, we cannot thank all of those that joined us on the stream and participated in our dialogue about the team. The new logo was revealed, and it was officially announced that Washington Salute would be posting an events calendar for the season the following week! We're proud to have kicked the season off with our most committed fan base! Here is to 2020!