Gameday Graphic for Game on 11/30/2008


The Redskins host the NFC East-leading New York Giants on Sunday, Nov. 30 at FedExField. Kickoff is 1 p.m. ET.
In a pre-game ceremony, the Redskins will honor the late Sean Taylor as he is inducted into the franchise's Ring of Fame. It will be the first game following the anniversary of Taylor's tragic death at the age of 24, which occurred on Nov. 27 of last year in Miami.
FedExField is a natural grass surface. The stadium seats 91,704.
The first 50,000 fans at FedExField on Sunday will receive a free burgundy and gold Redskins Rally Rag. Fans are encouraged to bring them back for future games.
The Redskins are 3-3 in home games this season. They have lost two consecutive consecutive home games and three of their last four at FedExField.
The Giants are in first place in the NFC East with a 10-1 record. The Redskins are 7-4, tied with the Dallas Cowboys for second place in the division.
The Redskins are 2-2 in NFC East play. In Week 1, in the NFL regular season opener on Thursday night, the Redskins lost to the Giants 16-7 at the Meadowlands.
The Redskins-Giants game will be televised on FOX. Kenny Albert does the play-by-play with color commentary by Daryl Johnston. Tony Siragusa serves as sideline reporter.
On radio, the game will be broadcast locally on ESPN 980. Larry Michael handles the play-by-play with color commentary by Hall of Famers Sonny Jurgensen and Sam Huff. Rick "Doc" Walker serves as sideline reporter.
---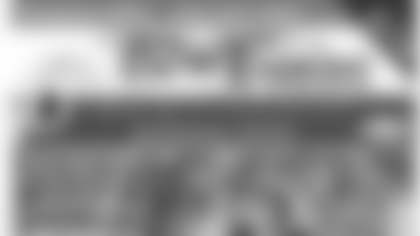 ---
PROJECTED STARTING LINEUPS
OFFENSE
Pos.
Redskins
Giants
WR
89 Santana Moss
17 Plaxico Burress
LT
60 Chris Samuels
66 David Diehl
LG
66 Pete Kendall
69 Rich Seubert
C
61 Casey Rabach
60 Shaun O'Hara
RG
77 Randy Thomas
76 Chris Snee
RT
76 Jon Jansen
67 Kareem McKenzie
TE
47 Chris Cooley
89 Kevin Boss
WR
82 Antwaan Randle El
81 Amani Toomer
QB
17 Jason Campbell
10 Eli Manning
FB
45 Mike Sellers
39 Madison Hedgecock
RB
26 Clinton Portis
27 Brandon Jacobs
DEFENSE
Pos.
Redskins
Giants
DE
99 Andre Carter
91 Justin Tuck
DT
96 Cornelius Griffin
96 Barry Cofield
DT
64 Kedric Golston
98 Fred Robbins
DE
55 Jason Taylor
98 Mathias Kiwanuka
SLB
54 H.B. Blades
55 Danny Clark
MLB
59 London Fletcher
58 Antonio Pierce
WLB
52 Rocky McIntosh
59 Gerris Wilkinson
LCB
27 Fred Smoot
31 Aaron Ross
RCB
22 Carlos Rogers
23 Corey Webster
SS
48 Chris Horton
37 James Butler
FS
30 LaRon Landry
20 Michael Johnson
SPECIAL TEAMS
Pos.
Redskins
Giants
P
1 Ryan Plackemeier
18 Jeff Feagles
K
6 Shaun Suisham
5 John Carney
H
1 Ryan Plackemeier
18 Jeff Feagles
LS
67 Ethan Albright
51 Zak DeOssie
KOR
31 Rock Cartwright
87 Dominik Hixon
PR
82 Antwaan Randle El
25 R.W. McQuarters
---
The Redskins and New York Giants have played each other every year since 1932, with the Giants leading the series 86-61-4. The two teams have played each other more than any other team in each club's history.
In Washington, the Giants have a 39-37-2 edge in the series.
In Week 1 this season, the Redskins lost to the Giants 16-7 in the NFL regular season opener at Giants Stadium.
Washington fell behind early as the Giants rode a wave of emotion from a pre-game Super Bowl XLII celebration. The Redskins could not catch up, as Jim Zorn's offense was too often stuck in neutral.
Eli Manning finished with 19-of-35 pass completions for 216 yards and one interception (by Fred Smoot). His top target was Plaxico Burress, who grabbed 10 passes for 133 yards.
Clinton Portis led the Redskins with 84 yards on 23 carries. Jason Campbell tossed a 12-yard TD pass to Santana Moss for the Redskins' only points.
The Redskins and Giants have split the season series four times in the last five years.
The Redskins' first-ever game in Washington, D.C., was against the Giants. On Sept. 16, 1937, the Redskins defeated the Giants 13-3 in front of 19,941 fans at D.C. Stadium.
The Redskins and Giants have played just once in the postseason, in 1986 when New York defeated Joe Gibbs's Redskins 17-0 in the NFC Championship game at Giants Stadium. The Giants went on to win the Super Bowl that year.
Coincidentally, when the Giants win the Super Bowl it has meant good fortune for the Redskins.
In the seasons following the Giants' two previous Super Bowl championships, the Redskins swept the season series and went on to win the Super Bowl themselves while compiling a 31-6 overall record.
---
REDSKINS 2008 RANKINGS
Offense
Rank
Yards/Game
Total Offense
14
340.8
Rushing Offense
3
143.7
Passing Offense
21
197.1
Defense
Rank
Yards/Game
Total Defense
3
272.0
Rushing Defense
7
89.3
Passing Defense
5
182.7
 </tbody>

GIANTS 2008 RANKINGS
Offense
Rank
Yards/Game
Total Offense
5
367.8
Rushing Offense
1
164.9
Passing Offense
19
202.9
Defense
Rank
Yards/Game
Total Defense
5
275.4
Rushing Defense
6
84.8
Passing Defense
8
190.5
---
FAMILIAR FACES ON THE GIANTS
Defensive coordinator Steve Spagnuolo was a Redskins personnel intern in 1983. He interviewed for the Redskins head coaching job last January.
Offensive line coach Pat Flahertywas a Redskins tight ends coach in 2000.
Tight ends coach Michael Pope was a Redskins tight ends coach from 1997-99.
Linebacker Antonio Pierce played for the Redskins from 2001-04. He was a backup his first three years, and then emerged as a starter at middle linebacker in 2004. He left the Redskins in 2005 as a free agent.
Defensive end Renaldo Wynn played for the Redskins from 2002-06. A five-year starter at defensive end, Wynn was one of the most popular Redskins among teammates and fans and was very active in the Washington, D.C., community.
---
REDSKINS-GIANTS NEWS & NOTES
-- Zorn's First Season As Head Coach
Jim Zorn is 7-4 in his first 11 games as Redskins head coach. He is aiming to lead the Redskins to their third winning season in the last four years.
Zorn is looking to become the seventh Redskins head coach to record a winning record in his first year at the helm.
The list of first-year head coaches with winning records includes Ray Flaherty (7-5 in 1936), Dutch Bergman (6-3-1 in 1943), Dudley DeGroot (6-3-1 in 1944), Dick Todd (5-4 in 1951), Vince Lombardi (7-5-2 in 1969) and George Allen (9-4-1 in 1971).
Seven first-year head coaches finished their rookie campaign with a .500 mark, while 12 finished with a losing record.
Through 11 games, Clinton Portis leads the NFL in rushing yards with 1,206 yards this season. His seven touchdowns are tied for ninth most in the league.
The Redskins' run game gets stronger as games move along.
The offense's 437 rushing yards in the fourth quarter are the fourth-most in the league this season. Their 28 fourth quarter first downs are tied for third most in the league.
Portis has been a major factor in closing games for the Redskins this season. His 21 fourth quarter rushing first downs leads the league are are six more than any other player.
Portis won NFC Offensive Player of the Month honors in October.
Eli Manning went on a hot streak late in the 2007 season and guided the Giants to a Super Bowl XLII championship. He was named MVP of the Super Bowl for his efforts.
Against the Redskins, Manning has been up and down in his career.
Overall, Manning has played in eight games against the Redskins, completing 140-of-280 passes for 1,2492 yards, six touchdowns and five interceptions.
Manning's best game against the Redskins was on Oct. 8, 2006, in a 19-3 win. He completed 23-of-33 passes for 256 yards and one touchdown.
Plaxico Burress is Manning's favorite target. Burress has caught 34 passes for 431 yards and two touchdowns in seven games against the Redskins.
Amani Toomer is another Giants player who has had success against the Redskins. In his career, Toomer has caught 78 passes for 1,098 yards and six touchdowns in 22 games.
-- Beasts Of the NFC East
The four teams of the NFC East have combined for a 29-14-1 record.
Their cumulative record is the best among the NFL's eight divisions and includes a 22-7-1 mark outside the division.
The NFC East is one of three divisions, along with the AFC East and NFC South, to have all four of its teams with a .500 record or better.
Redskins defensive tackle Cornelius Griffin played for the Giants from 2000-03. He was a second-round draft pick by the Giants in 2000.
Even though he maintains a low profile on the team, Griffin remains a central figure in the Redskins' defense.
When healthy, he has proven to be a dominating force in the middle of the defensive line.
Redskins wide receiver Santana Moss is the older brother of Giants third-year wide receiver Sinorice Moss.
This season, Santana has 53 catches for 773 yards and five touchdowns. Sinorice has caught eight passes for 90 yards in limited action.
Santana had 61 catches for 808 yards and three touchdowns in 2007, while Sinorice had 21 catches for 225 yards.
The Redskins have elected six players as captains for the 2008 season. They wear a black "C" on their jersey during games.
On offense, Jason Campbell amd Chris Samuels are the captains.
On defense, Cornelius Griffin and London Fletcher are the captains.
On special teams, Rock Cartwright and Khary Campbell are the captains.
The Redskins travel up I-95 to Baltimore to take on the Ravens at M&T Bank Stadium on Dec. 7. Kickoff is 8:15 p.m. ET and the game is broadcast on NBC.
The game has been flexed to the prime time by the NFL. It was originally scheduled as a 1 p.m. ET kickoff.