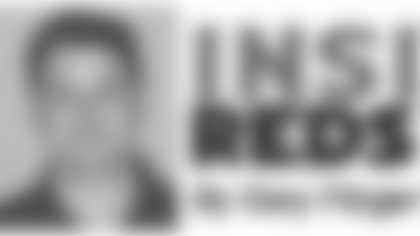 Emails flow in to Redskins.com daily, many with one simple question.
What does Mike Williams weigh now?
Tracked down at Redskins Park on Tuesday, Williams laughed when he heard that his weight was such a curiosity for fans.
"I weigh 385," Williams said. "So it's going well. I'm about 10 pounds away from my weight when I came out of college."
Williams was in excess of 400 pounds when he signed with the Redskins on April 24.
Since then, he has steadily lost weight as he works his way back into football shape.
When the Redskins resume OTAs on June 1, Williams hopes to increase his workload in drills. He could take part in some 7-on-7 and 11-on-11 action if team officials think he's ready.
"That's our goal," Williams said of the June 1 timeline. "I went through drills at the last mini-camp [in early May], so drills are definitely not a problem."
Williams's weight loss--and his potential as a starting-caliber offensive tackle--has emerged as an intriguing off-season storyline for the Redskins.
Williams, 29, was staying with friend and former college teammate Derrick Dockery in Northern Virginia when he was invited to work out for the Redskins last April.
Despite his heavy frame, Williams showed good mobility during the Redskins workout, enough to warrant a free agent contract.
Team officials told Williams to focus on his conditioning--along with losing weight from his 6-6 frame--in his first month with the Redskins, all in an effort to get him ready for June OTAs.
"He's a big man and he has a lot of lean mass," Jim Zorn said. "He is not fat--he is just a big human being. He can change directions pretty well for a guy his size.
"My charge to him is being able to do that 70 times per game, for 16 games, plus some playoff games as well."
For now, the goal is for Williams to continue to improve his conditioning while working his way to playing time.
"Whether it's conditioning after practice or conditioning at night, I have to ask myself every day, 'Did you get better today?' Williams said. "And if I can't answer that, then I didn't.
"I have been in this game for a while, so I know how to take mental reps on the sidelines and transfer it to the field, from footwork to my hand placement. I've got to do extra because I am behind. I know that."
During mini-camp and the first week of OTAs earlier this month, Williams spent a portion of practice jogging the length of the football field 10 times.
He also met with a nutritionist so that he could monitor his eating habits and help him lose weight.
Williams said he basically eats a salad, with chicken or turkey for protein, and some low-fat dressing for almost every meal.
"You just have to monitor how frequent you eat," he said. "I'm learning some tricks of the trade in [terms of] losing weight and maintaining muscle mass. That's what we're trying to do--lose the weight but maintain the muscle mass and trim up."
Williams's story is one that would make him a prime candidate for Comeback Player of the Year.
An elite left tackle prospect from the University of Texas, Williams originally entered the NFL with the Buffalo Bills as the fourth overall pick in the 2002 NFL Draft.
He started 47-of-51 games at guard and tackle for the Bills from 2002-05. He struggled with injuries--particularly an ankle sprain in his last year in Buffalo--and was thought to be inconsistent at times.
Williams was eventually released by the Bills. In 2006, he spent training camp with the Jacksonville Jaguars, but he was sidelined by a back injury and released again.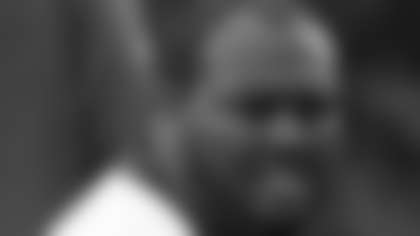 Mike Williams during May 1-3
mini-camp. (Ned Dishman Photo)


As time passed and Williams's weight ballooned, he kept hoping that he would get another chance at the NFL.
It took three years, but finally the Redskins called. Williams had to ask himself if he was physically ready for the daily grind of the NFL.
"I was hesitant," he said. "I would say, 'Am I ready? Am I ready?' But you have to just take a leap of faith, get out there and say, 'If I have confidence in my body and I have confidence in what God has given me, then I can go out there and it's not going to matter how much I weigh. They're going to see the potential that I still have.'"
The potential may still be there, but the level of expectation is far different than his first NFL stint with Buffalo.
"I'm not motivated by trying to erase what has happened," he said. "A person is formed by the troubles or the frustrations or the transgressions that they go through in the past. Trying to erase that is not my goal.
"This is a clean slate. This has nothing to do with me being the fourth pick in Buffalo. This has nothing to do with me being in Jacksonville. Everything may not have gone my way [in Buffalo and Jacksonville], but now I'm back into football. All I can do is learn from what's happened in the past.
"I know I'm built for this game, no matter what. I can go out and do something else, but I'm made to hit people. So that's what I'm going to do. I'm going to hit them hard and hit them often."