At a middle school in southeast Washington D.C., a gymnasium full of middle schoolers squealing with excitement marked an important day for its physical education program.
Inspirational quotes from Serena Williams, Stephen Curry and Muhammad Ali could be found along the green and yellow brick walls of the Charles Hart Middle School Gymnasium, which was the location for the 2018 Redskins FITT Kickoff event.
However the event was more than just a launch to the 3rd year of Redskins FITT as the Redskins Charitable Foundation also continued its partnership with Good Sports to announce that each of the 55 middle schools participating in the FITT Program this year would receive a donation of sports equipment, to be used to continue improving healthy physical activity habits in school.
Kayley Gallagher, corporate partnerships manager at Good Sports, said since partnering with the Redskins three years ago, the duo has been able to provide over $300,000 worth of equipment to over 90,000 students in the Metro D.C. and Richmond area.
This is the first year that Good Sports partnered with the FITT program specifically, but Gallagher said she can already see the results.
"So for this event in particular I think just the excitement, it is really loud in here, the kids are really into it," she said.
Gallagher added that students are much more willing to participate in the fitness activities when the Redskins logos, or better yet players, are present.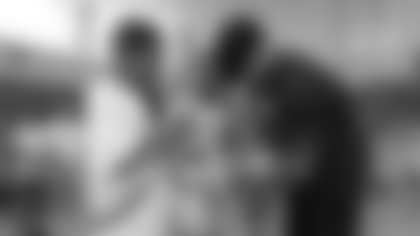 Lucky for the students at Charles Hart that day, Redskins tight end JP Holtz and cornerback Danny Johnson were there to help get them involved in the FITT activities.
Holtz said it was an easy decision for him to help out with the event.
"Oh it's awesome, it's one of the best feelings to see how happy these kids are," Holtz said. "When I was younger I looked up to a lot of guys and was excited to meet them, I know how happy these kids are."
The middle schoolers were separated into groups and were assigned to different fitness competitions, but the nature of the event swung more lighthearted than competitive.
Students raced through cones in the agility drill, hiked the football to each other in a gauntlet relay (they also had to balance the ball on a cone like it was being set up for a kickoff), or rolled dice that gave them a certain amount of jumping jacks or lunges to complete.
Holtz and Johnson moved around the event, helping set up knocked over cones or encouraging students to side-shuffle back to the line faster.
Equipment used in the events on Tuesday was donated to the school so that they could continue the activities in the future. Charles Hart Middle School also received new soccer balls, footballs, basketballs and volleyballs, as well as stacks or other miscellaneous gear. Overall, more than $28,000 worth of equipment will be donated to FITT schools through the partnership.