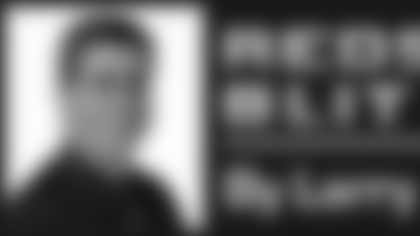 There are two things every reporter enjoys--steak and good quotes. We also like sautéed mushrooms, but two out of three ain't bad.
That became almost a theme of the Redskins' Welcome Home Luncheon on Thursday at the Tyson's Corner Ritz-Carlton. Not the part about the sautéed mushrooms. The two out of three thing.
About 800 fans packed themselves into a ballroom to see the club honor its three Players of the Year for 2008--two out of three return in 2009--and hear coach Jim Zorn articulate his vision for the season ahead.
This was a first for your humble typist. After living in the D.C. area since 1983, he managed to drag his meaty bones to this luncheon and take part in the annual rites. Years ago, the luncheon truly did welcome the players home, home from training camp in Carlisle, Pa., or Frostburg, Md. Now the team trains at its facility in Ashburn in the beating heart of Loudoun County and many of the players get to sleep in their own beds during camp as part of Zorn's program letting four-year vets choose to bunk at the hotel or home.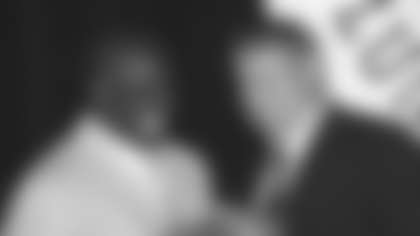 London Fletcher receives his Player of the Year
award from Neal Olkewicz. (Ned Dishman Photo)


The Redskins haven't won a Super Bowl since the 1991 season nor have they truly been in competition for a berth in it. They missed the playoffs last year, made it the year before, haven't won their division since 1999.
After the awards were handed out and proper praise given to Clinton Portis (offense), London Fletcher (defense) and the retired James Thrash (special teams) for their efforts last season, Zorn spoke of his goals for the campaign ahead. Rest assured he is not aiming for low-hanging fruit.
Fletcher had earlier spoken of winning the Defensive Player of the Year for the second consecutive time and that he originally aimed to take it again. Then he saw free-agent defensive tackle Albert Haynesworth, he of the $100 million contract, pitching guards and centers around the way jugglers handle bowling pins, and Fletcher concluded "two out of three ain't bad."
One out of three might not be bad for Zorn but he's shooting for three out of three in the goal department. Wish him luck.
"We have to win the NFC East. To win the NFC East, no game is bigger than the first one, against the (New York) Giants," he said. "We've got to beat them twice. We've got to beat the Dallas Cowboys twice and the Philadelphia Eagles twice.
"Our second goal is to win the NFC championship. And if we win the NFC, we're there to win the Super Bowl. That's our third goal."
This didn't sound like simple "pump up the crowd" rhetoric tailored to the die-hards. If Zorn doesn't inspire his team to greatness, how will he and they achieve it? And what goals should he set anyway? Should he try for 10-6 and a wild-card playoff berth? Settle for 9-7 after going 8-8? No, he established what every team should lock its sights on while still 0-0 and unscathed by injury.
The Redskins of today should be inspired by the Redskins of yesterday. Doc Walker served as master of ceremonies and he talked about how cities that have seen greatness continue to crave it. He proudly wears a Super Bowl ring. Charley Taylor, Mike Nelms, Mark Moseley, George Starke, Neal Olkewicz, Brig Owens and plenty of other Redskins greats with fabulous jewelry attended this function and served as reminders of titles won and other Super Bowls played and lost.
The luncheon--and the steak was terrific, thank you Ritz-Carlton--ended early in the afternoon and the current players scattered. They'll be on the field on Friday night for the third preseason game, presumably helping to further Zorn's call for "commitment to excellence," which, oddly, used to be the Oakland Raiders' rallying cry. How have they been doing lately? Not remotely in the neighborhood that Zorn wants his team to occupy.
A division title. A conference championship. A Super Bowl victory. Three out of three would be extraordinary. Two out of three would defy the Las Vegas oddsmakers. One out of three flies in the face of most predictions for the Redskins, generally projected no better than third and often as low as fourth in the treacherous NFC East.
Aim high. Meat Loaf sang a song way back when in which he crooned, "two out of three ain't bad." The Ritz served steak. So which will it be for the Redskins – meat loaf, steak or another year of famine?
---
Larry Weisman covered professional football for USA TODAY for 25 years and now joins the Redskins Broadcast Network and Redskins.com to bring his unique viewpoint and experience to Redskins fans. Go to Redskins.com for the Redskins Blitz column and NFL Blitz on Friday. Larry also appears on Redskins Nation, airing nightly on Comcast SportsNet, and on ESPN 980 AM radio, both in the Washington, D.C. area.