Washington Commanders Charitable Foundation | Washington Commanders - Commanders.com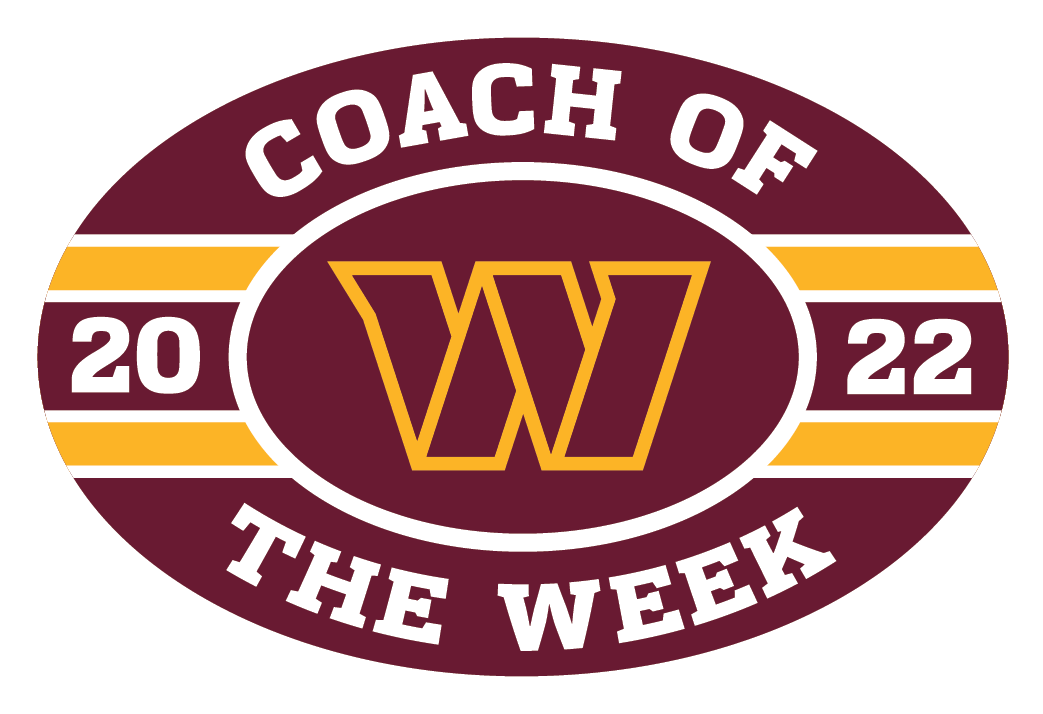 2021 Washington Commanders Coach of the Week Winners
The High School Coach of the Week Program is an NFL initiative that aims to highlight local high school football coaches who consistently demonstrate a dedication to their programs, their players' health and safety, and making a difference in their community. The winning coaches throughout the season will receive a $1,000 donation for their football program from the Washington Commanders Charitable Foundation, and Coach and their family are invited to attend the Washington Commanders' upcoming home game at FedExField. In addition, the recognized Coach of the Week will be eligible to be named the Washington Commanders Coach of the Year towards the end of the season.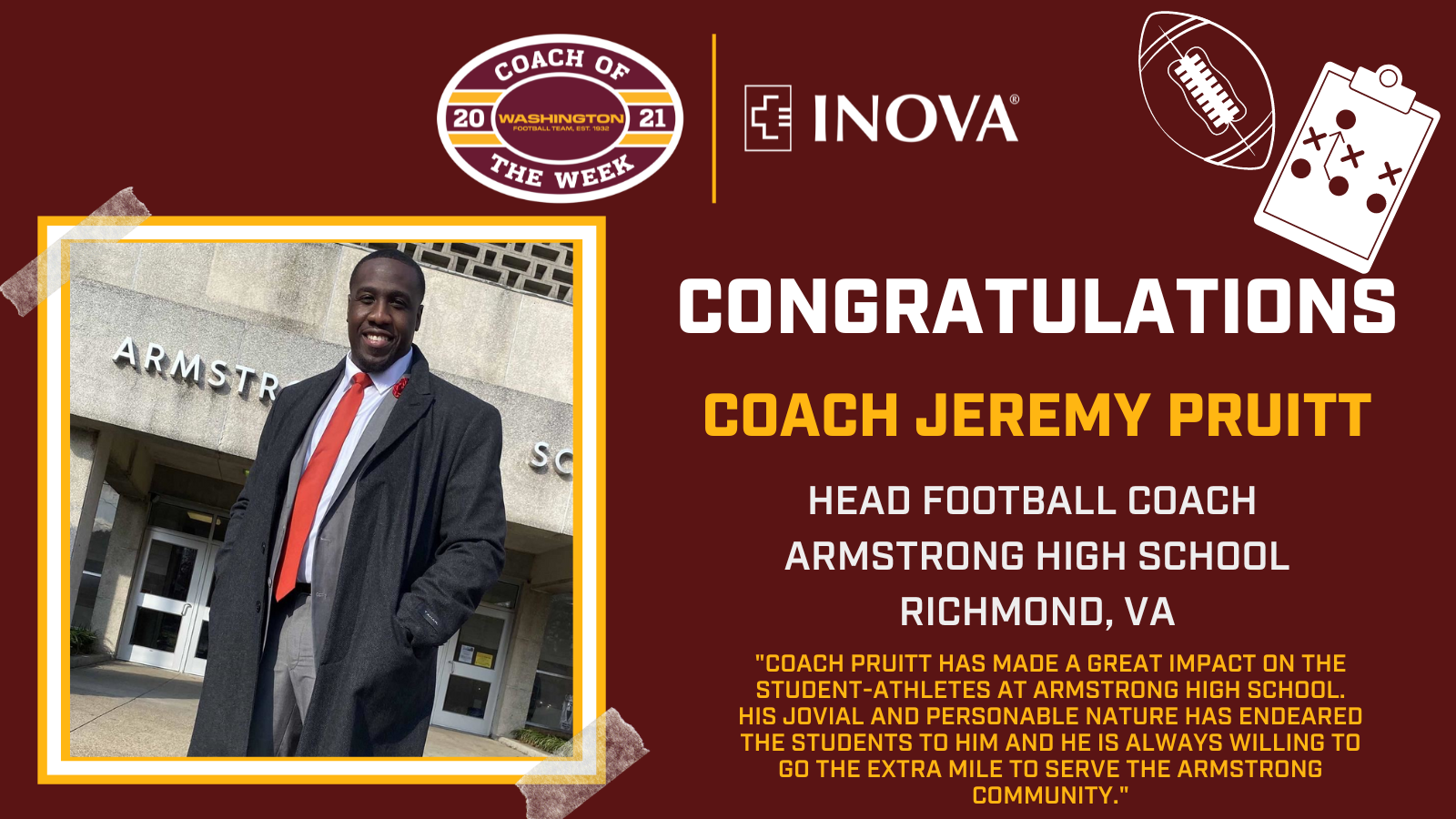 Coach Jeremy Pruitt - Arcadia High School
Coach Jeremy Pruitt has been coaching at Armstrong High School for 5 years now. Coach Pruitt has made a great impact on the student-athletes at Armstrong High School, serving as assistant football coach, assistant girls basketball coach, Head JV boys basketball coach, and currently Head Football Coach.  His jovial and personable nature has endeared the students to him.  After being named head coach and enduring not being able to have his team participate last year due to COVID, Coach Pruitt made it his mission to connect with his student-athletes virtually and motivate them to stay engaged academically.  He was a positive influence in Richmond Public School's RPS On The Rise program this past year and his passion has carried into this year.
Coach Rashad Cook, Western Branch High School, Chesapeake VA
Coach Rashad Cook has been coaching at Western Branch High School for 2 years now. Coach Cook is constantly talking to the kids about LIFE. Football comes and goes, but the lessons football teaches you about LIFE will carry you. He stresses going 1-0 on everything we do: the classroom, the community, each rep, practice, etc. Turning a program around is difficult, changing a culture is harder! He has done both in the span of 2 seasons while fighting pandemic restrictions Coach Cook, since taking over the program, has stressed the importance of our footprint on the community. We have since volunteered at food drives, churches, community cleanup projects and food pantry distributions.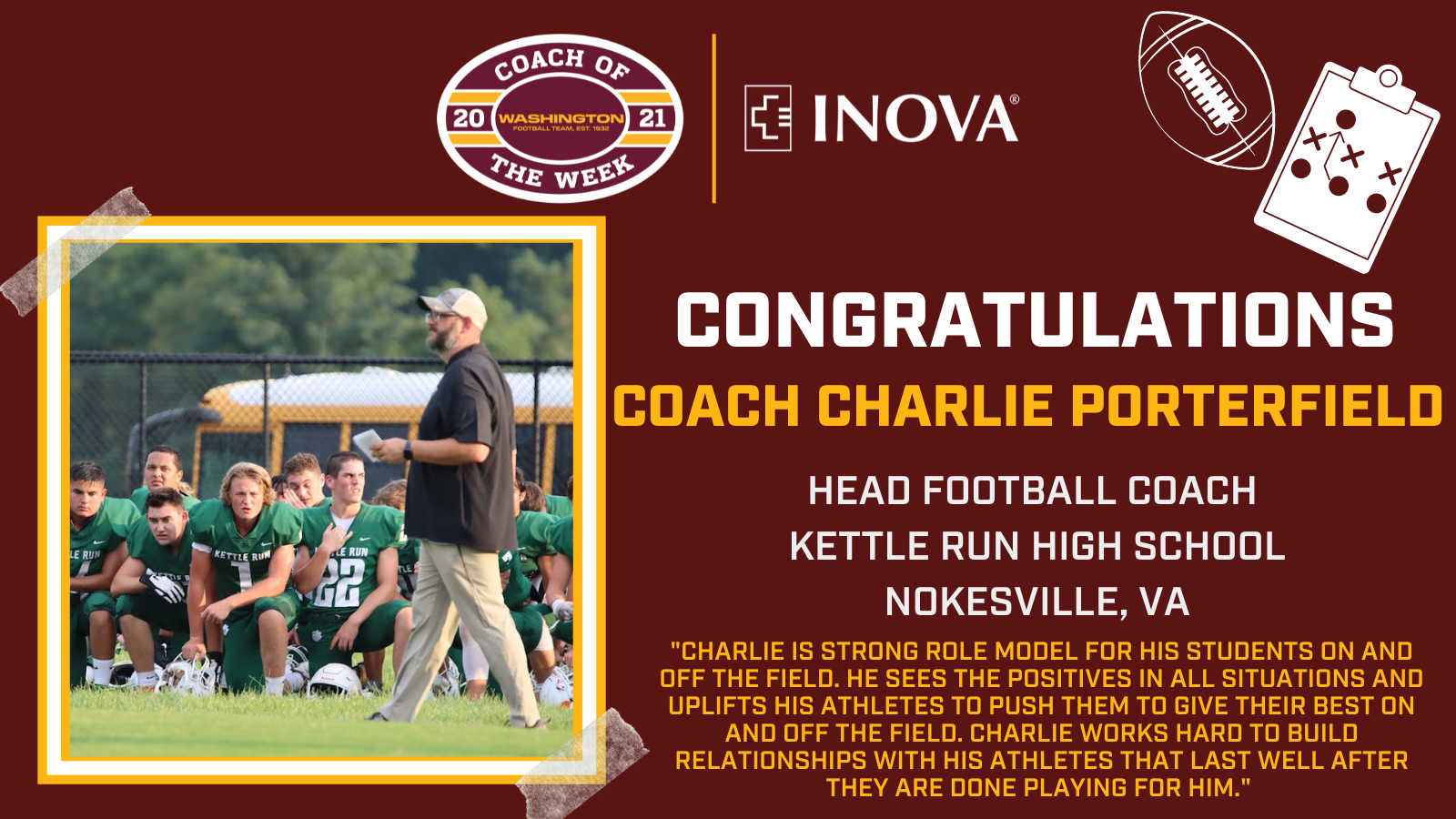 Coach Charlie Porterfield - Kettle Run High School
Coach Charlie Porterfield has been coaching at Kettle Run High School for 6 years now. Coach Charlie is a role model for his players on and off the field. He puts time with each of his players and makes it a priority to build strong relationships with them as he hopes to be someone that they can come to with any problem they may have. Coach Charlie has made the mental health of his players and has been involved in non-profit work with Morgan's Message.
Coach Alex Fruth - Goochland High School
Alex Fruth has been coaching at Goochland High School for 4 years now. Alex pours everything he has into our young people on a year-round basis.  He dumps every penny that he gets from coaching back into the program.  His success on the field speaks for itself, but it's his understanding of the big picture that makes him a great selection. The values that Coach Fruth instills in them will undoubtedly make them better husbands, fathers, employees, and citizens down the road.  And those roles are a lot more important than anything they will ever do on a football field.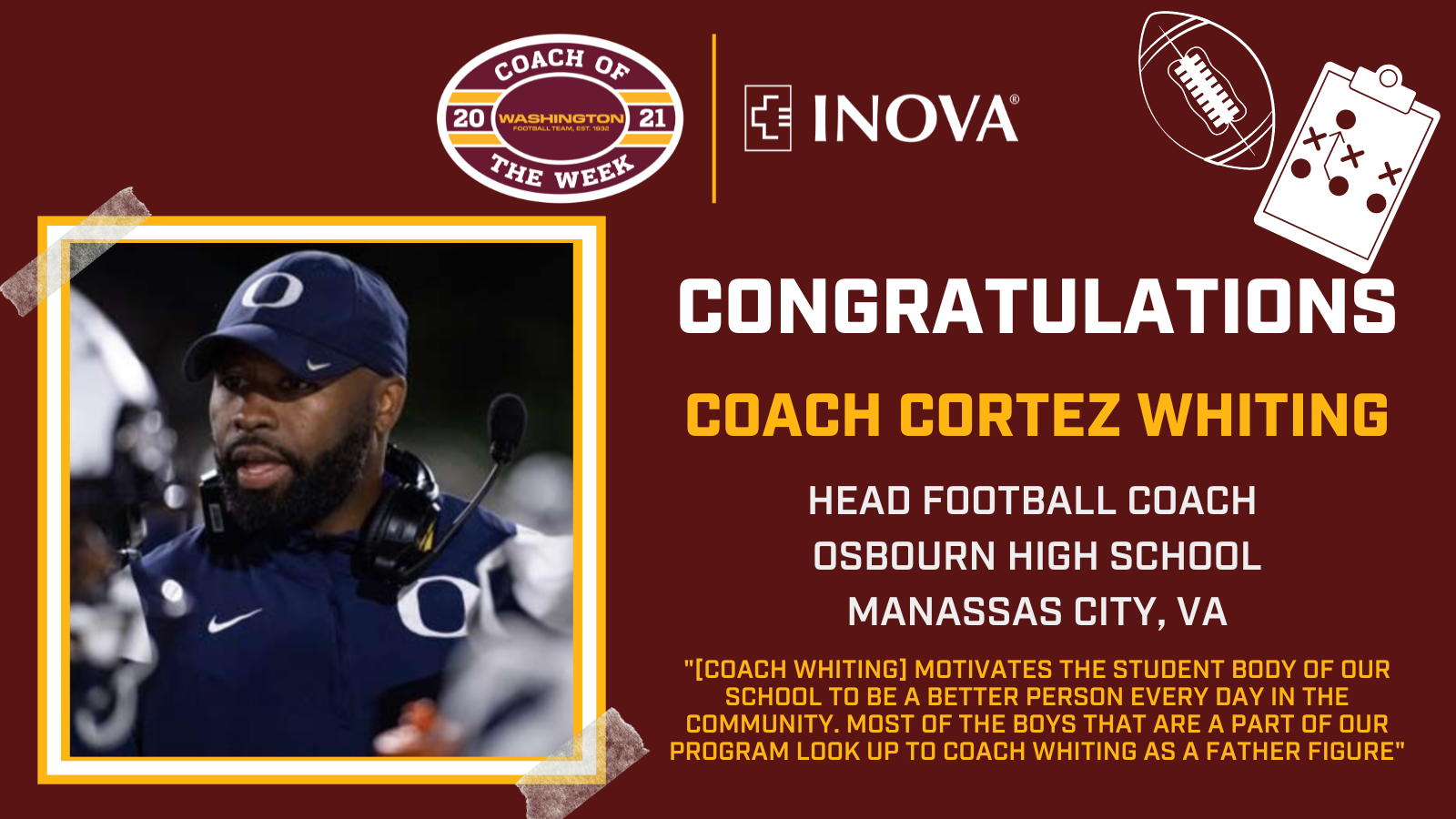 Coach Cortez Whiting - Osbourn High School
Coach Cortez Whiting has been coaching at Osbourn High School for 5 years now. Coach Cortez motivates his players every day to be the best versions of themselves. Coach Cortez is a positive role model for the team, the school, and the community and he emphasizes doing everything on and off the field "the right way".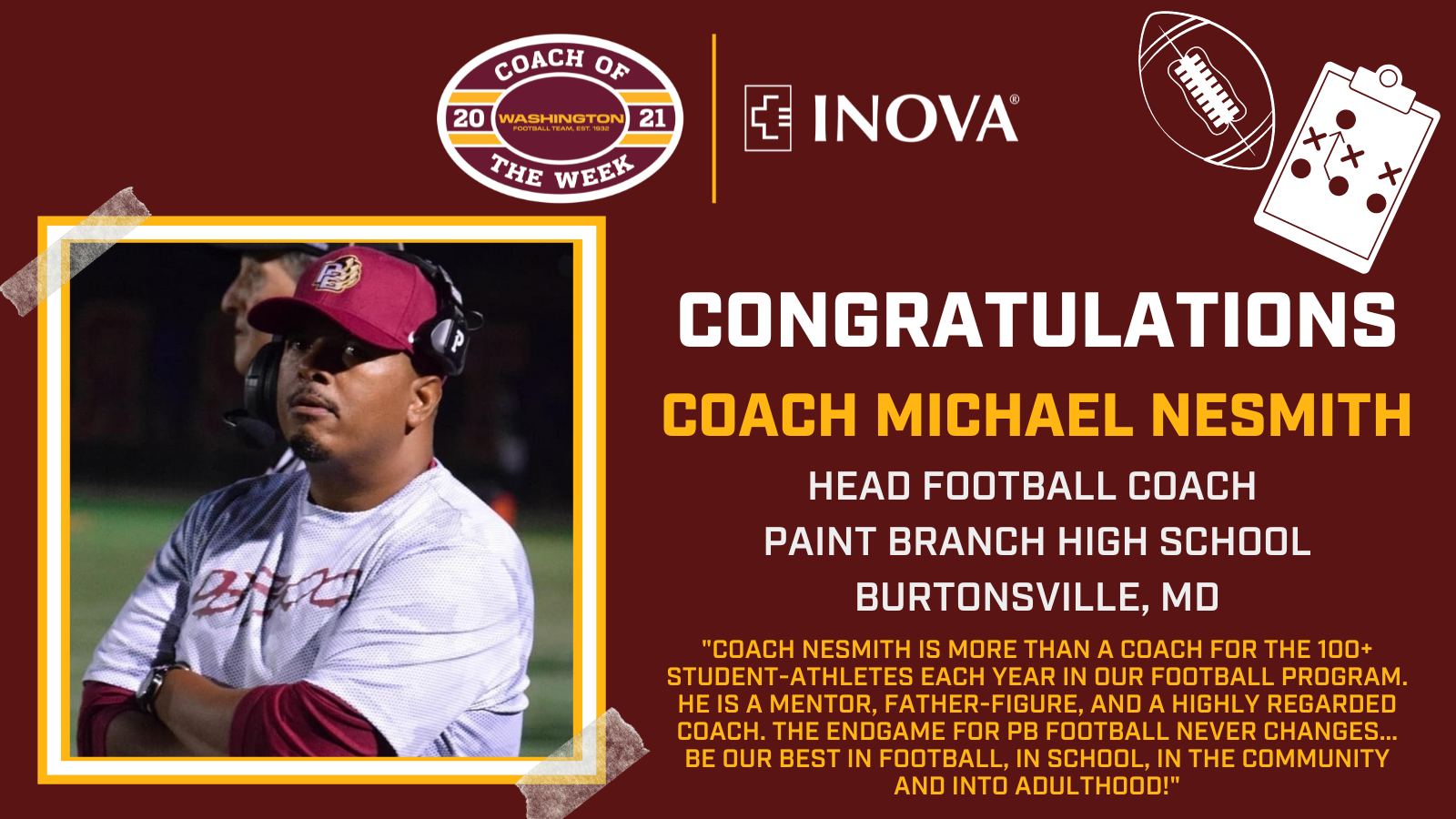 Coach Michael Nesmith - Paint Branch High School
Coach Michael Nesmith has been coaching at Point Branch High School for 15 years now. Coach Nesmith emphasizes the PB Way for all his players meaning to be your best in football, in school, in the community, and in adulthood. Coach Nesmith engages his players in community outreach projects including volunteering at foodbanks and packing up backpacks for the homeless. He ensures that his players are taking care of themselves off the field including education on mental health and equity and social justice topics. He refers to his players and coaches both past and present as "family".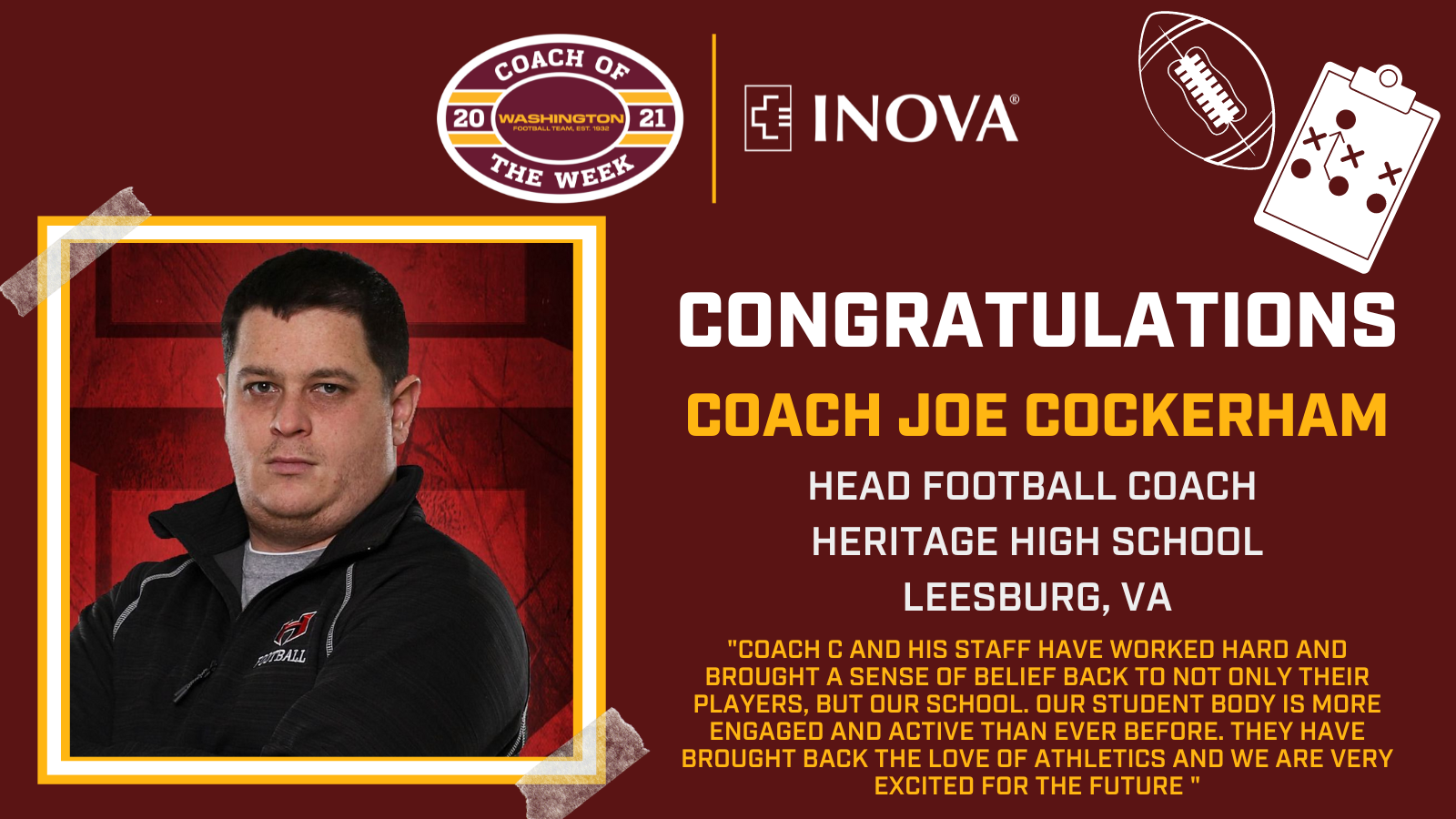 Coach Joe Cockerham - Heritage High School
Coach Cockerham has been coaching at Heritage High School for 3 years now. Coach Cockerham and his staff have worked hard and brought a sense of belief back to not only their players, but our school. Our student body is more engaged and active than ever before, and our players feel like they have a chance to beat anyone any day. That is something that has been missing over the past few years and we are so happy to be able to do it with hometown players that belong to our school, in an age where some may move to be a part of a stronger program. They have brought back the fight and the love of athletics, and we are very excited for the future.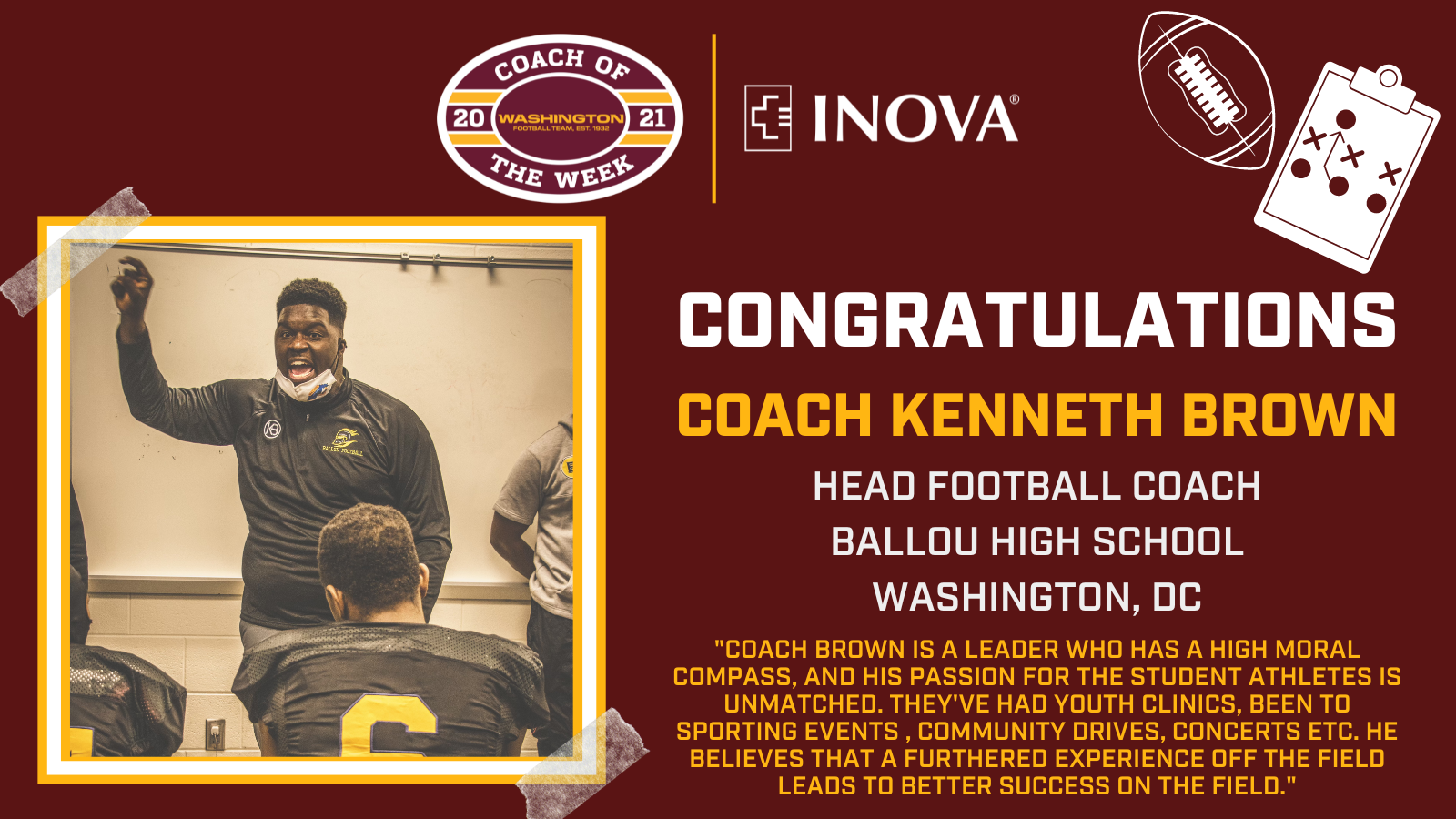 Coach Kenneth Brown - Ballou High School
Coach Kenneth Brown has been coaching at Ballou High School for 3 years. Coach Brown has made classroom engagement a priority for his players especially through the pandemic. He has set up study hall hours for his players and as the College and Career Coordinator for the school, Coach Brown has helped many of his players attend college and get scholarships. He has inspired his team by bringing in professional athletes and influencers to talk with them and by providing collegiate level media production. Coach Brown engages his team with the community through food distribution, uniform drives, and toy drives.
Coach Dustin Jeter - Springbrook High School
Coach Dustin Jeter has been coaching at Springbrook High School for 4 years now. Coach Jeter does a fantastic job providing structure, organization, routine, and value to his team as a whole and to individual student-athletes.  He leads the group by positive example and demonstrates incredible work ethic while taking time to develop relationships with each player.  He goes above and beyond to help players find opportunities to continue their playing careers in college if they choose, and he emphasizes the academic responsibilities so that students are set up for long term success.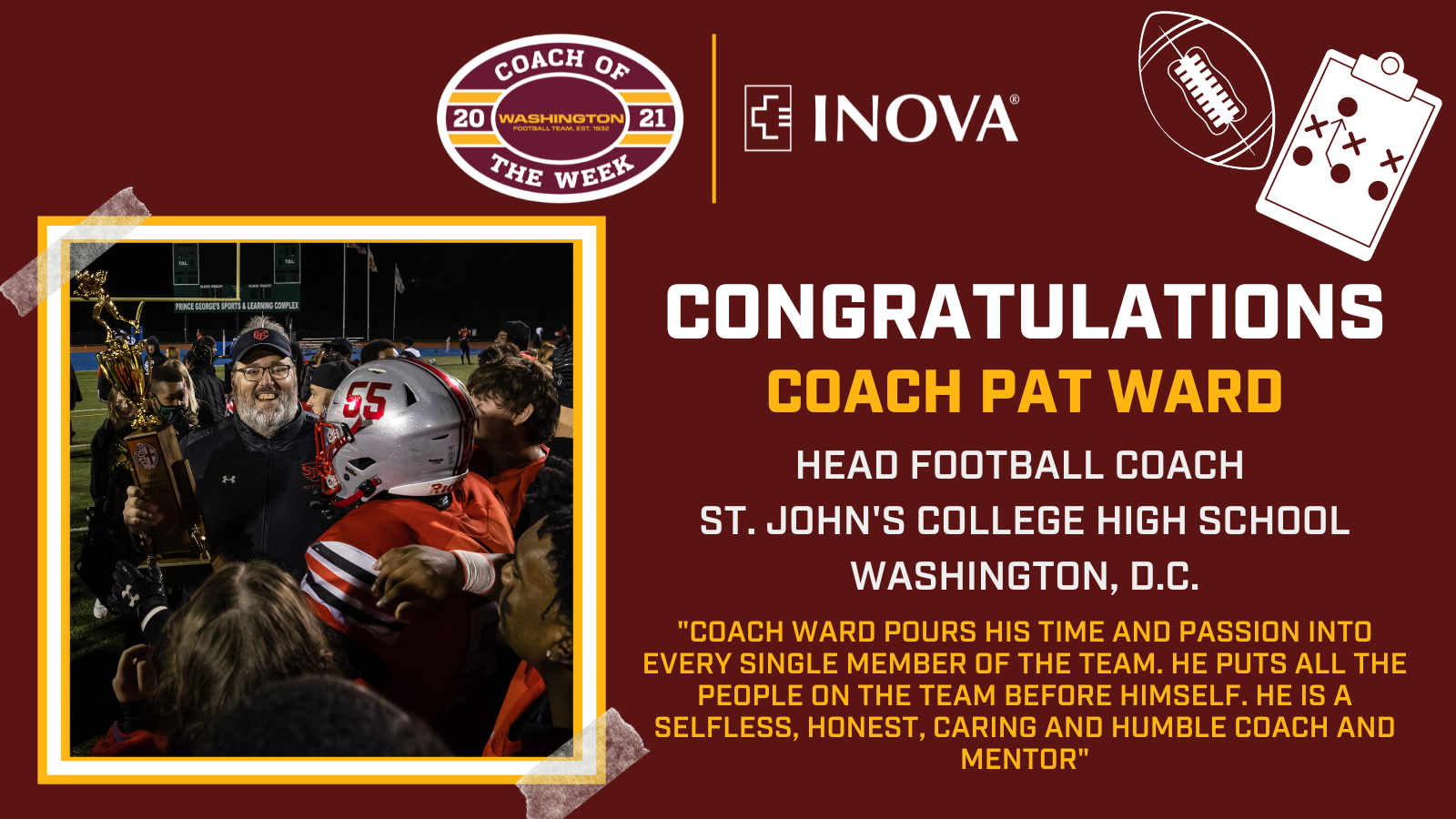 Coach Pat Ward - St. Johns College High School
Coach Ward is a St. Johns alumni himself and he has been coaching at the school since 1999 and has been head coach for the past 2 years. Coach Ward pours his time and his passion into every single member of the St. Johns College High School team. He puts all the players on the team before himself and he is described as selfless, honest, caring, and humble.