Junior Force Summer Dance Camp
Join us this July for a unique opportunity to train like an NFL dancer at the Washington Commanders Junior Force Summer Dance Camp! Dancers will learn a variety of routines, including freestyle, across the floor, NFL sideline routines, and hip-hop dances tailored to their age and skill level. Summer Dance Camp spans two days and is divided into three age groups, ensuring personalized attention from our talented instructors.
Dancers can choose to attend either a single Saturday session or join us for both days. By participating in both days of the camp, dancers will have the exciting chance to meet Major Tuddy, take photos, and perform at Commanders Training Camp on July 29th at OrthoVirginia Training Center at Commanders Park, VA, alongside the Command Force. This event is free and open to the public, providing an exciting opportunity for dancers to showcase their newfound skills to Commanders Fans.
*Registration for this event is now closed
Junior Force Dance Program
The Junior Force Dance Program provides an enriching experience focused on self-esteem, teamwork, commitment, and fun for young Commanders fans ages 5-17. This program runs August-January and offers a rare and special opportunity to perform choreography in front of large crowds at various events in the DMV, including select Washington Commanders home games.
Junior Force members will not only learn performance fundamentals during monthly clinics led by members of the Command Force at our studio in FedExField or at OrthoVirginia Training Center at Commanders Park, but will also have the opportunity to participate in community outreach initiatives throughout the DMV. The Junior Command Force Dance Program is designed for children of all ability levels, including those with years of dance experience as well as those who are just beginning their dance journey.
Registration is currently closed. Please sign up for our waitlists and be the first to know if a spot opens for the 2023 season!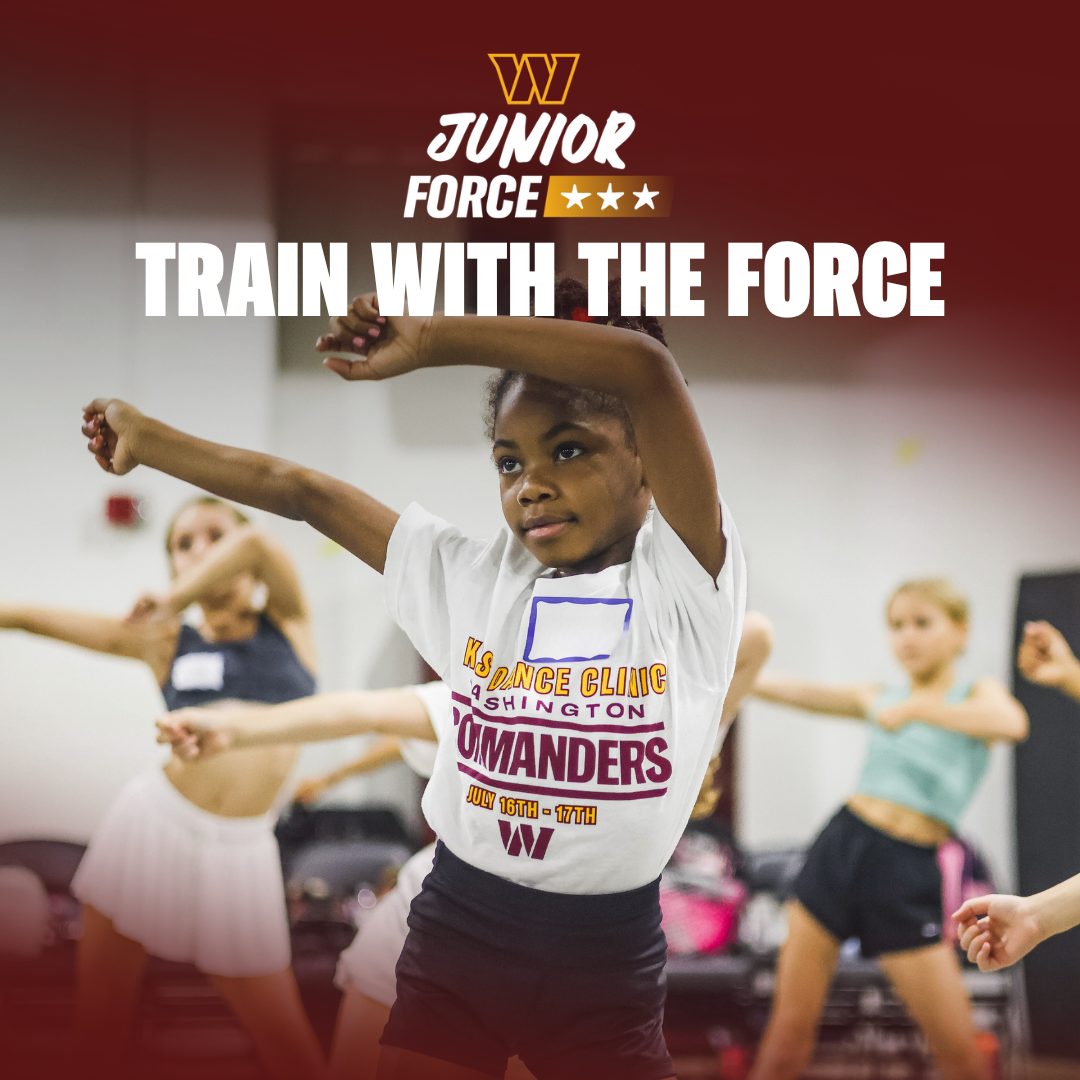 Train With The Force
Members of the Command Force will venture out to your school or studio and bring you a one of a kind experience. These customized clinics will be catered to individual team or studio needs. During these sessions we will of course focus on tricks, technique, hip-hop/street jazz choreography and showmanship but also confidence and team building. These unique clinics will also provide dancers a rare opportunity to have pros answer questions on professional dance journeys and life in the NFL.
This opportunity is open to elementary, middle school, high school, and college dance teams as well as dance studios. If you are interested —please click below to fill out the request form and we will contact you with more information and pricing.