Take a look at 10-year-old Chazen Scherr's room, and it's pretty obvious that he's a diehard Redskins fan.
Painted walls with the team name, blown up photos, hats, bedspreads, memorabilia, the list continues. You would think he had grown up in the DMV. Instead, he resides with his mom, dad, two brothers and sister in Billings, Mont.
His smile, and enthusiasm for the Redskins, helps hide the fight he's had since being diagnosed with Type 1 Diabetes in 2009 at just four years old. He wears a Continual Glucose Monitor to check his blood sugar levels 10-12 times a day. He also wears an insulin pump which administers the insulin in his blood.
He's also a straight-A student and participates in after-school activities including everything from Math Club to playing football in the fall and soccer in the spring.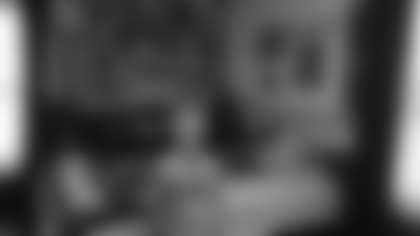 "Chazen's love of sports derived from his Dad and me as we are avid football fans," his mother Terra wrote in an email. "He sided with his father and became a Washington Redskins fan.  The BIGGEST fan I know!  His goal in life is to ultimately play in the NFL and be drafted to the Redskins family."
His Plan B, she said, is to become a pediatric endocrinologist to help other diabetic children like himself and find a cure.
"He knows all the players, their numbers, and positions," she wrote.  "He dreams every day to attend a game at FedExField and meet the players!  Trent Williams is a favorite as well as many others, past and present; Alfred Morris, Vernon Davis, Pierre Garcon, DeAngelo Hall, Jamison Crowder, Ryan Kerrigan, the list goes on!!  He thinks the best birthday present he could ever receive is to celebrate it with Kirk since Kirk's is the day after his!"