Hans Vollmecke would have probably liked his first interaction with Kirk Cousins to have come during better circumstances, but the excitement and thrill of seeing his favorite football player address him over a video message would have remained the same.
A junior football player at Langley High School, Hans nearly lost his life last week driving his pickup truck in the pouring rain. On a two-lane road, he lost control of the rear tires, couldn't regain traction, slipped into the other lane, then off the road, and, according to Hans, "just embraced," before slamming into a tree.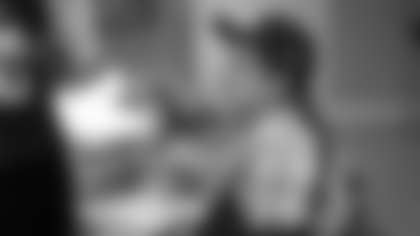 It took medics almost an hour to cut his legs out from the truck and he was admitted into an intensive care unit for the weekend. He sustained multiple injuries – head trauma and bleeding, a broken pelvis, bruised lungs, torn ligaments in his shoulder and other small injuries – sending his family, friends and teammates into a panic.
"I'm doing a lot better now," Hans said over the phone this week, now in a wheelchair and using a walker, beside his teammate Bennett Norris, who was partly responsible for his rejuvenated state.
Once Bennett heard about Hans' brush with death over the football team's texting group chat, he and another teammate thought about a way to cheer him up when they could first visit him this past Tuesday.
"We started planning out what we could do for him, when we could visit him," Bennett said. "And Kirk is his favorite player by far, it's well known thing on the team -- the whole thing about Kirk, his contract, Hans was on top of it every day."
So Bennett figured an email would be a good place to start. He messaged the address posted on Cousins' Twitter bio explaining what had happened and that Hans would be extremely appreciative of any encouragement.  To his surprise, a few days later, Cousins messaged back.
"Here's a message for Hans. Give him my best," Cousins wrote, with a video attached.
"I was unbelievably excited when I got the email," Bennett said. "I was with a friend of mine and we were going crazy. We had to wait for Hans for a couple days to show him and it was a surprise for everybody else in the room."
When Tuesday came, a good portion of the team came to check on Hans. Then, as seen in his own video posted to Twitter, Bennett surprised Hans with a laptop, opened it up for him and staring back was Kirk Cousins. Hans pushed play.
"My heart goes out to you," Cousins said. "We'll be praying for you, stay tough. Want to wish you all the best as you recover and I know your guys at Langley are supporting you and standing with you every step of the way. We're going to try to give you a great season this fall with the Redskins and give you something to cheer about. Best of luck, man."
Elation from his teammates followed.
"I was shocked," Hans said. "Your favorite professional football player -- he even said my name. I was beyond words. It was one of the coolest things ever. It cheered me up.
"I knew he was a great guy, but that video was…he took time personally to say something to me, so I think he's a great but that even makes him even more."
Hans says his pelvis will be 100 percent anywhere from 6-12 weeks, though his head injury is a little less certain. His goal is to make it back to the football field for his senior season, to play with his teammates one more time. For now, though, he's just glad to even have those dreams.
"I was so damn lucky," Hans said. "To only sustain what I did and to be able to walk again and go back to normal life. I definitely could have died."
Cousins' message helped ease that scary reality for just a moment, and it will only enhance the way both Hans and Bennett, lifelong Redskins fans, think of Washington's starting quarterback going forward.
"I just want to stress how much I appreciate Kirk," Bennett said. "In my mind, he's the greatest guy ever now. We always knew he was a great guy. It's unbelievable."
"I did not expect him to do that," Hans affirmed. "He's more than just a professional football player."