Linebacker Lorenzo Alexander has been selected as the Redskins' 2010 Walter Payton NFL Man of the Year.
The award is given to one player from each NFL team who has displayed an exceptional commitment to community and charitable work.
"Being able to enrich myself in the Washington, D.C., community and gain their support and make this community better than it was before I got here, it's an awesome feeling," Alexander said on Thursday. "This is my home. I plan to stay here after I'm done playing and I want to continue to do [charity work]."
Alexander is nominated for the league-wide award. As the Redskins' winner of the award, Alexander will receive a $1,000 donation for his A.C.E.S. Foundation.
Alexander's community efforts stretch from Washington, D.C., to his hometown of Oakland, Calif.
In 2008, Alexander started the Lorenzo Alexander A.C.E.S. (Accountability, Community, Education, Sports) Foundation to help tutor young people via college prep and life skills workshops.
Last November, his foundation launched the "Real Talk Education Workshop" at his former middle school in Oakland to emphasize the importance of education.
He helps provide school supplies to hundreds of youth that cannot afford to purchase the necessary tools for school. He hosts youth football clinics and speaks to nonprofit groups.
Since starting his foundation two years ago, Alexander has donated more than $62,000 to help support philanthropic work both in Washington, D.C., and Oakland.
Apart from his foundation work, Alexander volunteers for many Redskins community events.
He participates in reading events, speaks to high school athletes about character, work ethic and the danger of steroids, encourages youth to get physically active through PLAY 60 initiatives, helps distribute toys, coats and food to underserved communities, sits at the bedside of kids battling terminal illnesses and talks to wounded warriors at Walter Reed Army Medical Center.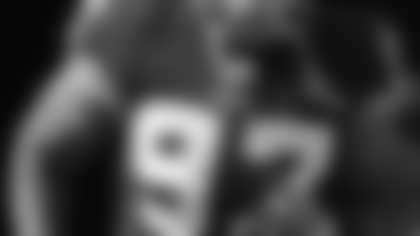 His efforts have gone global, too. Simply put, when he sees a need, he works to fill it.
When a devastating earthquake struck Haiti in January 2010, Alexander organized a benefit concert. Four months later, he held a charity bike race to raise money for children's charities, including sending money to orphans in Africa.
Alexander is a 4-year NFL veteran who shifted to outside linebacker this season. He has logged 53 tackles, 1.5 sacks and one forced fumble.
He entered the NFL as a defensive tackle, but coaches saw versatility in his skills and he played guard, tight end, fullback and defensive end before moving to outside. His nickname "One Man Gang" is well-earned.
For his career, Alexander has posted 78 tackles, 5.5 sacks, five passes defended, one forced fumble and one fumble recovery.
Three finalists selected by their teams for the Walter Payton Man of the Year award will be invited to the Super Bowl in Dallas and receive an additional $5,000.
The league-wide winner will be announced on the field prior to kickoff of the Super Bowl. The winner will receive a $25,000 donation to the 501(c)3 organization of his choice.
The prestigious award was renamed in 1999 for the legendary Chicago Bears Pro Football Hall of Fame running back, Walter Payton. The Walter Payton Man of the Year Award has been given annually since 1970.
Past Redskins winners of the Walter Payton NFL Man of the Year include: London Fletcher, 2009 (selected as an overall finalist) and 2008; Rocky McIntosh, 2007; Renaldo Wynn, 2006; Shawn Springs, 2005; Chris Cooley, 2004; Darnerian McCants, 2003; Eddie Mason, 2002; Chris Samuels, 2001; Darrell Green, 1996 (won the national award); and Joe Theismann, 1982 (won the national award).