After finishing his rookie NFL season, completing a football grind that began in September of his senior year of college, Anthony Lanier is making sure he's still productive throughout the doldrums of his first professional offseason.
The NFLPA's fourth annual program is offered to professional athletes looking to gain practical experience in areas they want to pursue after football. Lanier, as he made clear during his first radio segment with Bram Weinstein, is excited to spend the next three weeks learning about an industry he thinks he could eventually be part of.
"It's a great platform, a lot of people listen to what's going on. This is a great information chain that people use to stay connected with the world," Lanier said. "I'm very big on my vocal skills as far as getting out to the youth and just telling people to not worry and stress so much about what's going on in their lives. If I can get somebody to take their mind off it, why not do it through broadcasting, while they're driving in the car or sitting in the shower at home."
As he described the chronology of his ascent, he told a story about how despite Alabama A&M losing to Coastal Carolina 55-0 during his senior season, his effort in defeat caught the eyes of coaches.
"That's what you see from underdogs," Lanier said. "They fight so long and the struggled so hard that they're willing to do what it takes and not be complacent about where they've been or where they're going."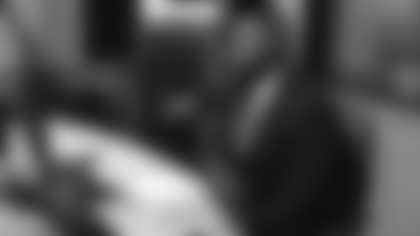 The beginning of his journey with the Redskins, something Williams helped impart, represented an opportunity for Lanier that was greater than himself.
"I just had a point to prove because I represented a nation of people who are overlooked, the underdogs, basically," Lanier said.
When he eventually made the 53-man roster in September, Lanier received a lot of calls from people who had both encouraged and doubted him.
"There's a lot of people that tell children that they can't do stuff in life," Lanier said. "When you tell a child and break him down mentally -- and sometimes it goes into physically -- but for me to represent those few people who cannot open their mouth and get their point across, it feel just great to me."
Lanier would make his NFL debut in London against the Bengals, a reality check for a player used to playing stadiums much smaller and with much less fanfare. It was just another surreal experience for someone that couldn't have expected where football might have taken him months before.
Before ending their interview, Weinstein admired Lanier's benevolent intentions in broadcasting, but also gave him a reality check.
"You can do that for about 60 seconds, and then we've got to talk about Kirk Cousins again," he said.
"I hope people will listen to me for a little while," Lanier responded.