Just by the excitement and energy alone, you wouldn't have been able to tell that four-year old Madelyn Cabatic had gone through any adversity over the last three months.
In her burgundy Redskins dress, Madelyn attended part of the team's practice on Wednesday, toured some of the facility and watched the remainder of practice from a board room, receiving the full VIP experience. For a big Redskins and Ryan Kerrigan fan, the day was a welcome reward and relief for enduring her fourth round of chemotherapy since the summer.
Near the end of June, Madelyn was diagnosed with a Rhabdoid kidney tumor and had surgery shortly after. It was too big to remove initially, and a week later she underwent chemotherapy treatment. The tumor was eventually removed in late August, but Madelyn still has four rounds of treatment left as she fights through what has been a life-changing experience and an emotional, perspective-broadening journey for her parents, Vanessa and Jonathan, and her little brother, Nixon.
"The biggest takeaway has been treasuring every moment with her," Vanessa said. "We don't talk about it a lot. We're just so thankful every day that she's with us, our belief is just you know God puts us through something for a reason and she's so strong."
Vanessa grew up in Annandale, Va., while Jonathan was raised in Virginia Beach, life-long Redskins fans that are now raising Madelyn and Nixon in Aldie, Va., occasionally driving by the Inova Sports Performance Center at Redskins Park.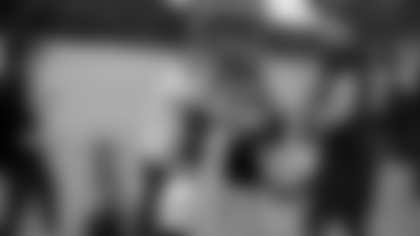 Wednesday was their first time seeing it up close, an opportunity made possible through a former employee, who connected them with the Washington Redskins Charitable Foundation.
"We were originally not open to exposing her," Vanessa said about Madelyn, but realized the immense support her family had from friends around the area. They began posting photos and updates and developed a hashtag for her, #bravelikemaddie and #madelynstrong.
At the facility, they all wore customized T-shirts, too, donning the hashtag and a Wonder Woman inspired logo with Madelyn's initials, colored gold (for pediatric cancer awareness) and purple, her favorite color.
"She's just amazing and it teaches us to be kind and giving to others, not only just for her but for others that are going through the exact same thing," Vanessa said. "So really, everyone looks towards the future, they plan for something, and something like this happens. You can't plan that way. Every day you have to treasure it and she reminds us of that every day."