Since his return to the Washington Redskins in late 2009, general manager Bruce Allen has worked closely with owner Daniel M. Snyder and head coach Mike Shanahan to institute a culture change around the franchise.
The most obvious dividends have been paid on the field, where the team turned the corner last season, identifying a franchise quarterback and running back, doubling the number of wins and taking the division crown for the first time since 1999.
The other major outlet for that change has been felt in the community, where Allen, Shanahan and Snyder have worked diligently to improve the relationship with the fan base as a whole.
The move of training camp from the team facilities to Richmond was an initiative that the Redskins brass thought made sense on both counts, as Allen told the media on Friday.
"I want to go back a few years. When Mike [Shanahan] and I came to the Redskins, Dan [Snyder] asked, 'Do you guys like going away for training camp or staying at home?' Both Coach Shanahan and I said we've had a lot of success in the past with our other teams going away for training camp, as did the Washington Redskins," Allen recalled. "He said, 'Well, whatever you guys want to do that will help the football team, go find it."
Allen said the team researched possibilities at previous training camp locations like Dickinson College in Carlisle, Pa, as well as new locations like Bowie State University, George Mason University and other locations in Washington, D.C.
During the team's discussions with the commonwealth of Virginia to remain located in Ashburn, Gov. Bob McDonnell and Richmond Mayor Dwight C. Jones approached the team about a training camp move to Richmond, a move that Allen described as having gone "tremendously" well. 
"Our two goals beginning with training camp was, No. 1, make sure that we had the right environment for the coaches to prepare the players for the upcoming season. That's the No. 1 objective of training camp," Allen explained. "And, No. 2, we wanted to positively impact the lives of kids. And that was all our intention of this training camp, and I know we did the first one. We checked it off. We had one bad injury here at camp, but the kids part, I think we can put several checkmarks by it.
"The stories that our players have shared during dinner with different kids and their conversations after practice, they're really special, so we're proud of that."
On the flip side of those conversations are the stories that those children went home with.
For 13-year-old Rico Felix, it was the opportunity to meet Robert Griffin III, his hero, and a man to whom Felix had dedicated his prosthesis.
Walking onto the field after practice, Rico hoped to meet Griffin III but had brought nothing with him to be signed except his prosthetic leg. Passing by a group of executives walking in the other direction, one reached out and handed him the football that was used by the team on the final drive of practice that day.
Unbeknownst to Felix, it was Snyder who handed him the ball. He was more excited that it was an official NFL football, which he later got signed by his hero. Walking off the field with his mom, Melissa, after practice, Rico recognized that the encounter had changed his life.
Days before at another dinner table, Steven Thompson clutched the football signed by rookie running back Chris Thompson, who had chosen Steven as one of the last kids for that day's helmet walk.
"To my surprise, Chris Thompson [No. 35] pulled my son on the field. A wave of excitement came over me," Chrystal Thompson wrote. "Seeing the confidence and happiness on my son's face was absolutely priceless. He strutted across the field, chatting about what [Steven] wanted to be when he was older (NFL Football player or an inventor, was his answer).
"[Chris] also asked what summer vacations we have taken this year. Steven shared with him that we have been going on a boat to Lake Chesdin. [Chris] said he had been there once and he had a speed boat.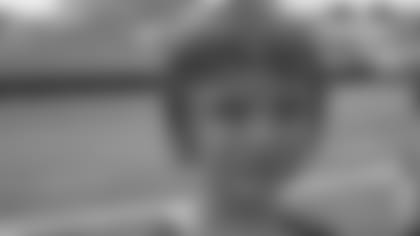 "Chris Thompson autographed Steven's football. My kid was grinning from ear to ear. Mr. Thompson left him with a piece of advice as well, "You can do anything you set your mind to." I LOVE (sic) this new tradition with the children. Steven told me he 'will remember that moment for the rest of his life.' I know I will, it was absolutely fantastic."
These are precisely the interactions that Allen, Shanahan and Snyder envisioned when moving training camp to Richmond. And the lasting impact on the community did not stop there.
"There's a number of things that we were sitting around the room last night talking about that were really interesting about when you talk about the impact of our training camp," Allen continued. "We booked 4,400 room nights. We served 15,000 meals – this is just for our team and organization. They counted 34,000 water bottles were drank, and 18,000 Gatorade bottles. It felt like when you read those things in the Super Bowl.
"The most important ones to us as an organization were the 200 high school coaches who we had the concussion clinic [with] over here at the Science Museum. It's the 5,000 kids that participated in our Charitable Foundation, either Play 60 programs or cheerleading programs, that really make us proud of what we've done."
In total, the Redskins welcomed more than 150,000 fans to training camp this year, more than half again as much as the 100,000 fans Allen said the team was hoping for.
With an eye toward the future, he said the team would continue to look into ways to utilize the resources of the community to create a bigger, broader impact for fans, especially children.
"We're pleased with it. We look forward to the future," Allen said. "We want to thank once again the Governor, the Mayor, the City Council, our great partner Bon Secours, and the program that we started with the 300 ambassadors who volunteered their time and worked 14,000 hours made this really a successful training camp for everybody in the community."
Starting next week, the facility will be turned over to Bon Secours to use as a full-time sports medicine facility, while the fields in the back will be turned over to local football programs in Richmond.
"These fields, starting next week, are going to be turned over to the youth groups in the area, so they get to play on the field of dreams that our team did," Allen said with a smile. "So thank you Richmond."