What's up Redskins Nation? It's David Amerson with another diary entry from my rookie training camp in Richmond, Va.
Last time we talked a lot about what it was like in my first training camp, and how I've been settling in. It's been good. I'm getting a lot more comfortable.
I've been learning a lot about how to manage my body and get into the ice tub. You learn from the veterans, but it's been really good.
Some of the older guys, watching the things they do, you can learn from them. They go to sleep at the right time and eat the right things. I go to bed right after meetings about 10:30 p.m. and I get up about 7:30 a.m.
I'm used to getting about seven hours of sleep maybe less, so this is different to get nine or more. I feel a lot better when I get that sleep. With all this practicing, I get pretty tired. When I'm tired, I can just lay down and go to sleep.
Not much has changed yet as our first preseason game is still a little ways off, so I want to tell you more about my family, my life and where I come from.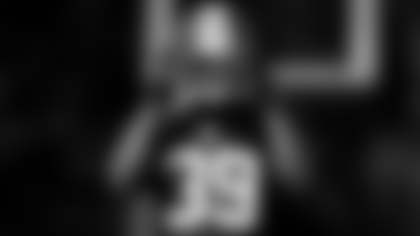 My pops was in the military but I grew up with my mom. My brother was more of the person who I looked up to as a father figure.
My mom was working a lot and tried to keep us on the straight path to stay out of the bad neighborhoods. I learn a lot from my brother, Noah Amerson, and his mistakes, and a lot of stuff I learned on my own.
He's six years older than me. He was always a big football and basketball guy and I fell in love with sports because I always wanted to be like him.
I used to follow him around everywhere. He was a heck of a football player. I would mimic him in everything he did. He was a good football player, but he kind of got into trouble back in high school, and that killed those dreams. 
That was something I learned from. I learned from his mistakes and his one bad thing really ruined all the athletic accomplishments. He will always preach to me, 'Don't do this. Don't do that.' He guided me not to make his same mistakes.
In high school, I played three sports: basketball, football and I ran track. I was the best at football.
I really grew up mostly a basketball player. I've been the same height since freshman year of high school. I thought I was going to be 6-5 or 6-6, and I stopped growing so it kind of killed those dreams. A 6-2 guard in basketball, you can find anywhere, but a 6-2 cornerback is special.
I was really good at long jump. I was second in the state in high school, which was cool considering we didn't have a long jump pit at my high school.
I just ran and jumped to practice through pure athletic ability. The longest was like 22-11, or something like that my senior year.
I've been picking off passes ever since I stepped foot on the field. I didn't play football until my junior year of high school. I just played basketball until my junior year. It's really only my seventh year of football this season.
I've been a defensive player pretty much my whole life. I played some wildcat and receiver, especially my senior year.
In middle school, I played quarterback. Right now, these guys are way out of my league to play quarterback. A lot of high schools wanted me to come play for them, but since I had quit to play basketball, the team wanted me my junior year to play defense since we already had an established quarterback.
I just had a crazy year my junior year of high school. I had seven interceptions and just took off from there. I never really thought too much about the NFL until then.
After my junior year of high school, when I was getting a lot of looks from colleges and having success on the field is when I first thought about it. I got to college and had success there and I knew I really had a shot there.
When I got drafted by the Redskins, I got my mom a house in Greensboro. She's doing good now. Being a professional athlete, actually making it to that stage, getting my mom a house or a car is something I always wanted to do, especially after all she has done for me and my brother.
It was one of the best feelings knowing she can live how she wants to live. It was a dream come true for me.
That's all for now, but if there's anything else you want to know, hit me up on Twitter (@DavidAmerson1) and I'll let you know.