Each of the three Redskins rookie defensive backs will take turns writing a daily diary on Redskins.com. To ask your question, tweet at them for next time.
.

Well, Redskins fans, tonight is the first of many big nights ahead for me, representing Washington, D.C.
I'm definitely excited to take the field tonight and get into the swing of the game. I'm definitely ready to hit someone hard tonight, having spent too much time going through the motions with teammates.
Just to get out there in front of an NFL crowd representing the Redskins will be great. I just want to show everyone what I got. The lights are going to be on, and you've got to perform.
A lot of people assume that because I played in the ACC that we don't have big draws, but I've played on a big stage before and I've performed regularly in front of 70,000-plus at the Carter-Finley Stadium, so don't expect me to have wide eyes tonight.
I've been in front of some hostile environments, so it won't be anything I haven't seen before. At the same time, I know it will be better athletes and something a little new.
I'm excited that we're playing close to the Carolinas, where I'm from. My mom is coming to the game and so is my brother. My stepfather is coming too, and I think my aunt will be there.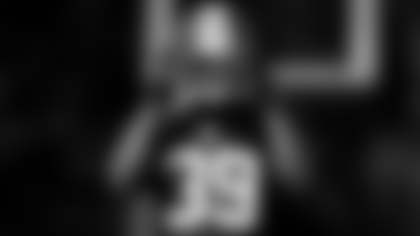 I'm not too worried about it, but hopefully, I can see them after the game before we head back to Richmond.
A lot of fans and media have been asking me lately about rookie hazing and rookie skits. This team doesn't haze too much and most of what I have to do is carry veterans' pads and complete a skit by myself or with some other rookies.
I haven't gone quite yet, but I'll let you in on my plans. Together with a couple other rookies, I'm doing a skit poking fun at the linebacker coaching staff.
I play Bobby "Bob-O" Slowik, and I'm just saying a couple of lines, trying to mimic how he says things. He has a really deep voice, so we'll see how it goes.
I think it will go well. We have a nice plan and a nice little ending. It's going to be fun. We will see. Hopefully, we won't get booed. If you do, you have to go again.
There are definitely some guys that need to try again, but the funniest one I think was with Phillip Thomas and Nick Williams who did a slideshow of celebrity doppelgangers on the team and coaching staff. It was funny! They had some of the guys pegged exactly.
Some other ones I liked were the undrafted linemen did impersonations of the Special Teams coach, Keith Burns. I don't think the coaches take any of it personally, but some guys definitely do it better than others.
The point is to entertain the veterans and get everyone to loosen up and get a laugh out of it. People already got booed so I guess they have to go again. Hopefully I won't join them! What else do you want to know? Tweet at me (@DavidAmerson1) and I'll try to let you know for next time.
.
.
.