Each of the three Redskins rookie defensive backs will take turns writing a daily diary on Redskins.com. To ask your question, tweet at them for next time.
What's up Redskins fans, thanks for all the support during the first few days of my first Redskin training camp.
One thing that I'm enjoying about training camp is that we're finally competing to earn jobs and make this defense better. Everybody here is a either a rookie or veteran, and nobody is worried about when we got drafted. I'm just trying to get better.
At the end of the day all of us have to put on our shoulder pads the same way, so I'm just out here trying to prove my point and play with a chip on my shoulder and help the team as much as I can and try to get better everyday.
The atmosphere of training camp has been great and I'm loving the fans out here. There are a lot of people out here. I never thought that many people would come out here to watch us practice. Even at walkthrough, there's a lot of people!
I'm enjoying myself, I'm meeting some great guys, some guys I know that I play with, some guys I used to watch when I was little like D. Hall when he was fresh in the league and Brandon Meriweather. I used to watch those guys and it's a shocking moment to be able to play with those guys.
As far as how the players are taken care of, it's kind of similar to Georgia. Georgia took care of us well while I was there, but this is the NFL and this is a great organization. 
Being in the NFL has its differences. It's similar to how they treated us at Georgia, but this is my job now and I'm just happy to be here. It's a very great experience being in this Redskins organization.
I'm enjoying camp so far. I'm rooming here with rookie safety Phillip Thomas, who I know you've already heard from. It's a great experience rooming with him. He's a great guy. We're kind of bonding a little bit and becoming good friends.
At the end of each day, Phillip and I sit there in the hotel room and talk. Half the time we're just sitting there talking, watching film, talking football and just talking about life and about what we used to do in school.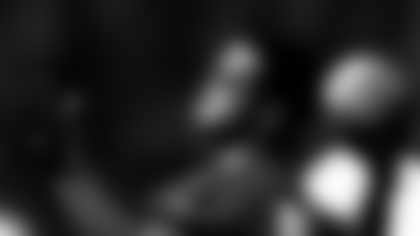 We also spend plenty of time on the phone as he talks to his lady friend and I talk to my girlfriend. She's coming up here today and I hope she'll get a chance to come out here and watch practice a little bit.
If I'm not on the phone, I'm probably playing video games or looking up shoes to shop for, like Jordans and stuff like that.
Anyone who knows me knows I love shows. Me and David Amerson talk about shoes to,  upcoming shoes, releases on shoes, and what we're going to get. I've probably got like 20 pairs here and a lot more at home. My girlfriend has got the rest of them, bringing them up here later.
But all fun and games aside, I've spent most of my free time getting into the playbook. I'm a film junky, and I like to study. I like to watch what I'm doing, what everyone else is doing and to try and get better every day.
I feel like there's always room for improvement so I'm always trying to get better and learn so I can be the best I can be.
That's all for my first diary entry, but tweet your questions at me (@BRambo18) so I can let you know.