Each of the three Redskins rookie defensive backs will take turns writing a daily diary on Redskins.com. To ask your question, tweet at them for next time.
What's going on Redskins fans? We finally got our first rain of training camp yesterday, but I appreciate that it didn't dampen the spirit of Redskins Nation. The fans down here are great.
One thing that's nice about any football team, but especially the Redskins, is the family bond between players.
Especially in training camp, all the guys eat in the same place, sleep in the same place, work in the same place and study together. It's a lot like being back at Georgia for me, and we interact like family.
Family is really important to me, and my family is really responsible for shaping me as I am today.
I actually grew up around a great family. My mom and my dad were separated, but my dad remarried and my stepmom played a big part in my life.
I have a lot of brothers and sisters, and we are really close. I have an older brother and sister on my mom's side, but my dad's side, we have a whole basketball team.
All of us have a good relationship. I can call any one of them today and have a good conversation. They all support me and came to see me play in college.
I think the biggest wake up call for me was after I got into some trouble during my college career, it was the first time I really thought about myself as a role model for my family.
I have to carry myself a certain way because I am a role model to the younger ones. You have to watch what you say, because you never know who is watching.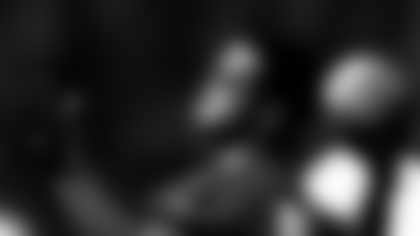 I think about my younger cousins and nieces and nephews if they were watching. I can't do things like I used to do. It inspired me to be the person I am. I just try to do the best I can and show them you can get out if you work hard.
When I was growing up, I looked to athletics as my ticket to get out of Donaldsonville, Ga. Football was always my main goal, but I played a little basketball growing up too.
When I went to Georgia, it was a big school, and there was a lot of competition but it made me better. It made me step my game up a whole lot.
It helped me make that jump from college to the NFL going from such a small school to a big college. Georgia is one of the best programs in college. It helped me prepare for the NFL.
Coach Mark Richt taught us a lot about discipline. Coach Oliver Dudd taught me how to be a better person in life as well as play well on the field.
The other person that has helped me pull my life together is my girlfriend, Madison Myers. She's a keeper, Redskins Nation. She's my best friend and her family treats me as one of their own.
I met her in college. She played soccer at UGA and pretty soon she's moving up here to Ashburn with me.
I'm not going to ruin anything by talking too soon, but I'll just say that we will become one in a couple months.
Keep up the spirit Redskins fans and tweet your questions at me (@BRambo18) so I can let you know.