Each of the three Redskins rookie defensive backs will take turns writing a daily diary on Redskins.com. To ask your question, tweet at them for next time.
Good morning Redskins fans, how is everybody doing out there today?
Today is the first travel day of my NFL career and I'm not too nervous yet. Everything since I got to Washington has been positive, so I just look at this game as an opportunity to try and get better.
My strategy so far has been to just go out there and learn as much as I can so I can. Get on the field and just make plays and help the team out as much as I can.
Lots of people want to know what it's like for me to be listed No. 1 at free safety on the depth chart. The media asked me a bunch today and it was a big deal on Twitter with fans.
The fact is that it's not really a big deal. It's just motivation, confidence, but it ain't even the season yet, it's the preseason. I'm just trying to continue to do what I do and just try to stay at the top of the list.
I intend to take this opportunity to show that I belong at the top of the list, because we're not even to a point yet where I can feel like I accomplished anything. It's just still preseason. If my name is up there when the season starts, OK, we can talk about something.
But right now it's preseason, so it doesn't really mean anything except 'keep working harder.'
On Sunday, we had our second day off of practice this training camp and I took the opportunity to get out of town head back to Northern Virginia.
I went to Ashburn and spent the day with my girlfriend. She's still working on moving in up there and we still got some things we've got to pick up.
I've got to get my big screen TV to put in the living room, but that's just about all the decorating that I plan to do. I say it's her place and she just lets me live with her because I'm just letting her decorate how she wants to decorate.
She's doing a great job though. I'm very proud of her.
I got back to Richmond around 10 p.m. – an hour before curfew.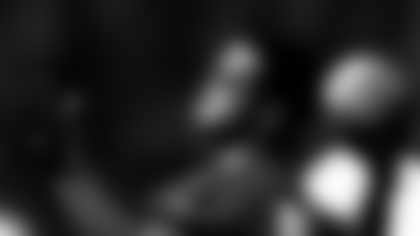 One thing that I've learned about the area around Washington, D.C. is that traffic can make or break a trip. Fortunately, I didn't get stuck anywhere on 95. On the way down there was some construction traffic, but on the way back it was just a nice ride.
Having downtime during the football season is a lot shorter and a lot different than downtime in the offseason. During the offseason, when I wasn't training, I spent most of my hang out time with my girlfriend, her family, sitting around, joking around.
Me and her, her family we sit there eat cereal, ice cream, or we go get some ribs or something, sit there and watch Duck Dynasty—my favorite TV show EVER.
I'll be honest with you, I really want to meet Si Robertson from* Duck Dynasty*. I call him Uncle Si, like I know him, like he's my uncle. I just like uncle Si as a character. I like Phil—I like all of them.
So we just sit there and we laugh and enjoy it, or we got out on the boat, just ride around, I just enjoy the family time with her and her family.
As far as my musical tastes are concerned, I listen to a lot of rap and R&B. Being around my girl, her family, I've done gotten into a lot of country music. That song, "Cruise" by Florida-Georgia Line, that's my favorite song.
Most people are surprised that I like country, but it's not surprising from Georgia. My dad played it a little bit of country when I was growing up, but my girlfriend and her family got me hooked on it. I've got it on my Pandora now.
All music is good. I just like something that has good lyrics and good instrumentals that give me a good vibe and I listen to it."
As far as my brands are concerned, I'm a diehard Jordan's fan, and you'll catch me in those most of the time. Dressing down, I kind of like Diamond Supply, and when I dress up it's Polo—got to wear the horse.
Can't wait to take the field for the burgundy and gold tomorrow! Tweet me your thoughts at @BRambo18) and we'll see how my first taste goes.