Chris Samuels took his place among the other Redskins' greats Sunday afternoon, as he was officially inducted into the team's Ring of Fame in a halftime ceremony during the game against the San Francisco 49ers.
"It was truly a blessing to play for the Redskins," Samuels said. "It was a childhood dream to play in the NFL, and it's just been an honor."
Samuels was selected by the Redskins with the No.3 overall pick in the 2000 NFL Draft after the team traded up to acquire him. He quickly found his way into the starting lineup on the offensive line and started in every game during his rookie year.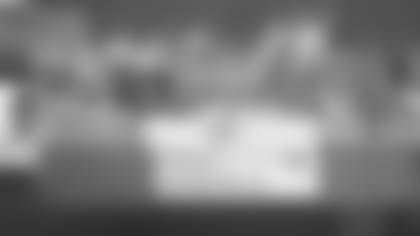 Samuels earned a multitude of awards during his 10-year career with the Redskins, including six Pro Bowl selections, and he was a team captain. He was a constant on the offensive line by starting all 16 games in six seasons and appeared in 141 games in his career.
The Redskins' offense experienced a slew of all-time highs with Samuels on the offensive line. He helped the team reach a franchise-high in rushing yards (296 yards on 48 carries) against the New York Jets during the 2007 season. He also helped running back Clinton Portis have a career year in 2008 when Portis rushed for 1,487 yards, which ranked fourth in the NFL that year, and tied the NFL lead in first downs (82).
Samuels took time during his speech to show gratitude towards the Washington Redskins' owner, Daniel Snyder. He told a story about how Mr. Snyder let him borrow his plane to visit his brother, who was in critical condition in Florida.
"I said I would pay the maintenance fees, the fuel, whatever it may be," Samuels said. "He said, 'Listen, you know I don't work that way. I'm taking care of everything.'"
Right before his unveiling in the Ring of Fame, Samuels also let the Redskins' fans know how much he appreciated all their support during his 10-year career.
"I love you guys," Samuels said. "You're the greatest fans in the world."