In the lead up to the 2022 Entertainment Team open auditions,Commanders.compresents a three-part series going behind the scenes of the team's season-topping moments from 2021.
Javai was looking for her seat on her flight to Las Vegas when she passed a woman in purple with whom she felt a strong connection. They had never met each other before, but they didn't feel like strangers. It took almost no time for Javai to realize that this was her counterpart, Carli, the 2022 Pro Bowl selection from the Baltimore Ravens.
"I was like, 'Oh my gosh, she's on here, my fellow sister is on here!'," Javai remembers. "It was so exciting to see that first pleasant face and to know that this was actually happening."
Hours later, Javai met 30 other "cheer sisters" from around the country as 2022 Pro Bowl week officially got underway. A Pro Bowl selection is perhaps the highest honor an NFL entertainment team member can earn. Javai is well-deserving of this recognition. She's a talented performer and an inspiring leader. Her commitment to her craft, which encompasses seven seasons with the team, goes even deeper than all that. For Javai, performing, at its core, is about connecting and giving back to others -- values that have fueled every aspect of her life and ones she got to lean into in a special way during Pro Bowl week.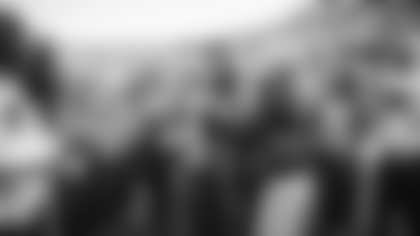 Javai's sense of the service sprouted from a basic understanding of how she loved to interact with the world at an early age.
"I've known two things my whole life: I've known I love to perform, and I've known that I've always had a lot of empathy for people and that I try to understand them," the Clinton, Maryland native said.
Javai carried forward both of those convictions into adulthood. She graduated from Howard University with her BS in psychology and now, she's a licensed therapist. That's her day job. There's no doubt that being a therapist and a member of the Washington Entertainment Team are different activities. They require different skills and a different amount of hamstring stretching. But for Javai, she is equally passionate about these two different parts of her life, and she feels they have something important in common.
"Being able to connect with people is the center of it all. That's the overlap. It's just in different ways," she said. "I want my clients to feel joy. I want them to feel engaged with their lives. I want to engage with the fans. I want them to feel a part of this experience when we're at FedExField. No matter how high up or if they're standing right in front of us.
She's seen that the high-energy, rhythm-hitting, beautifully-coordinated performances she executes have a power to them. They make people smile. They make people "ooo" and "ahh" and clap. They even have the power to make people who aren't always represented in certain spaces feel like they belong.
"Those moments that you have when people are excited to see you, and especially just knowing being on the other side of being a little girl, and seeing other women, Black women, women of color being represented you, you're like, 'Oh, wow, that could be me. I could be that girl.'" she said. "For them to be able to know like, 'Yes, I did this. And you can do it too. If you want to go pro, you can go pro. There's a space for you.'"
Javai brought that sense of purpose and deeper understanding of the power of dance into the 2022 Pro Bowl, a weeklong experience in Las Vegas. She especially loved the opportunities the 32 women had get to know and uplift each other.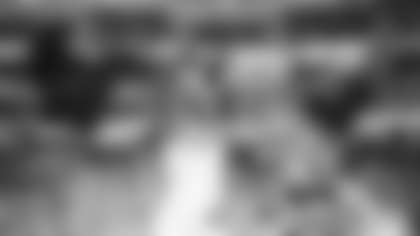 "It was really cool over the week to continue to get to know people, and see all of their amazing personalities, what was valuable to them, if they were going to continue on their journey and what they wanted to bring back to their team," Javai said. "It was so much pouring into people. Being a part of that and witnessing that was really powerful."
The lights were bright, and the stage was big throughout that week of February. Nerves and doubts didn't have a spot in Vegas, though. Javai couldn't stop reveling in an exciting, unforgettable opportunity to do what she's loved since she was a kid.
"There was no focus on the pressure of representing your team. It was really like, 'No this is a once-in-a-lifetime experience. We want you to walk away feeling empowered as dancers and empowered in life.'"