A few months ago, DeAngelo Hall hinted – well, stated or implied, depending on who you speak with – that his playing days in the NFL had finished. On Wednesday afternoon, at the Bon Secours Washington Redskins Training Center, he officially confirmed it, announcing his retirement from professional football.
With the luxury of an offseason to contemplate his future, and a couple of recent injury-riddled seasons reminding him of his mortality, Hall spoke perfectly at ease standing at the podium in front of the microphone following the Redskins' morning practice. With a fuller throng of media present, and with the organization around him, Hall was ready to say goodbye to the sport after 14 years of service.
"I'm sure you heard months ago, but after 14 seasons of professional football, I will be officially retiring today," Hall said.
"To be a kid from Chesapeake, Va. to play at Virginia Tech and grow up a huge Darrell Green fan and Washington Redskin fan, I mean it's been a dream," he said. "You know, it's been a dream to put on the Burgundy and Gold for the past 10 years and try to win football games. You know, that championships eluded me in every facet of my football career, but I still feel blessed, I feel fulfilled. My wife bought me another ring, it's not a Super Bowl ring but it's another ring, so I have a ring, not the one I wanted but I'll take it. But just blessed, man, just blessed to have grown up in this area and get to play for the team you grew up rooting for – a lot of guys can't say that."
A first-round selection for the Atlanta Falcons in the 2004 NFL Draft, Hall recorded 811 tackles with 132 passes defensed, 43 interceptions, 11 fumbles forced and five defensive touchdowns over a career in which he earned three Pro Bowl selections. After a brief stint in Oakland, Hall joined the Redskins in 2008 and continued to excel on the field, changing his reputation in the process.
Hall devoted much of his press conference to that personal evolution. "A lot of you guys probably know the stigma of who DeAngelo Hall is or was, the hoopla about me being a 'me' guy," he said. Hall remembers being frustrated that the Redskins, like a few other teams, had initially passed on him in the draft, conceding that Sean Taylor "was the better player obviously." That individual mindset began to change thanks to his former head coach Mike Shanahan, who instilled in him the value of setting examples for the younger players on the roster.
"I was always a lazy guy in practice," Hall said. "I always felt like, you know, let me just kind of get a look with my eyes and I'll make the play in the game. It wasn't until Mike told me, 'well D if you don't make the play in practice, if guys see you doing that, they're going to think they can do that.' You know, it wasn't until I said, 'maybe you're right Mike.' And so, we started trying to ramp it up, and I personally started to ramp it up. You know, try to lead by example instead of, you know, talking about it all the time."
Hall's most memorable game with the Redskins came in 2010 against the Bears, when he picked off Jay Cutler four times. Since DeAngelo Hall's rookie season in 2004, the only players with more career interceptions than his 43 are Ed Reed (52), Charles Woodson (50), and Asante Samuel (49). "If I could have played against Jay Cutler more, I probably would be in the [Pro Football] Hall of Fame by now, but it didn't quite work out," he jested.
But Hall will be most remembered for that change in character during the latter half of his career in Washington, taking on a larger mentoring role within the secondary and putting the team, and his teammates, ahead of himself. Hall played just eight games over the last two seasons, but his impact within the locker room and with younger players has continued to make an impact on the current roster.
"I've had a lot of trials and tribulations along the way, but I wouldn't change a thing about my career because, you know, it's all made me who I am," Hall said. "It's all taught me so many different lessons, man. Everybody wants to win, but I tell my sons all the time and my daughters too, you learn so much more when you lose because when you win, you tend to not care about the mistakes. When you lose, you've got to figure out, man, why did I lose? So, every single time, we're nitpicking something."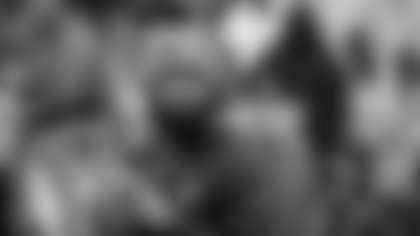 Hall has mentioned on numerous occasions his desire to work in a front office and remain in the NFL through a business perspective. That didn't come up in his press conference Wednesday, but it's likely still a goal he has. In the meantime, Hall has put his focus on some new ventures, including a 3-D movie company, and says he'll still contribute to television for the time being.
These are logical next steps for someone who won't miss grabbing interceptions or making plays, primarily because, as he joked, he hasn't made one in quite some time. The real things that will be hard to let go of don't involve the sport.
"I'm going to miss being in the locker room, I'm going to miss the jokes, I'm going to miss going to dinner, even though I ended up picking up the check half the time," Hall said. "But I'm going to miss that part of it and hopefully I can still come around as much as possible and still try to pour into these young guys. But, you know I'm really going to miss that part of playing football, you know it's really that camaraderie and that brotherhood that we all share."
After waxing more on his college career at Virginia Tech, the people and coaches that molded him into the man he is today, and thanking Redskins owner Dan Snyder, president Bruce Allen, and the rest of the team's current and former front office members for giving him another chance, he spoke directly to the fans.
"My message to Redskins Nation is a simple one. It's really a thank you," Hall said. "You know, thank you for putting up with a knucklehead and giving him the chance to mature and grow and learn over the years. You know, I made my fair share of plays and I gave up my fair share of plays as well."
Then he gave some encouragement.
"Just hang in there," he advised. "You know, hang in there. I know things haven't always been sunny, but you know you look at what this organization has been able to do the last couple of years and you can actually see a clear direction in where we want to go. You can see the players they're bringing in. You know, you see around the league and other guys and other situations that come up, you know you don't see it in this locker room, and so this is going to be a hell of a football team and I look forward to rooting for them, day in and day out."