As Donovan Carter looked out across the Redskins practice field, watching players stretch inside the team's Indoor Training Facility, he remembered the grind.
"Not wanting to be out here because your body's hurting, but still having to push through it and do what's best for the team," he said on his first ever visit to Redskins Park on Wednesday afternoon.
It wasn't too long ago that Carter, who stars in the HBO show "Ballers," was in pads and doing similar stretches while playing defensive tackle at UCLA. After four years there, he never received an opportunity in the NFL, but his pivot into the acting world has kept him right by the gridiron.
Playing the role of Vernon Littlefield, a young, naive NFL defensive end with loads of talent, who gets taken advantage of by his friends and family, Carter found his first real opportunity as an actor. The show, now filming its second season in Miami, also stars Dwayne Johnson, who has been a big influence on Carter and has helped him transition into his new craft.
(Carter said smiling that he is also hoping to be incorporated in one of Johnson's famous Instagram videos to get some more promotion).
His character, Littlefield, is a member of the Dallas Cowboys, which is probably the only thing that doesn't sit too well with Carter considering he grew up in Washington, D.C., is distant cousins with Clinton Portis and follows the Redskins as much as he can during the season.
"I watch as much as I can, and if I don't, I am definitely looking at the Score Mobile or Bleacher Report to see what's going on," said Carter, who now lives permanently in Los Angeles, Calif.
Visiting family in the Silver Spring, Md., area for the holiday, Carter made sure to stop by Loudoun County, Va., before leaving for home. The visit, made possible by the Artists and Athletes Alliance, was more of a reunion.
Carter had already met wide receiver DeSean Jackson, who made a cameo in the show's pilot, and previously played with tight end Logan Paulsen while at UCLA. He also knew linebacker Mason Foster, who happened to be his host at the University of Washington when Carter was visiting colleges.
"I don't even know if he remembers that, but yeah, he was my host," Carter said. "It's just good to see everybody and watch these professionals work. See how they grind."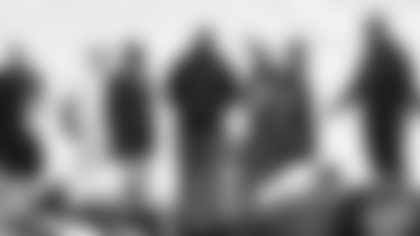 Taking in practice, shaking hands with head coach Jay Gruden and owner Dan Snyder and then meeting players in the locker room afterward with his uncle, Carter has enjoyed watching his team come on strong towards the end of the season and proving doubters wrong.
"They fight," he said. "At the beginning of the season nobody gave them a chance. Everybody was picking everyone else in the division: the Eagles and the Giants. But they just showed they're resilient, and they didn't let the outside talks get them off their focus. They come to work every day and on Sunday they control what they want to control."
The visit also served as a research opportunity. While "Ballers" focuses primarily on how players live in the offseason, watching and meeting with professionals in the NFL only helps him understand their realities better in his representation of them on screen.
"It definitely helps me a lot, because I played in college but never played at the professional level," Carter said. "So just to see these guys and the way they conduct themselves; how they talk, how they move, they're swag and all that, it just helps me just to get a couple pointers. I don't want to be anybody, but maybe I'll take stuff, use it, and put my own little swagger on it."
Season 2 of "Ballers" is due to hit HBO in June, like last year, and Carter, still auditioning for other parts in L.A. at "full force," hopes it can be as successful as the first season.
"We're all just working hard and want to live up to the hype -- just keep getting better, like football, in each practice each week, each episode," he said. "So we just want to give everybody a better season than last season… but it's a grind just like everything. Just like the NFL, you have to put in the work and it will pay off."