Every day of training camp, The Redskins Blog will feature a devoted Redskins fan and tell their story presented by Virginia Tourism.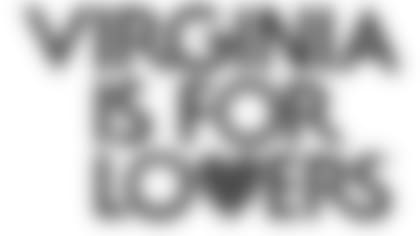 Redskins superfan Tony Lewis opened his email last month and saw that the 2016 training camp schedule had been announced. He immediately called his cousin, Mack Hall, and told him to take off work. "We're going to training camp."
The two left Newport News, Va., at 5:30 a.m. on Thursday to make it to the opening day of camp at the Bon Secours Washington Redskins Training Center in Richmond, Va.
Tony walked into the training center grounds triumphantly waving his Redskins flag that his mother hand-sewed. For the last six years, he has hung it on his porch every gameday at 12:39 p.m. -- exactly 21 minutes before gametime -- in honor of Sean Taylor.
Taylor was an inspiration to both men, and his tragic death in 2007 brought them closer to the team. Mack counts Taylor as his favorite player, laughing about his (in)famous hit on punter Brian Moorman in the 2006 Pro Bowl.
Mack was rocking a limited edition 75th anniversary Taylor jersey that is even cooler when you learn he won it from a Cowboys fan. In 2012, the Redskins traveled to Dallas as underdogs for the Thanksgiving day game, and Mack began arguing with his friend, a Cowboys fan, about who would win. The friend offered him the Taylor jersey if the Redskins pulled out the win.
"He was thinking the Cowboys was gonna dust us off," Mack said.
When the Redskins won 38-31, the victory tasted extra sweet for Mack. "This is my first Redskins jersey, and my only Redskins jersey. It's the only one I need."
Before Thursday, Mack had never been to a Redskins event of any kind, and he was ecstatic to share his first team experience with his cousin. "This is a memory right here, bro."