A sweetheart. A gentle giant. A teddy bear. Very loveable. Super, super nice kid. Really, a sweetheart.
There were only so many ways for two former elementary school teachers to describe Redskins tackle Morgan Moses -- one of their students from 15 years ago -- but you get the picture pretty quickly.
Armed with signs that broadcast their love and affection for the offensive lineman, a position that usually doesn't lend itself to "nice guys," Susan Bayne (left) and Dee Thomas (right) believe it's his greatest asset, and certainly was in school.
"We've followed him 15 years," Bayne said.
Bayne taught Moses' third grade class and Thomas was his science teacher in fifth grade at J.G. Hening Elementary School, which coincidentally, or thanks to divine interventional forces, carry the Redskins nickname.
The two of them, who live near Richmond, came last year when Moses was a rookie and Bayne still has the autograph on the sign she brought Tuesday.
"It was really cool," Bayne said. "He enjoyed reminiscing about these people and he remembered the names of almost every single one of these people from his third grade class."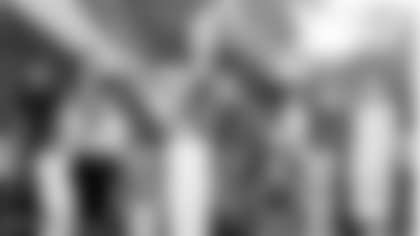 Thomas, dressed in a burgundy shirt, has been a longtime Redskins fan, back to the days of Sonny Jurgensen. Bayne, however, has only recently enjoyed football, making Moses (top, center) appointment viewing on Saturdays when he played for the University of Virginia, and now Sundays with the Redskins.
"My husband is amazed," Bayne said. "I have to get to the sports section of the newspaper, that's the first section I read every day now. And they have said nothing but positive things about Morgan. I'm so pleased. That one day his picture was on the very front of the local newspaper."
And while Moses never had a beard during his elementary days, both are big fans of his facial grooming, too, if only to delineate him from the other big linemen.
"I love it. I wish my son could grow one like that," Bayne said.
Said Thomas: "That's how we recognize him."