Every day throughout the course of training camp, The Redskins Blog will feature a devoted Redskins fan and tell their story.
Perched up in the farthest right corner of the grassy hill, towards the back of the opposing end zone, sits Harry Cousins, 76, staying cool from the growing Richmond humidity beneath his Redskins umbrella.
At this moment, close to 11 a.m., as the players participate in walkthroughs, Cousins is isolated from the rest of the crowd, gazing from his usual spot, waving hello to the community of friends and fans that pass by. It's his favorite part about being at training camp, and you can see why.
"I like a lot of people that I've seen and went to school with and work [with], that's in some ways like a football family reunion," Cousins said with a gravelly twang. "That's more than just football. It's a family thing."
Cousins has been retired from construction for 25 years and has been living in Richmond since 1968. He's been a fan for "57 years," he said without hesitation, "back when Joe Theismann was on punt return." He's come to training camp ever since it's been in town.
"I used to go to the old stadium but as you get older I can't deal with that traffic," Cousins said. "I'd just rather watch it Sunday on TV."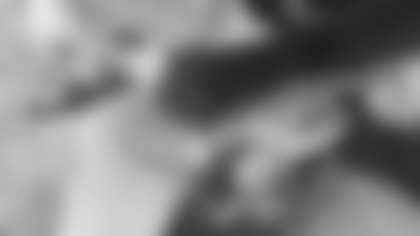 Cousins remembers wide receiver Art Monk the most, and his name is written on the back of his beach chair as a commemoration. Monk's name is one of 18 jerseys that Cousins has hanging in his home, along with Darrell Green, Chris Cooley and John Riggins.
"My favorite players were running backs and wide receivers," he said. "In the winter time, if you're a good quarterback you had to have somebody to get that ball, which was Art Monk. If you needed a first down, you would hit Art Monk. He was not going to drop that ball. He was a tough wide receiver."
Cousins doesn't have the same youthful energy anymore, but still, there he sits, adorned in Redskins gear (including a ring made from a keychain), gazing from afar, planning to come several more days this week to say his hellos and look for an indication of how his team will fare.
You can't tell how well he knows the roster until you ask him. He'll give you an opinion on how the media has treated the Redskins, and how he tries to remain optimistic for another season. He'll also complain that people always ask him about what he does with his spare time ever since he's been retired.
"I keep myself busy. I do a lot of walking," he said assuredly. "I've got a beautiful Redskins bicycle. I painted it the same color as the Redskins. In fact, I might ride here tomorrow."