Every day of training camp, The Redskins Blog will feature a devoted Redskins fan and tell their story presented by Virginia Tourism.
Like the Redskins players she adores, Mickey Freeman prepared for training camp as if it were gameday. She put on her Redskins rings, wore her Redskins patterned dress and carried a Redskins themed tote bag, the latter two her mother sewed for her in the 1980s.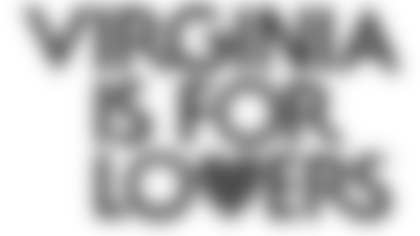 Mickey, 70, first started rooting for the Redskins as a sophomore in high school in Hagerstown, Md. Her mother supported Mickey's fanhood even though she was a Steelers fan.
"That created a little problem," Mickey said. "I tried to convert her. It didn't work."
Until recently, Mickey had a "woman cave" where she collected a myriad of memorabilia over the last two decades, including Redskins cereal boxes, beer cans and bobbleheads.
Mickey was accompanied to training camp by Kristina, a family friend, as well as Kristina's daughter, Abby. Kristina does not consider herself a football fan but was happy to support Mickey and bring her to the Bon Secours Washington Redskins Training Center in Richmond, Va. Abby roots for the Jacksonville Jaguars, something that Mickey is less than thrilled about. "She's a cat lady," Mickey said.
With potential downpours and heat waves dominating the forecasts this week, Mickey came prepared with both a Redskins themed umbrella and a fan that she wrapped in Redskins gift wrap. "It's a real Redskins fan," Mickey said with a smile.
Her most dedicated decour of them all was the Redskins Super Bowl style ring she wears on her left ring finger. "I'm married to the Redskins."