Every day of training camp, The Redskins Blog will feature a devoted Redskins fan and tell their story presented by Virginia Tourism.
Harry Cousins came prepared.
Casually sitting under his umbrella, Harry was determined to beat both the heat and the rain with a homemade Redskins themed umbrella at the Bon Secours Washington Redskins Training Center in Richmond, Va.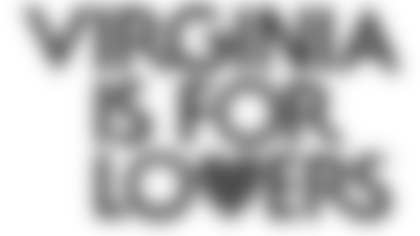 Harry stapled on his own Redskins flare to the Walmart umbrella to make it training camp worthy and decorated a chair he takes on trips to Buckroe Beach. As he sits on the far corner of the hill and observes practice in the shade, fans compliment him on his foresight.
"All the people praise my umbrella," Harry said. "One woman walked by and said, 'You got sense!' Everybody loves it."
Born in nearby Henrico County, Harry has lived in Richmond nearly all his life and has attended training camp each year it has been held in the city. A fan for 57 years, Harry's favorite redskins moment was Joe Theismann's inspirational determination to make the Redskins by playing special teams.
"When they put Joe Theismann on the punt return and him and Joe Gibbs used to argue, and Joe Theismann said, I'm going to make this team,' and Joe Theismann tried everything to make that team and he did," Harry said.
After retiring from operating heavy machinery for the city of Richmond, Harry alternates his eye at training camp between the Redskins and the cranes lined around the field, which are similar to the ones he used to operate for 26 years.
"At 76 years old, I still think I could handle that (Crane)," Harry said. "Give me about 2-3 minutes to figure out them buttons, I'll have it going like my back is to the wind."
Harry loves his memorabilia. He has a spotlight in his apartment that flashes "Go Redskins" on the wall above his TV during games.The chair, jacket and jersey Harry brought to watch training camp are older than the Redskins rookies. He bought the Darrell Green jersey he was wearing in 1993, but it is just one of the 18 jerseys he owns. Harry hasn't shopped for Redskins gear in a long time, but he doesn't need to.
"Man, if you went into my apartment, you'd think you were in the Redskins training camp store," Cousins said with a smile.