Every day of training camp, The Redskins Blog will feature a devoted Redskins fan and tell their story presented by Virginia Tourism.
Redskins Nation knows no boundaries. It extends across sovereign borders and traverses open oceans.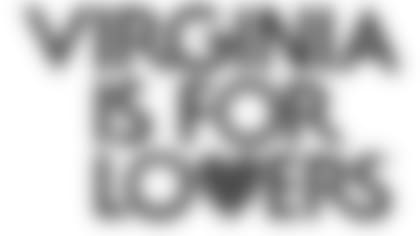 The Debourbe family exemplified that spirit this week when they traveled all the way from France to enjoy Redskins training camp at the Bon Secours Washington Redskins Training Center in Richmond, Va.
"It's a legendary team," Patrice Debourbe said in French as his daughter Margaux translated. "When we think football, we think Redskins."
When Patrice, Isabelle and Margaux Debourbe, as well as Margaux's boyfriend, Maxime, planned their first trip to Washington, D.C., they knew they couldn't leave without visiting their favorite team. They researched training camp, discovered Richmond was only two hours south of Washington, and immediately planned a day trip. While in Richmond, the family is also touring historical sites around Virginia's capital.
"I've been a Redskins fan a long time, since when Mark Rypien was the quarterback, so '85 or '86," Patrice said.
The Debourbe's were unfazed as they braved less than ideal weather to watch the team train.
"We didn't want to miss anything, we're very, very excited," Margaux said.
Patrice and Maxime are coaches for a football team in France as they try to promote the sport in Europe. As the NFL is hoping to grow football abroad, Patrice and Maxime are involved at the grassroots level.
"Yes, we also have American football in France," Margaux said.
The family is hoping to travel to London for the Redskins-Bengals game at Wembley Stadium in Week 8, and are overjoyed that the NFL has expanded its efforts across the Atlantic.
"We cannot wait until October to see them," Patrice said. "It is a big moment to see the NFL and the Redskins in London. For me, it's very, very important to see the Redskins."