Every day of training camp, The Redskins Blog will feature a devoted Redskins fan and tell their story presented by Virginia Tourism.
That's the song the Pieprz family was singing when they came all the way from the Holy Land to see Washington Redskins training camp in Richmond, Va., this week. רדסקינס, which means "Redskins" in Hebrew, was proudly emblazoned on superfan Eliana Pieprz's shirt as she stood on the sideline and observed with her own eyes the players that she usually watches on her computer nearly 6,000 miles away.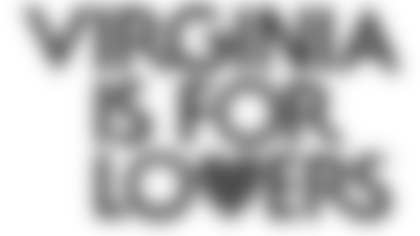 "We're glad to see it here in the flesh," Elie Pieprz, Eliana's father, said. "When we go back to Israel and we watch Redskins games and cheer them, you know you've got Redskins fans in Israel cheering left to right, right to left, 7-hour time difference, but we're as hard core as anyone."
The Pieprz's traveled to the Washington D.C. area to visit family, but surprised their daughter Eliana with a trip to the Bon Secours Washington Redskins Training Center that still counted as family time.
"Our extended family is Redskins Nation," Elie said. "For the Redskins, four or five months a year we're watching the games, and the other seven months a year we're waiting for those games to start."
Even during the season, the Pieprz family waits a little longer than most for the games to start. With the 7 hour time difference, games begin either late on Sunday night or early Monday morning. Whether there's school or work the next day, the time difference is no obstacle.
"I'll be there at 3 a.m. cheering you on every Monday morning," Eliana said. The youngest of the family, Eliana is a bona fide superfan who never misses a game and has every player's number memorized.
"Every parent wants to control their child's screen time," Eliana's mother Judith said. "All she wants to do is watch the Redskins. I'm so lucky. There's no games, no inappropriate videos. It's just Skins all the time."
The Redskins are the light at the end of the tunnel for Eliana on Sundays, which is a school day in Israel.
"Sunday you're just looking forward to the games. Just get through school and in a couple hours you'll watch the Redskins," Eliana said.
There are plenty of NFL fans in the Pieprz's neighborhood, but most of them support the New York Giants, which can lead to some good natured smack talk.
"Every time we win, I'm like, 'Eat that! You and you're Odell (Beckham Jr.) are getting crushed!'"
The stakes of the Washington vs. New York rivalry were raised even higher when, to Eliana's delight, the Redskins landed Josh Norman in free agency. When Eliana learned the Redskins had signed the Panthers All-Pro cornerback, she started running around the house screaming, "We got Josh Norman! We got Josh Norman!"
Perplexed, her mother walked into the kitchen and asked, "Who's Josh Norman?"
This is not the first time Redskins.com has highlighted the Pieprz family.  When Redskins legend Ken Houston visited Israel last summer, the Pieprz's welcomed him to Israel with a rendition of HTTR while decked out in Redskins gear.
It's also not the first time the family has surprised Eliana with a Redskins trip. In 2014, Elie and Judith planned a family vacation to San Francisco that secretly coincided with the Redskins vs. 49ers game. Eliana had no idea the family was attending until she realized everybody on the train around her was wearing 49ers gear. The Redskins lost that day, but the family considers it a victory.
After great experiences in San Francisco and Richmond, the family is considering a trip to London to watch the Redskins take on the Cincinnati Bengals in October. Judith and Elie put serious effort into supporting Eliana's fanhood because the Redskins embody critical life lessons for their daughter at a formative age.
"We appreciate it because we feel that what the Redskins teach her is what all sports teach children, which is discipline, loyalty and, unfortunately sometimes, delayed gratification," Judith said. "But we appreciate she's so loyal and loves it."
"Teamwork," Elie said. "You can't have one player winning everything, you've got to have an entire team with different disciplines working together, which is something we teach our kids as a value in life, something that the Redskins personify."