The Redskins had a lot of stuff to remember in 2015.
Now that we've reached the end of the season, the Redskins Blog will select its favorite things from Redskins fans, players, coaches and team personnel over the last 12 months.
We'll continue with our five favorite squad goal photos of the year. 
This one also constitutes the best photo bomb of the year. Do you see defensive coordinator Joe Barry? Look down to the right. This cluster of four – Ricky Jean Francois, Terrance Knighton, Jason Hatcher and Chris Baker – posed like this for just about every road trip this season. They've mastered the art of the serious business trip face. Frank Kearse in the background can't help but notice Barry crouching below though.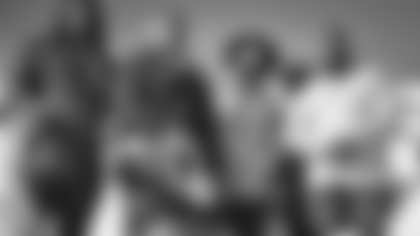 It was a tough year for Redskins tight ends, unless your name was Jordan Reed. In case you forgot who some of these players standing with coach Wes Phillips are, from left to righ,t that's Chase Dixon, Je'Ron Hamm and Devin Mahina. This photo has a strong composition, some unique poses and a pretty impressive angle to capture the sky. Well done, guys. 
Usually there's one goofball in a crowded shot like this. But credit the offensive line at training camp. They all remain stern, even angry, as they stare down the camera. Shout out to Tom Compton, who decided to look cool and turn his head to the right.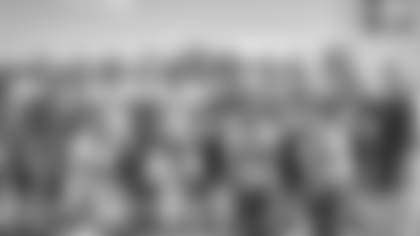 The defensive backs group took these photos very seriously as well. They also realize, unlike the O-lineman, that it's OK to kneel down and create two ros to fit everyone in the picture. Even Duke Ihenacho was around at practice for this one. Coaches Perry Fewell and Aubrey Pleasant cheese for the camera, but we can cut them some slack. Also, Dashon Goldson never seems to look into the lens in these kinds of shots. Mysterious.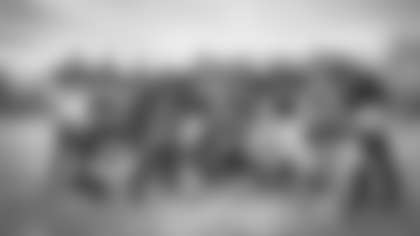 It's all about the hand gestures here. On the flight home from Philadelphia after capturing the division crown, a nice mix of players – O-line, wide receiver, defensive back, special teams – got together leaning forward, leaning back, each making a different expression. It may not be a big group, but this is a strong, diverse composition.