King has been coaching football at the professional and collegiate levels for the past three seasons in addition to playing the sport herself in the Women's Football Alliance. She has worked with head coach Ron Rivera in two different stints when he was with the Carolina Panthers, the most recent of which was last season when she worked extensively with Pro Bowl running back Christian McCaffrey as an intern running backs coach.
Below are five things Redskins fans should know about the newest addition to the coaching staff.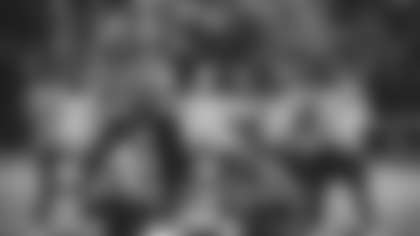 1. She was known as "Jet" when she was with the Carolina Phoenix.
King's coaching experience in football only goes back three seasons, but she played the sport for much longer than that. She first joined the Women's Football Alliance in 2006 and became a seven-time All-American in 11 seasons with the team.
From 2007-16, King and the Phoenix compiled a 75-17 record and nine winning seasons. Under her leadership as the team's quarterback, the Phoenix went undefeated in 2013 and finished the year by winning the IWFL Championship. They followed that up by winning the Founders Bowl in 2015 and the Founders Bowl Tournament Championship in 2016.
Due to her athleticism and skill, King was known as "Jet" by the teammates. Her Phoenix player profile can be found HERE, where King lays out what made her start playing football and what inspired her to play. You can check out some of her highlights HERE.
2. She is known for having a high football IQ and winning.
Although King did play quarterback for the Phoenix, it was never her first choice. She doesn't like all the attention that comes with job, so she prefers to play wide receiver, which she said is her natural position. Still, the coaching staff put her there because she has a deep understanding of the sport.
"I was a quarterback because I had a high football IQ, and I could throw and was athletic, but I didn't really want to be there," King told ESPN's David Newton in 2018. "Obviously, I was successful at it because they kept me there."
That knowledge has propelled her career as a player and coach. She finds a way to win wherever she goes, and she has the championship pedigree to prove it. She has been on multiple championship teams as a player and coach, including four from her days playing women's professional tackle football.
"One thing people will like about me and my background is I'm a winner," King said. "I don't know what it is. I just learned how to be successful and how to win."
3. She was a championship basketball coach.
Football has been King's primary focus for most of her career, but she has occasionally crossed over as a head and assistant basketball coach. She didn't make the move because she necessarily wanted to, though; rather, she didn't believe she had any other choice.
"I coach basketball because I thought I had to, because there wasn't another option," King told ESPN. "I had to coach basketball because women didn't coach football, even though I would have loved to."
King was an assistant coach for Greensboro College from 2006-16 and the head coach of Johnson & Wales University Charlotte from 2016-18, and she was just as successful in that sport as she was in football.
In Greensboro, the Pride went 136-54 and won five conference title and appeared in the NCAA Tournament as many times. In her final season with the team, the Pride went 10-5 in the USA South before falling in the first round of the conference tournament.
As the head coach for Johnson & Wales, she led the team to a USCAA Division II National Championship in 2018 and was named the USCAA Division II National Coach of the Year. In the two years King was the head coach, Johnson & Wales had a 37-10 record.
4. She has a history of coaching solid wide receiver groups.
Outside of coaching with the Panthers in 2018 and 2019, King has been an offensive assistant with Dartmouth College and the Arizona Hotshots in the Alliance of American Football. The Big Green finished the 2019 season 9-1 and won the Ivy League Championship, while the Hotshots' offense ranked No. 2 in yards per game and were 5-3 before the league dissolved.
One thing both of those teams had in common was that their wide receivers were productive. At Dartmouth, they averaged 215.4 yards per game and 13.6 yards per catch and totaled 2,154 receiving yards. Their 22 touchdowns accounted for nearly half of team's touchdowns (48%).
The Hotshots' receivers nearly almost as productive; 12 players caught 138 passes for 1,712 yards and 14 touchdowns. They had a catch rate of 64% and averaged 12.4 yard per reception. They led a team that was second in points per game (23.2) and was tied for first place in the AAF Western Conference.
She even has her own AAF trading card, which can be found for sale HERE.
5. She wants to be a role model for young girls with NFL aspirations.
"For the little girls, that's just what I want for them: To let them know, if this is what they want to do, they can do it," King told ESPN.
King's goal is to be an offensive coordinator in college or the NFL. This is now her third time working with Rivera, and she has proven herself as qualified and capable with each opportunity.
And now that she has come to Redskins Park, she's ready to prove once again that she belongs just as much as anyone in the NFL.