Landon Collins was lined up three yards from the line of scrimmage in the season opener against the Philadelphia Eagles with one goal in mind: keep the offense out of the end zone.
Collins came to the Redskins as the crowned jewel of the team's free agency haul in March. They signed him to a six-year deal for $84 million with the belief that he would be "more than just a box safety" and a "tone setter" who could add a little extra toughness to the defense.
Now, with the Redskins' at their own 3-yard line, this was the time for Collins to live up to the high praise and even higher expectations.
The Eagles were lined up in a 21-personnel package -- two tight ends on the line of scrimmage with one running back in the backfield -- and had just ripped off a 19-yard run to get inside the Redskins' 5-yard line. Plus, their wide receivers lined up without much sense of urgency.
In conclusion, it was logical to assume that the next play was going to be a run.
As the ball was snapped, the collective mass of offensive linemen moved to the right. But as the play progressed, a crease opened up on the backside; that's where Collins slipped through untouched to bring running back Miles Sanders spinning to the ground.
Collins strutted confidently after the play was over. There was no need for an elaborate celebration; the impact he had on the play was enough.
"He's definitely one of my favorite safeties that I've played with," said linebacker Jon Bostic. "Just how physical he is in the run game. He's smart. He can do it all back there. He just adds a whole other element."
Collins has quickly become one of the dominant leaders on Redskins' defense, and plays like the one he had in Philadelphia have become commonplace for him this year. He has 78 tackles -- 52 solo and 26 assisted -- through nine games, which leads all safeties and is tied for fourth in the league. He's on pace for 139 tackles, which would be the best in his career.
Collins works just like everyone else on the team, but he said tackling has always come naturally to him. He uses his shoulder pads rather than diving at players, which he said is more unique to his position.
"My style is different from most [defensive backs]," Collins said of the way he tackles. "Most of them are cut tacklers. They cut at the knees. If I'm cutting at the knees, it's only because the guy is far away from me and the only thing I can do is dive. All DBs tackle; not all of them do it the way I do it."
Regardless of what technique Collins is using, it's obvious he has been effective at getting opponents on the ground. Redskins cornerback Quinton Dunbar said he would put Collins' tackling ability at a 99 on Madden NFL Football (his real tackle rating on EA Sports has been at a steady 90 each week since Madden 20 launched, so Dunbar isn't too far off).
"You're not really going to see him missing stuff," Dunbar said.
Bostic said it didn't take Collins long to gel with the rest of the defense. He played a similar scheme when he was at the University of Alabama, and Bostic added that Collins has the talent to simply make a play when his number was called.
And while any of Collins' teammates will say that his tackling is on an elite level, they're also quick to point out that Collins is an extraordinarily smart player. For Bostic, who is the play caller on defense, it's comforting that Collins knows his responsibilities.
"Just being on the same defense as him and seeing how he thinks in certain situations," Bostic said. "He's a guy that you don't have to tell too much to."
Bostic has been in defenses with young safeties, but Collins stands out as a player who has "made plays since Day 1."
"Everybody knows about him," Bostic said. "There's nothing he can't do."
And Collins makes sure he shares his knowledge with his teammates. That communication, he said, is the biggest key within the defense.
"It's just breaking down the components just to make sure we're all on the same page," Collins said during training camp. "We talk more than anything. … On that part we just stay on the same page, making sure what we got to do and how we got to play it."
For Dunbar, that constant communication is vital. Like Collins, Dunbar is someone who is constantly watching film, so the two are always talking about the best way to attack an opposing offense.
"That's definitely a plus to have someone on the same page as you," Dunbar said.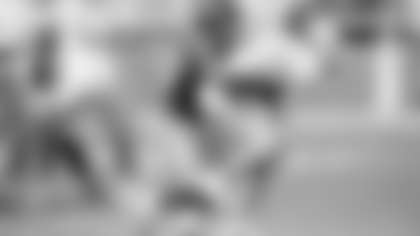 One of Collins' numerous high points this year came against the Miami Dolphins when he posted a game-high 12 tackles, a sack and two pass defenses. He was named the NFC Defensive Player of the Week -- the fourth of his career -- for that performance.
"The hard work pays off," Collins said. "You have to do it on a consistent level. It's cool to get it one time, but to get it multiple times is an honor."
Interim head coach Bill Callahan said he "loves" the way Collins plays.
"I love the way he leads our team," Callahan said. "The players get a lot of energy from him. He's a great communicator on the field and he's always in the right place at the right time. Every day he comes to work, he's focused, he works hard, he's diligent, he's smart, he's tough and he's physical."
Collins has led the team in tackles four times this season, but Callahan said his influence goes well beyond his individual stats. He listed off players on the inside of the Redskins' defense like Bostic, linebacker Cole Holcomb and defensive tackle Daron Payne and said their success is attributed to what Collins brings on game day.
"All those traits, pressure traits, coverage traits that he has and then obviously his ability to sting down a tackle with his physicality is impressive."
Collins' goals haven't changed much since joining the Redskins. He wants to finish his career in the Hall of Fame. It's a constant grind, he said, regardless of what uniform he wears on Sundaya. He's only 25 years old, so there is plenty of time to build his resume.
It's safe to say that Collins is off to a good start toward achieving that goal, though. He's a player the defense has come to rely upon regardless of the situation, and he's made so many memorable plays that his teammates cannot even pick just one that stands out.
"His overall play this year shows that," Dunbar said. "There are multiple plays I could name off. There's too many to name."