Before the flocks of Redskins tailgaters pour through the gates and set up their grills, and before FedExField starts bustling with players and fans on the field, in the seats and through the concourses, a few media members and I had the chance to preview all of the stadium's new amenities.
Since the ending of last season, the organization has made great strides at enhancing the fan experience at the stadium. Here's a closer look at some of the options and information you'll get to see and experience when you attend a Redskins game (hopefully as soon as this Sunday for the season opener!).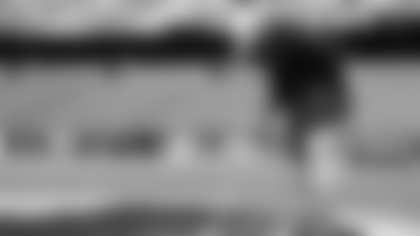 At the time we arrived to the field Friday afternoon, the grounds crew was nearly finished painting the final touches of the team logo at midfield and marking the white boundary lines. The field's preparation was three quarters of the way finished for a typical 48-hour process.
In case you were curious, the grass is Bermuda, from North Carolina, and around November, the field will get torn up and re-sod for the final stretch of the season.
After finishing painting, which I had a small hand in (!), the dry time for a day like Friday hot and sunny, is about 4-5 hours.
"I've felt excitement for this season for quite some time," said Chris Bloyer, Senior Vice President Operations and Guest Experience, who toured us around. "But I can tell you that midnight, before game day, we'll still be here, when the stadium's quiet, and everything's ready to go, that's when it's exciting."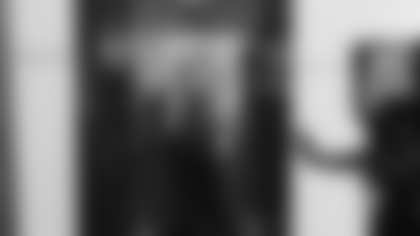 Redskins Social Lounge, Presented by Bud Light
Want something to kill the time before the game or want to stretch your legs at halftime? On the lower concourse by the south end zone, a space full of virtual options awaits to fulfill both desires.
A large TV screen offers you a chance to kick a virtual field goal. You can watch your tweets go up live onto the video board. Video game stations let you play Madden '16. A couple fan stations allow you to take photos of yourself and turn your face into a bobble head. All fun and potentially embarrassing things!
Throughout the tent space are tables and televisions to continue watching the game. Of course, you must be 21 years or older to enter the tent.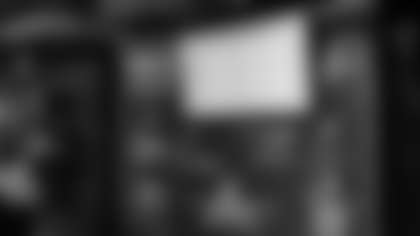 Season Ticket Holders Wall Of Fame
If you like seeing your name around places, then you'll enjoy this new corner. Across from the Social Lounge is a new Wall of Fame for tenured season ticket holders.
Names of those who have been season ticket holders from 20 years or more are displayed on a monitor beside some images of Ryan Kerrigan and DeSean Jackson.
Prizes include everything from koozies, to signed jerseys to pregame field passes.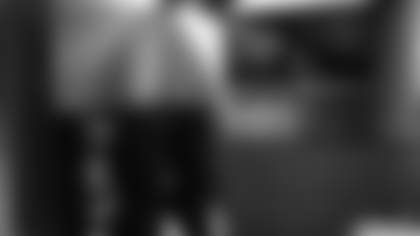 This might be the most unique thing on the tour.
The new Red Zone parking lot should attract a lot of tailgaters, hosting a stage for musical performances leading up to the game and providing larger parking spaces. Then there are the bathrooms. Yes, bathrooms.
The folks at Tailgate Sports Marketing came up with the clever idea that people want to enjoy their public bathroom experience. So, they created a bathroom trailer -- a prototype -- that has impressed many fans so far.
Outside the trailer is a broadcast of the game on a wide screen television. But inside (at least in the men's side) each bathroom has something interactive while you relieve yourself.
Sitting on the stall? Have fun playing trivia on a touch screen on the door. Need to use the urinal? Enjoy a pissing contest with friends (quite literally) as you aim your flow in conjunction to racing and soccer video games above. You aim left, the car turns left, etc.* *
"They're having so much fun," said a spokeswoman for the company. "Folks want to do an interview, they're laughing having a great time."* *
The stadium parking lots for tailgaters open at 8 a.m. That's plenty of time to give it a whirl. And the Redskins have already ordered more to come for the season.
"This restroom has 21 games inside of an air-conditioned, climate controlled space," Bloyer said. "There's live video, there's satellite, Twitter feeds and Facebook posts right from the trailer. It's a really neat experience."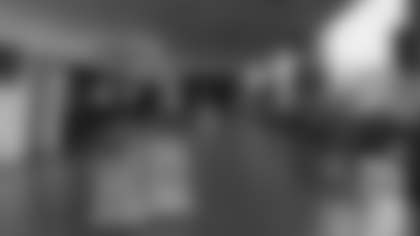 Up on the club suite level, members get special access to the EA Sports Player Lounge, which provides 16 kiosks and touch screens to play the Madden '16 video game.
Television monitors line the walls that lead to a nice full bar area. The club will stay open two hours after the game where bands will provide music and entertainment out on the deck.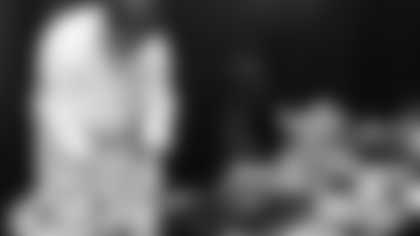 Understandably the best part of the tour, a spread of five different meals awaited us, part of more than two-dozen new food options at the stadium. All were very tasty.
Among the selection for meat lovers includes a barbecue brisket burger, a ground beef patty with brisket and bacon stacked on top below melted cheese and barbecue sauce. You can also enjoy a classic Reuben sandwich, which has brisket on a hoagie roll with brown mustard, sauerkraut and Swiss cheese.
If you want something with a little more culture, there is now the option of chicken stir-fry, with rice, peppers, broccoli and onions. Another classic is a Caribbean selection of jerk chicken, yellow rice and fried plantains. Make sure you get the plantains.
Crab cakes are now served all throughout the stadium and there are now healthy, gluten free options available for purchase, mostly in the form of salads and snacks.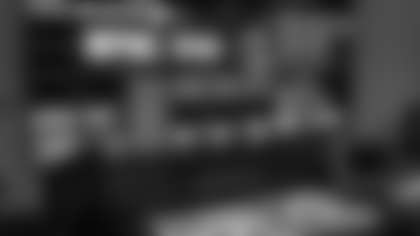 The last visit took us to the stadium's control room, the epicenter of the in-game experience. Fans, of course, are not allowed in here, but there promises to be several additions to the video board experience to get fans more engaged.
On game day, 35 people – everyone from replay operators, a DJ, and the PA announcer -- cram inside the room. Though it's usually particularly quiet once the game starts so as not to risk missing anything on the field.
New this year are more fan cams and dance cams, which encourage you to get out of your seat. There will be plenty of "Meet the Redskins" features, in which many of the new players answer questions about themselves. And after the game, you can stick around for another hour in your seats to watch live press conferences and other NFL games on the Red Zone channel, simulcast to the video board.
"We love playing at home," said Signe Hilton, director of entertainment and game production. "That's when we get to use our tools and our resources, to really make the home crowd feel a part of it. They play a role in helping us win. They're our 12th man and we rely very heavily on them to help keep our team in the game."
There is also a "Capital Punishment" graphic they hope can catch on. Here's looking at you, defense.