As a rookie in 2011, Roy Helu Jr. was the Redskins' most productive running back, piling up 1,019 yards on 200 touches.
He had the vision to find the hole and the speed to break the big play. He tallied three-straight 100-yard games and tied the franchise record for receptions in a game (14) with the great Art Monk.
But the pressure of keying a lethargic offense brought on physical and psychological stress. When leg injuries were slow to heal heading into the 2012 season, Helu Jr. admits that he lost perspective on how to enjoy his craft.
"I was capable and able to have fun, but I didn't," he told Redskins.com. "Being on the outside looking in, I was tenser and it showed on the field."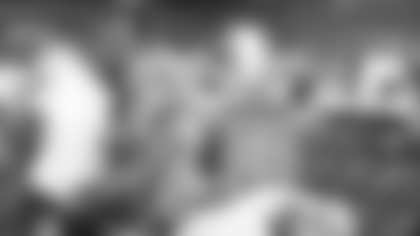 Helu Jr. was never fully healthy last year, and was placed on season-ending injured reserve following the Week 3 loss to Cincinnati, having appeared in just one game.
His tight leg muscles combined with the team's success without him made him wonder if he would ever return to form on the football field.
"I absolutely had doubt, and I had to actively participate and not feel sorry for myself," he said. "There were good days, bad days, over the nine month period [of rehab]."
Helu Jr. attributed his series of leg injuries in the NFL to tight muscles in his lower body.
Following a regimen known as dry needling, he was able to release some of the tension known as trigger points, which in turn relaxed and strengthened his muscles.
"I've seen great results from that," he said. "I still have time to recover over these next few weeks. I still need more motion in the toe, but to be out there doing my job is fun."
During OTAs and minicamp, Helu Jr. practiced with teammates for the first time since September and said that he felt physically and psychologically refreshed.
"I feel good. I feel I've gotten to the point that I can compete at a high level, and I'm thankful for that," he said. "I'm out there running a lot of plays without pain. I guess that's the best measurement."
He also credited faith and family for helping him find perspective during the rehab process.
"It's just a unique perspective of the cerebral part of the game and seeing what our coach wants," he explained. "When I came back, God gave me a prospective. I just decided it's time for me to give it a go, and have fun with it. It's been a blast.
"I decided I'm just going to have fun with football, compete and become one with my teammates. It's truly about going out there and competing and having fun."
Roy Helu Jr. returns to a backfield competition that includes incumbent starter Alfred Morris, the franchise record-holder for yards in a season, fellow third-year back Evan Royster, and a pair of rookie running backs in Jawan Jamison and Chris Thompson.
Although Helu Jr. was the starter before injury, he said he is unconcerned with the depth chart; only proving that he can help the Redskins win.
The ability to compete is reward enough at this point.
"I'm competing to make the team and competing to the best of my ability. That is more of my mindset rather than competing for a specific job," he said. "I've been competing in football for so long, that you get used to the competitiveness."
Even though the offense underwent a facelift last season, Helu Jr. said there is no change in his responsibilities as far as pass protection is concerned: just protect the quarterback at all costs.
There was a slight learning curve in picking up the rest of the playbook, but Helu Jr. is confident that it will be second nature by training camp.
"When I first got out there, I wasn't as sharp. We were so close as a [running back] group that we could finish each other's sentences, but now I'm behind.
"Some stuff I had to recall. It was a learning experience, being slow mentally. But I will be ready."
Heading into the final month before training camp, Roy Helu Jr. said he is excited to fortify his mind and body, putting him in position for his best training camp yet.
To aid in this process, he intends to return to the University of Nebraska and work out with fellow Cornhuskers for the first time as a member of the Redskins.
"Last year I didn't get a chance to do that and it will be nice to change scenery," he said with a smile. "I can improve the flexibility in my toe and continue to train hard.
"This is a big moment going into the offseason and recovering."