On June 4, the Washington, D.C. City Council unanimously voted in favor of a proclamation to recognize Thursday, June 20, 2013, as "Josh Morgan Day" in the district.
"This is actually quite an exciting opportunity," D.C. Council chairman Phil Mendelson said. "The Council adopted this resolution at our last meeting.
"This is an opportunity to not only honor a professional sports player, but also a native D.C. resident, Joshua Morgan."
Thursday is also the date of Morgan's 28th birthday.
In accepting the award, Morgan flashed his trademark smile and a quiet humility that Redskins fans have come to expect.
"I would like to thank all of my family, friends, and everybody that is close to me for just raising me to be the type of man that I am today," Morgan said. "Just always supporting, raising me the right way, teaching me the right things.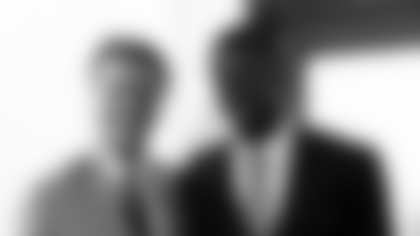 "I would like to thank Mr. [Bruce] Allen and the Washington Redskins for bringing me back home, allowing us to do what I've been doing my whole life, but to now do it for my city and everybody I grew up with.
"I just want to thank D.C. for raising me and helping me become the man I am today. I know being from D.C., it's 'put up or shut up' so I just thank y'all.
"Thank you everybody and thank you for everything."
Morgan grew up in Southeast D.C. in a neighborhood near RFK Stadium, cheering on the Redskins and raised on stories about legends like Art Monk, Sonny Jurgensen and Darrell Green.
"It's really like a dream come true," he told Redskins.com on March 15, 2012. "Washington is definitely a good fit for me."
Last season, the soft-spoken receiver led the unit in starts and receptions, setting the tone for a ferociously physical receiver corps. Morgan played all 16 games despite battling injuries in both hands and both feet.
While most players take advantage of the Tuesday in-season day off, Morgan doubled down in his hometown, attending more events on behalf of the Redskins Charitable Foundation than any other player.
Instead of resting his body, Morgan led by example and challenged teammates to match his commitment to the community.
"This is a very well-deserved honor and I applaud him for all the charity work that he does," Josh's father Dennis Morgan told Redskins.comTV. "For the way he grew up—and the fact that we are rabid sports fans—getting an athlete in our own city to come back and spread himself around is awesome for all the young folks coming up, [to know] that dreams are possible."
Week after week, Morgan headlined player appearances at Play 60 events, youth clothing distributions and holiday meal donations as part of the team's community outreach.
Out of his own resources, Josh Morgan offered free football camps to underserved children in Wards 6 and 7. He also serves as the district's spokesman for 2013 DC Ambassador for the Susan G. Komen Breast Cancer Organization, UNCF (United Negro College Fund) and LIVE United (United Way and NFL partnership for kids).
Whenever asked about his motivation for giving back, Morgan compares his life of success to friends and family that didn't have good role models as children.
"When I was younger, we didn't see anybody grown up. Nobody ever came and talked to us," he said. "We could only watch them on TV and pretend that we knew those guys like Darrell Green and stuff like that.
"For me to actually come and touch these people, in some of the same schools that I grew up in, it means that much more to these kids."
To recognize his efforts, Morgan's teammates voted him as the Redskins' 2012 NFL Walter Payton Man of the Year Award nominee. Earlier this spring, he served as the Grand Marshal for the National Cherry Blossom Parade.
"Some of the kids will see me on the street and tell me, 'one day you and your son will watch me play,'" he said. "It shows me that they are motivated to make their dreams come true."