This year represents the first time in franchise history that the Redskins will play a regular season game in London.
This year also, as Michael Hoare, the head of communication and press secretary for the British Embassy in Washington D.C., will proudly tell you, is the 70th anniversary of Winston Churchill first coining the term "the special relationship," which refers to the U.S. and the U.K.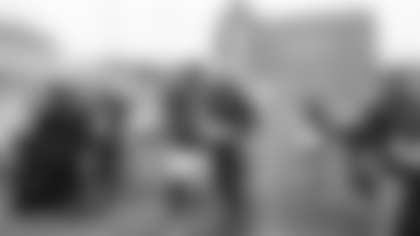 And so, in a continued effort to bridge sports and culture together, the British Embassy and the U.S. Department of State celebrated the launch of "Try Rugby USA," a campaign to grow international community outreach and youth development around rugby in the U.S., with a friendly exhibition at Cooper Field at Georgetown University on Wednesday.
Participating in the game, and helping extend the NFL's reach across the pond, was former Redskins great Ken Harvey, who traded in shoulder pads and helmet for a tight-fitting "kit" with white shorts. He needed a refresher on the rules of rugby, but playing for the U.K. team, he eventually got into the swing of the game.
"Part of what I'm trying to do is develop relationships in sports, youth in sports," said Harvey, whose wife is from England. "You can't just lock yourself into one sport. The world is so much bigger than one game. And so I'm just trying to learn and play and enjoy different sports and see what happens. The worst thing is to just sit back and do nothing."
Harvey, who has written some children's books and a movie script recently he said, works on Capitol Hill with the non-profit "Corporate Chaplains of America," trying to find athletes to help spread awareness to policymakers about bills regarding the city's youth.
On a rainy afternoon, though somewhat ideal conditions for rugby, Harvey, instead, worked on his diplomacy. After a group photo and introduction of each team's coaches, some of whom came from the Aviva Premiership, offering education sessions and coaching clinics during their visit in the U.S., the teams broke into two different sets of games.
"I think sports are international and have been used as ways to create peace, break down barriers. At the end of the day people like their sports," Harvey said. "This is my way to hopefully finding out about all these sports, get involved with a lot of sports and then using it as a tool. Whether it be to help break down barriers or develop business relationships, that's my whole goal in this process."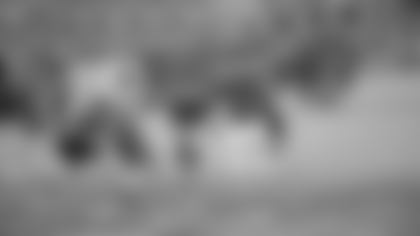 This plans to be a big year for rugby, which is the fastest growing sport in the United States. Two premiership teams will play in New Jersey in March, the first time the league has traveled abroad, and rugby will be an official sport for the upcoming Summer Olympic Games in Rio for the first time since 1924.
"I think there's a real appetite for rugby here," said Wayne Morris, the Community & Corporate Social Responsibility Director for Premiership Rugby. "It's a collision sport, it's got those great moments. It's also got some really good attributes around skillsets. So it brings all the aspects together of basketball and ice hockey and American football all into one sport."
With such a small percentage of football players from high school and college that make the NFL, rugby is increasingly becoming a second option for athletes who want to continue playing sports at a high level.
"There's a really interesting opportunity for those who aren't able to be drafted, to actually try rugby and be in the position where they can potentially make a career out of that as well," Erin Sullivan, director of Friends of the British Council USA, said.
You can count Harvey as a cross-over for just a few hours.
That he participated on Wednesday, though, was just another reminder that the Redskins will soon get to taste some of their own British culture this fall, the continued efforts of the NFL to maintain that "special relationship."
"It would have been fun," Harvey said of potentially travelling to London during his playing days. "It's an opportunity. You just realize how big the world is getting outside of just your environment. From what I've seen, from what I've read, the England fans are crazy enough to appreciate American football, so I think it's kind of exciting."