"We had to run the full length," Leroy Jackson said, perplexed, watching the end of Redskins training camp as players jogged across the width of the field.
"One thing I remember," he said, "we had pads on from the first day until it was time for the season. These guys run around in shorts. I wish we could have run around in shorts."
From just outside the owner's tent at the Bon Secours Washington Redskins Training Center, Jackson lamented a few more things that have come to define the difference in football today and football when he played it in the 1960s.
"We didn't make as much money as these guys do," Jackson said. "During the summer time, we had to have jobs. The highest paid player back when I was playing was either Jim Brown or Paul Hornig or Jim Taylor and maybe Sam Huff. That was big money and it was only 70,000 dollars. Guy steps on the field now, he makes that in a half hour."
If you don't remember Jackson, or know much about him at all, it's understandable. He was one of the first three African-American players to step onto the field for the Redskins, a running back who made his debut in 1962, though his name is often overshadowed by Bobby Mitchell and his time with the Redskins wasn't for long.
Still, he is an important part of the franchise's history, a little-known player that helped make monumental change during an era that was full of it. Jackson remains modest about those days, just as he does about most things.
"It was a camaraderie thing. It wasn't as bad as most people think it was," he said of the supposed racism on the team. "They always think about it as a racial thing but the guys really accepted you because you were there to play ball. And you were out there to try and get into the position you could get and earn a living."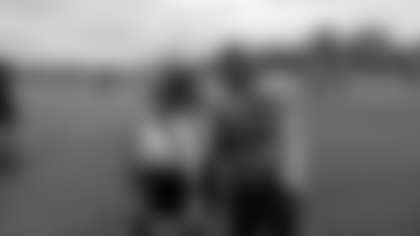 Jackson attended Western Illinois University, where he played football and excelled in track, becoming a member of the school's athletic hall of fame. At Bloom High School he was the Illinois state champion in the 100 yard dash for three years straight. His speed was something football teams desired.
But Jackson also played a little baseball in high school, too, and explained that as track coaches pushed him out of baseball to focus on running, he would sneak down to the mound on Fridays and throw pitches into the backstop. His track coach was not very pleased when he caught him.
The football memories are still fresh in his mind, though, specifically his first and only touchdown reception, a dump pass from Norm Snead on Jackson's 23rd birthday.
"It was flanker right, Bobby Mitchell right, flare halfback left, straight blocking," he said. "I come out of the backfield around the end, the tight end blocks down and sneaks out. I was the first one over and defensive back didn't know who to take. I passed him and when I got one step on him it was all over. Once I got the ball in my hand, that was it."
Jackson was able to keep in shape at his summer job, working in the department of recreation, where he said he could teach physical education.
"I worked out a lot," Jackson said. "One of the places I worked had a swimming pool."
Thanks to a family friend, Fr. Maurus Dolcic of Providence Hospital in Washington, D.C., Jackson spent the day at practice observing the position he played many years ago, with linemen much smaller than the bruisers the Redskins recently drafted.
He's been to FedExField several times and enjoys his seats behind the goalline where he can watch plays develop. He's still active in his own community, too, playing tennis with a senior citizen club. He says he has a good serve.
As players walked off the field he introduced himself to Martrell Spaight, Arie Kouandjio,Trey Williams and Robert Griffin III. They didn't know about his history or why he was there or what he means to the organization. But you get the sense that Jackson, humble as ever, prefers it that way.