Redskins fans are probably familiar with the above photo. "Let Sleeping Dogs Lie" features United States Marines deployed in Afghanistan curled up with their improvised explosive detection dog and a Redskins blanket.
Redskins fans may not be as familiar with Lillie Tilley; the woman who hand crafted that burgundy & gold blanket keeping the soldiers warm.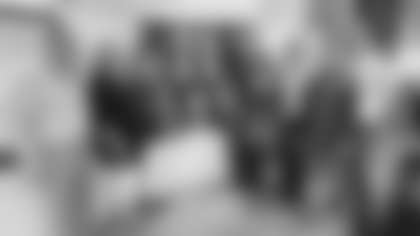 The blanket is one of more than 700 Tilley has fashioned and sent overseas as part of the Soldier's Angels care packages program over the last six years. She sews a small label with her name and address into almost every blanket and has received letters from soldiers giving their thanks.
Tilley was thanked yet again on Sunday, May 22, when she and her family were invited to admire the photo that hangs in, among many places, the conference room where players sign their contracts. She was overwhelmed to see her work on display.
"It feels great…it feels great."