"Take only memories, leave nothing but footprints." – Chief Seattle
The air was cold and the weather was rainy. In other words, it was Seattle, and the freezing, wet environment portended an offensive struggle inside of CenturyLink Field, one of the more hostile places to play in the NFL. And yet, the Redskins, injury-riddled and short-manned, played their hearts out to pick up their second victory on the road. Quarterback Trent Williams's impressive go-ahead scoring drive followed by a defensive stop sealed just the seventh regular season victory by an opponent in Seattle since 2012. The long trip to the Pacific Northwest was a worthy one.
These road games provide unique traveling experiences, ones that occur at least eight times each season, which are nothing new but are rarely documented. When does a team get to its predetermined location? How do players approach each part of their journeys? What seat on the plane do they prefer?
Defensive lineman Ziggy Hood is in his ninth season and has experienced his fair share of road trips. Here, he takes you through his itinerary and mindset during the Redskins' fourth trip of the regular season last weekend.
1. 3:30 p.m. Friday – Team Bus Departs Inova Sports Performance Center
Because it's a west coast trip, the team leaves a day earlier. This means that they have a normal day of practice and lifting before packing up their suitcases and heading out for Seattle. Hood doesn't get too serious or locked in as he prepares for the flight.
"Especially flying out across the country, you want to be relaxed," Hood says. "You don't want to be tense or uptight about anything, so you're in the back, cracking jokes with your fellow linemen, just from me speaking. We're just having a good time." 2. 4:00 p.m. Friday – Board plane at Dulles International Airport
Hood doesn't dress up too much for road trips. At this point in his career, he is content to wear whatever is comfortable, especially as he anticipates being immobile for five to six hours in a small seat. He stands out from his teammates in this way, but that doesn't seem to bother him.
"I keep it plain and simple," Hood says. "Polo, team issued if possible, some regular jeans and some shoes. I try to go as relaxed as possible. I'm not a big suit guy or anything like that. I want to be more relaxed than anything else."
3. 4:30 p.m. Friday – Plane ride
On the bigger planes, Hood sits on the aisle of the middle three-seat section of the plane. Two seats over from him is defensive lineman Terrell McClain and the two of them talk and watch movies together on the way.
"I mean, all the movies that they have on there, I've already seen, so it's basically just a re-view, like Transformers, War for the Planet of the Apes, you know things like that, Wonder Woman and all that."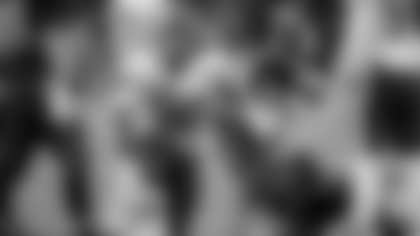 4. 7:30 p.m. Friday -- Arrive at Hotel, Seattle, Wa.
Hood's experience once the team arrives downtown is different from his teammates'. His wife is from Seattle and has taken their son, Jeremiah, with her to see family in the area. She and Hood visit John Howie Steak, "one of the best steaks and lobsters I've ever had in my entire life," Hood says." I said, 'God, man, it was good.'"
"I came back to the hotel and jumped on the Call of Duty, because that just came out, so I had my relax time," he says. "I don't do the zombies, I go on the multiplayer and go straight to it." 5. 11:30 a.m. Saturday -- Bus to University of Washington for practice
The team has a walkthrough the next day at the University of Washington practice facility. It's inside because of the weather. Hood has particular feelings about college campuses that don't belong to his alma mater.
"If it isn't the [University of] Missouri practice facility, I don't care about anybody else's campus but Mizzou's. Everybody else is trash compared to them," he says.
6. 1:30 p.m. Saturday -- Return to hotel
The team has free time for the rest of the afternoon. For Hood, that means meeting with the in-laws, who live in the city and have been spending time with his wife and son since they've been out there.
"I got to see my youngest playing around," he says. "We just had a good family time talking, relaxing, caught up on a lot of games that were happening at the time." Hood returns for mass in one of the hotel ballrooms and takes it easy for the rest of the night.
7. 9:15 a.m. Sunday – Board Bus to CenturyLink Field
Now it's time for focus. Hood departs the hotel and gets into the zone on the bus, going over the plays and game plan for the Seahawks during the short ride to the stadium.
"You're gearing up, you're going through your preparations," Hood says. "I got plays in my head that I'm going through, what I think I need to be doing, how can I help, is there anything I need to say to my D-lineman to get them going. There may not be anything I need to say because they're already prepared as it is. Just keeping my mind focused, keeping a sharp mind, making sure I have everything I need to go out there and attack. Any questions I need to ask, do it now, because once the games goes, everything is breaking apart out there."
8. 1:00 p.m. Sunday – Game begins vs. Seattle Seahawks
The Redskins pull off a stunning last-minute 17-14 victory over the Seahawks. Hood records a tackle and plays 58 of the defense's 83 snaps, helping to fill the void left by numerous injured players. The game ends in euphoria and Hood derives pleasure from quieting a raucous crowd.
"It was my first time playing in that actual stadium, and I kept hearing stories about how loud they get and all of that," Hood says. "Man, it's definitely good and quiet when you make plays out there on the defense and you slow down that crowd just a little bit. It was a good experience to do that." 9. 6:30 p.m. Sunday -- Board Plane at Seattle-Tacoma International Airport
The Redskins carry their good spirits to the plane, relaxing as they pour through the game film on the ride home. Does Hood get a chance to sleep through the red-eye?
"Nah, man, I'm 300 pounds, 6-foot-3, sitting on a plane. If I was in first class like all the coaches and stuff, I could probably sleep, but not in those seats," Hood says.
No matter, everyone on the team was interested in watching the game replay, identifying what they did right and wrong on film and sharing their thoughts with their seatmates. "Everybody was just talking, communicating, which is what a good team is supposed to do," he says.
The team doesn't arrive at the Inova Sports Performance Center at Redskins Park until after 3 a.m. The players are exhausted but, following their win, it's a much more rewarding kind of tired.
"I mean literally, I left it all out there on the field. I was just so bad, I was just exhausted tired," Hood says. "Knowing that you gave everything you got, plus we get to fly away with the victory, that's one of the best feelings to have, flying away with a victory knowing you gave everything you got."