Wes Durham, voice of the Atlanta Falcons, called in to ESPN 980's Cooley and Czabe show to preview the Week 15 matchup vs. Washington Redskins and what a win or loss would mean to the 3-10 Dirty Birds.
---
Question: Why are the Falcons 3-10 this season?
Wes Durham: "It's kind of weird that both these teams are 3-10 and seemingly one 3-10 is not as bad as the other one.
"In Atlanta's situation and to a degree, I guess the Redskins can as well, Atlanta can point to a list of decimating injuries. Everybody in the NFL can say they've had injuries but I'd harbor that anybody had the most impactful injuries that Atlanta's had.
"You start obviously with [wide receiver] Julio Jones. When the season began, they were asking Kroy Biermann to play at defensive end; in fact he was playing three different positions in kind of what Mike Nolan was doing defensively. To be honest with you it took two, two-and-a-half guys to replace what Kroy Biermann was doing.
"Then you add losing [wide receiver] Roddy White missing five ball games, losing Steven Jackson for six weeks and all of a sudden things got off the rail pretty quick.
"That and the fact that some of the bets they were hedging as far as the development of the offensive line has just not occurred. That puts Matt Ryan down the chart in yards per attempt in a figure that doesn't look to be going north in anytime soon for sure."
Q: Is this a team that can turnaround after all the injuries?
Durham: "They're starting to show signs, at least some of these young guys, that have been in the lineup whether it be injury or ineffectiveness to coming around.
"A couple of weeks ago, they were sorting the offensive line during a game, literally possession by possession they would move a guy here or move a guy there.
"Last week against Green Bay was the second-straight week where they really didn't tinker with the offensive line at all. They left Jeremy Trueblood at right tackle, they put Peter Konz at right guard, Joe Hawley at center.
"Justin Blalock, who now ironically is the only guy from a year ago, is the only guy on that offensive line who was there in that particular position a season ago. They put Lamar Holmes, the second-year kid from Southern Miss at left tackle, so they've been messing around with the offensive line but at the core they found some things.
"One, believe it or not, in Week 5 they started two college free agents at linebacker and one of them has really kind of busted to the front, and that's a kid from Delaware named Paul Worrilow, who's become kind of a tackling machine.
"Worrilow has been a bright spot for sure; Darius Johnson was a kid who came off the practice squad when Julio Jones went down. Although his numbers aren't staggering, Darius Johnson has shown some things in the receiving game that may help them make some decisions down the road.
"I think that's kind of the combination we're talking about here. Not only are they going to be consistent and develop some degree of continuity the remainder of 2013, but is it going to help them be a better football team in 2014 when it comes to free agency and the draft.
"You've obviously got to show some people what you've got before you can get to those stages as well."
Q: Some unrecognizable names on you roster, Joplo Bartu? He's now starting for you guys at weak side backer?
Durham: "Absolutely, out of mighty Waller, Texas and the Bobcats of Texas State. He's been starting there since Week 3."
Durham: "Exactly, came out early from TCU and must have figured the Horned Frogs weren't going to be very good this fall. He took his senior year off and he's come in and played pretty well.
"He and Malliciah Goodman are the two rookies at defensive end that have kind of helped offset the loss of Biermann. The loss of Biermann, to be honest with you, was as impactful to me, at least from the way I saw the success of this football team, as the loss of Julio Jones on offense.
"Biermann was the guy, combining with Umenyiora hoping to be able to develop and not miss the absence of John Abraham, but that hasn't been the case."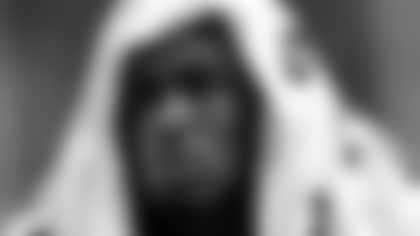 Q: Is Steven Jackson a real answer in the run game or just a one-year patch?
Durham: "It's a fair question, but I think Steven has some ability left. The problem is that he got banged up in Week 2, ironically against the Rams (his former team), and was gone for six games.
"By the time he's come back, he's just now rounded back into form in the past two weeks. To be honest with you, he's looked the best he's looked all year in the past two weeks and that might be scary for the Redskins on Sunday.
"I visited with him today at the complex and he's pretty optimistic about where he is right now and the ability to help this football team in 2014. I think he's been a great addition to this team and had he been healthy I think he would have certainly helped Atlanta's fortunes this fall."
Q: What is the atmosphere like in Atlanta?
Durham: "I think the one thing you'll find here is that the guys will suffer through this season but they know that it needs to be better in 2014. They're not going to be so down this fall to let it impact next fall.
"We're a long way from being Bobby Patrino'd and Michael Vick'd here. That was, you're waiting on something to happen every Monday afternoon whether it was the quarterback going to federal prison or the coach heading off to Arkansas.
"I think they're looking at 2014 and the end of 2013 to make sure the Falcons organization, who has had five winning seasons and four playoff appearances, doesn't go through this again.
"If that means they don't win another game and end up with the third pick of the draft or whatever, they're not going to go through this process again."