It's not a play head coach Jay Gruden "condones," but he was certainly relieved with the final result.
Nearing the end of the fourth quarter, the Redskins offense faced a third-and-6 situation on their own 37-yard line, needing a first down in hopes to waste down more clock and more Bears timeouts.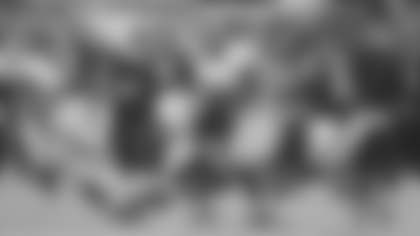 Flushed out of the pocket and circling around the backfield, quarterback Kirk Cousins threw a prayer across his body to tight end Jordan Reed in double coverage at midfield. The ball was tipped by a Bears defender, then tipped by Reed on its way down, then collected by running back Matt Jones for an 18-yard completion on his way to the ground.
After sitting up, Jones dropped the ball to his side thinking the play was over and that he had been touched down by a defender. Instead it was his teammate, wide receiver Jamison Crowder, who pulled on his jersey to help him up.
"I thought somebody touched my back so I was ready to get up," Jones said. "So I just grabbed the ball back real quick, so that was good on me to grab the ball back and be aware with my surroundings. [The] bad part [was] knowing that I wasn't down."
The ball was loose and considered a fumble but Jones somehow managed to swipe it back from Bears defenders. He ended up being a hero, a goat and then a hero all within the span of a few seconds.
"Soon as I seen the ball like batted up, I was going to go grab it at first, but I see someone hit it again, that's when I knew I could catch it and grab it and clutch it and go to the ground," Jones said. "But it was a crazy play because it was like doing scramble drill out there.
"I think as soon as I let it go, the ball hits [Bears cornerback Sherrick McManis'] hand, he was trying to get it, and it just bounced right back to me so I just secured it and just take it down."
The play kept the drive a live and ticked off some very important time from the clock. Had Jones not been rushing up the field once the play broke down and been in perfect position, the Redskins' 24-21 victory might have never been.
"Things happen in a game," Reed said. "I was just excited that he caught the ball."