The idea was hatched out of frustration.
Several years ago, Stephen Boyd visited Dallas to watch the Redskins play the Cowboys. His trip was part of a package deal that included game tickets, airfare and hotel. But he came back unsatisfied. He thought he could make the same experience better.
"I returned, did a lot of research, started taking different classes in school to find out what I wanted to do in order to reach out to people, market myself," Boyd said. "What I did was I started my own company."
It began small, just seven people, with Boyd organizing another trip to Dallas, in which he took care of tickets, transportation and lodging. People had a great time and spread the word. The venture turned into something, enough for Boyd, who works in the government, to make it a part-time business (SB Events).
So, since 2012, Boyd has organized trips for just about every Redskins road game, bringing along anywhere up to 120 people (which will happen this weekend in Dallas) with him to give Redskins fans the best possible experience of watching their team away from FedExField.
He's since become something of a cultural icon for various patches of Redskins fans. He wears a large Redskins necklace with a gold chain and carries a flag -- denoting every city and stadium he's visited -- with him to games. The fans know him simply as "Rally Captain."
"Everyone sees me and they want to be a part of something," said Boyd, who lives in the Fredericksburg area. "They see that I'm positive, they see the stadiums on the flag and they want to be a part of, first off, someone who they can trust, someone who is a representative of the team and they see that I have a great time and people come behind that and go to these games with me now."
Boyd's envoy usually leaves on Saturdays and arrives back Monday morning for a standard Sunday game. He said his coworkers and bosses have a good understanding that when it's football season, he'll be taking leave during the weekend, a reputation he built after joining a group of friends with season tickets before the 2012 season.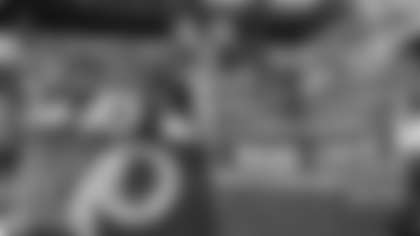 Boyd grew up a military brat in St. Louis, Mo. and started following the Redskins while living in Atlanta, Ga., around the time Doug Williams took Washington to the Super Bowl.
In recent years, though, as the team struggled and opposing fans flocked to FedExField, Boyd wanted to replicate a similar presence in opposing stadiums, continuing the traditions from the glory days in Washington.
That's happened in Phoenix, Houston, Minneapolis, Charlotte, Chicago, San Francisco, Philadelphia and New York, among plenty others. He admits somewhat disappointingly, that AT&T Stadium is the best stadium he's been to.
In many ways, it's been a difficult task primarily because the Redskins have had a difficult time winning on the road. That's changed in recent weeks, most emphatically in Philadelphia last Saturday, winning the NFC East division championship. Boyd said it was a thrill to leave a stadium with the home team's fan hanging their heads.
"I love seeing my team play," he said. "I love going to experience different stadiums and their cities, seeing something new. I also love the fact that I can be a vessel for other people who want to go but are afraid to go."
That's a big part of Boyd's commitment. He knows many people would love to visit a new place, see a new stadium and wear their burgundy and gold, but don't have the means or confidence to plan everything and travel by themselves. He's given many his trust, which means good business.
Boyd is happy with his current job enough to where he wouldn't make travel coordinating a full-time gig. Right now, he's just happy to provide the proper Redskins experience, the one he didn't get years ago, for others, and see his team compete every week right in front of him.
"God willing I will continue to do it," he said.  "Everyone asks me, 'Are you going to do a trip to this place?' And I tell people the same thing. 'God willing I will do it.'"
"I'm working on the package trip to London as we speak."