In what's become a birthday tradition, dedicated Redskins fan Melba Jacobson returned to the Bon Secours Washington Redskins Training Center to celebrate 92 years of life -- and, maybe more importantly, to watch her beloved team practice.
Surrounded again by her extended family, she sat in the VIP tent to watch morning walkthroughs and was greeted by a litany of Redskins brass, including owner Dan Snyder, team President Bruce Allen, Super Bowl-winning quarterback Joe Theismann and recently announced Ring of Fame inductee Bobby Beathard.
Each of them signed her cardboard card, displayed next to her seat, and shared some laughs and stories with her.
It was the birthday gift of all birthday gifts.
"This is my third year, I love it," Jacobson said. "It's just the excitement of seeing everybody and meeting everybody. Watching them practice and getting hugs from the guys."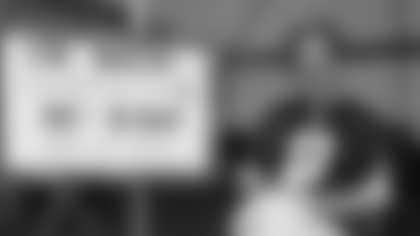 Jacobson began watching the Redskins in the early 1940s and remembered everyone from Sammy Baugh to Billy Kilmer to Theismann (who also signed her Trent Williams jersey).
She has a special connection to Baugh as a fellow Texan, but she stays current when she thinks of her favorite player today.
"Just about everybody, but right now it's Cousins," she said.