Plenty of viewers were busy that night – many watched the Packers and Cardinals game – and didn't get to see Theismann play the father of a star quarterback who injures himself and falls in love with his personal assistant.
Never fear. I've done the unthinkable and watched the movie for you. Below is a live commentary of my thoughts while watching it, which is everything you would expect out of a Hallmark movie and so much more.
I've bolded the scenes in which Theismann makes an appearance, has a couple of lines or is mentioned. You're welcome, I suppose.
Opening scene: We're in some Buffalo Wild Wings-esque bar with breakfast buffet line. Laurel (EMily Kinney), our main character, is with her best friend and they both hate sports, but for some reason they're there. In some parallel universe professional football league, San Francisco has a team called the "Miners." The team's star quarterback Danny Holland (John Reardon) "is down," we hear from the TV, after getting sacked by a "big moose." "He was fired?" Laurel asks her friend's boyfriend. No, he calmly explains. Last year's MVP is injured. Off to a great start. 
3 minutes: Next, we're in the Miners' locker room. Danny has ice on his ankle. It's not looking good. His head coach says no surgery is required but the doctor says he'll be out 6-8 weeks. He seems pretty upset by this diagnosis. His male personal assistant is also really annoying during this ordeal.
5 minutes: Laurel meets a potential new roommate, who is a personal assistant. She leaves her card. I think I know where this is going.
9 minutes: Laurel takes a job interview at a personal assistant firm and gets rejected, but then Danny's agent calls and wants a new personal assistant for his client. "Get anyone" he says. What timing! Danny isn't expecting a girl when Laurel shows up at his house. He's mad because she can't help him lift weights or something. But he consents to her service "just as long as I'm sidelined." As soon as he starts playing again, he says he's going back to being a chauvinist. Hmm.
13 minutes: All you need to know is that Laurel makes a Miners jersey for herself and people like that it fits a woman, not just a man. She looks like she now works at Buffalo Wild Wings.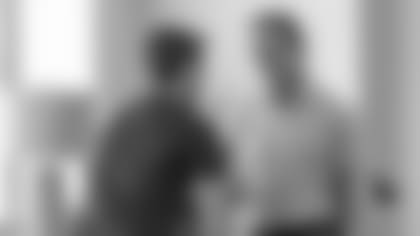 16 minutes: Joe Theismann (that's not his character name, but who cares) makes his first appearance! He's instructing workers about where to put a new bike machine in Danny's house. Danny tries to hop on the bike. "Whoa, slow down champ. What do we say in this family? Never settle for the sidelines," Theismann tells him. His acting is a little shaky at first, but Theismann starts to get more comfortable with every line. That a boy, Joe.
22 minutes: Laurel answers the door for the Miners' tight end Ron Lucas and doesn't recognize him, which becomes a whole thing. Then she starts reading Danny's "Kid's guide to football" children's book, because Danny has an affinity for literature. Teammates start calling Laurel "cute," which becomes another thing. Danny's mother and sister and tell Laurel she and Theismann are having a 35th anniversary party. Hopeless romantic chatter ensues.
34 minutes: Apparently the Miners practice at their own stadium. Apparently Laurel drives a red 1965 Ford Mustang.
44 minutes: Laurel decorates Danny's home for a date with a model but it goes poorly and the she leaves. This gives Laurel and Danny some quality bonding time in a romantic setting. He talks about his failed relationships, which are "plastered over cyberspace." Must be tough.
50 minutes: Danny finds Laurel's journal full of clothing design sketches, mistaking it for his playbook, because of course. She gets a call and tells Danny he's going to meet with some former quarterback named Marino.
53 minutes: Danny drops his phone on the floor. He and Laurel both reach their hands under the couch and briefly touch. Later we find that Danny's book proceeds go to inner city youth.
1 hr. 3 minutes: Danny tries to get on the bike when he's not supposed to and then calls Laurel to help him when he falls off. She's becoming conflicted about her ethics and her heart. I'm getting intrigued.
1 hr. 11 minutes: Danny and his teammates walk into a bar where Laurel and her friends are. Ron Lucas starts flirting with Laurel and Danny starts getting jealous. Laurel then opens up to Danny about how jocks used to pick on her. Danny consoles her beneath somber music.
1 hr. 17 minutes: Danny calls Laurel for an emergency at his home so he can kiss her. Things get awkward the next morning. In a side story, Danny also thinks that Ron Lucas is flirting with Laurel. But really, he's been eyeing up his sister.
1 hr. 30 minutes: Finally some good news! The coach told Danny he can play. Danny calls Theismann to tell him the news. Then his agent jumps for joy at the office and tells some random people at a cubicle to call the press and the networks. I guess because the team's PR staff doesn't do that kind of thing???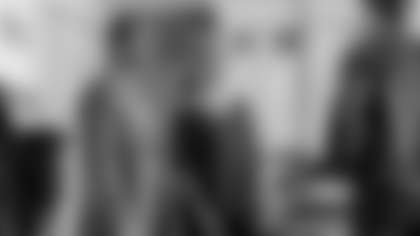 1 hr. 38 minutes: Theismann's back! He's in the kitchen with his wife waiting to congratulate Danny on his recent recovery. Danny apologizes to his parents for being unresponsive for the last few weeks. Theismann tells him not to worry. "No apology is needed," he says. What a classy father. Laurel is invited to the dinner, but she politely declines. Danny calls his agent and asks for a new assistant and then gently fires Laurel. He can't handle the romantic tension.
1 hr. 42 minutes: Laurel takes her mind off losing her job by visiting the same football bar, where there are TV screens on every wall, but tells her friend she won't watch the game. What a champ.  Danny throws a winning touchdown and the whole bar screams. Laurel takes offense because the Danny situation is still sore with her. She should probably find a new bar.
1 hr. 44 minutes: Danny' mom tells Laurel to start a women's football apparel line. Sorry, but Alyssa Milano did that like five years ago.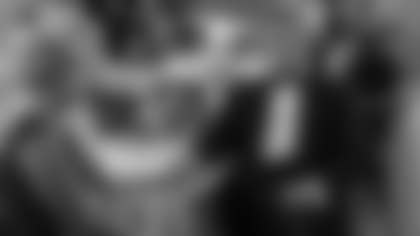 1 hr. 53 minutes: Theismann's back! He's dancing with his wife and smiling at their anniversary dinner. Danny then realizes his sister is going out with Ron Lucas. He's flabbergasted.
1 hr. 54 minutes: Theismann's back! He's listening to Danny give a speech and has a nice cutaway and a great smile. Then Joe gives a meaningful glance at his wife. Danny remembers when Joe said his wife was the prettiest girl he had ever seen. "She still is," he says with that million dollar smile. Danny raises his glass and Joe winks at him. "Cheers," he says. Danny contemplates calling Laurel and apologizing, to which Joe replies with the line of the movie:
"You're not going to stand around on the sidelines!?"
Danny decides to go find her.
"That's my boy," Joe says.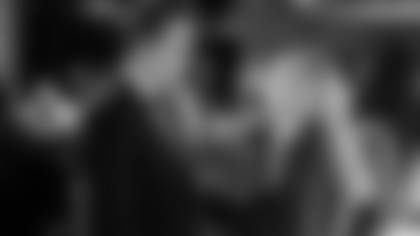 And guess where Laurel is? At that same sports bar. At this point, I'm assuming San Francisco has one bar!!!
Danny Holland walks into THE bar with a suit and nobody notices. "The truth is, I'm crazy in love with you," he says.
"Is that what you call a Hail Mary?" she says.
See you at next year's Oscars, Mr. Theismann. 
[Photo credits: Hallmark Channel]