All NFL players are human beings. That means they enjoy things outside of their profession. They have hobbies and tastes and interests just like you and me.
For Redskins tight end Niles Paul, it's going to the movies.
As he rehabs and recovers from the ankle injury he sustained at the beginning of the preseason, he also has some more free time to head to the local theater and catch up on the latest flicks, his favorite pastime.
Each week I'll sit down with Paul and we'll converse about the most recent movies he's seen, debate about their strengths and weaknesses, needlessly scrutinize or praise actors and directors, analyze his Netflix queue, and, hopefully, find another window into Paul's personality.
It's the debut of "Movie Mania with Niles Paul."
In our first conversation, we discuss his moviegoing habits, Johnny Depp, and Young Adult movies.
The Redskins Blog: Before we get this series off and running, I should ask how did you become such a movie buff?
Niles Paul: Me and my brothers and sisters, growing up, we always… there was a lot of us, so our family bonding would be going to the movies. It didn't matter what movie it was, whether it was a love story, or a horror film or a drama, we would go to it. Everybody would watch it and when we would get home everybody would talk about how they felt about it. Ever since then I became a self-proclaimed movie buff. Me and my older brother, that's all we do is see movies.
So how often do get to the theater?
With my injury, I try to get there at least once a week. I probably end up going more once I'm walking again.
Do you have a favorite place to sit inside the theater?
Second set of seats.Third row. Right in the middle.
What's your favorite genre these days?
My guilty pleasure, and I wouldn't necessarily call it a genre movie, [are] the kid movies, like "Despicable Me." I love the animated movies. I've always got to find reasons to go because my younger brother is older now. He's about to be a teenager, so he doesn't see those movies anymore. I always used him to go.
Yeah, to not look like a creep in the theater. One time I went by myself and I had to like put my hood on, and just my luck there was a third grade class watching the movie for field trip or something.
Do you go to the Alamo Draft House? What's your spot?
I've been to Alamo. I've been to all the theaters here. I go to Bramblelton.
What's the last movie you saw there?
"Black Mass." I thought Johnny Depp was amazing. He's one of those dudes that commits to the character. And no matter what movie he plays in, no matter how good or bad it is, you can count on his character.
Depp always has some ridiculous costumed effect to him. I never know what Depp is like as a human being.
Well, in "Transcendence" he was himself for a while. Then he became some weird, computer, cyber person. I think he takes on those roles because of how challenging they are. Even in ["Black Mass"], the whole plot, the storyline, I thought it was an amazing movie. At times it got a little boring, and I feel like for some people, they need that action – aliens or things blowing up. But "Black Mass" and "American Hustle" and movies like that are movies that do well at the box office. They're movies with the best storylines to them, best plots, maybe less action, [but] you learn to appreciate them.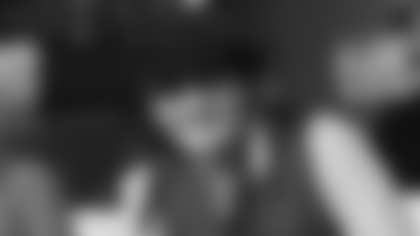 What are you looking forward to next week?
I need to go see "The Martian." I need to go see "Maze Runner."
Tell me about "Maze Runner." I like "The Hunger Games," but you're really into the Young Adult action genre?
"The Hunger Games" is my favorite one. I've read the books of "The Hunger Games" so I Iove those movies. "Divergent" – the first one it was OK. I understood it, because I never read those books, and they're all eerily similar. So I gave it a chance. I ended up liking the lead star.
Yeah, because she played in "The Fault In Our Stars" and she did an amazing job in that. So I liked her and then I came to watch "Insurgent." I've got to finish this series now. It's not one of my favorite trilogies, but I feel like I've committed to it already.
The first one. I've never read the books or anything. The lead actor in that, I know him from a TV show that I watch on MTV.
"Teen Wolf" [laughing]. I know him from that. I said, "Oh, look at him making it." In "Teen Wolf" he's not even the main character, he's a backup co-star. I like "Maze Runner" though. I chose not to read the books because it would ruin the movie for me, because I'd be expecting all this to happen. Have you ever seen the movie "The Last Airbender" from M. Night Shyamalan?
No, I heard it was awful.
Yeah, he ruined it, but everyone went to go see it.