All NFL players are human beings. That means they enjoy things outside of their profession. They have hobbies and tastes and interests just like you and me.
For Redskins tight end Niles Paul, it's going to the movies.
As he enjoys the offseason and rehabs and recovers from the ankle injury he sustained at the beginning of last preseason, he always makes some free time to head to the local theater and catch up on the latest flicks, his favorite pastime.
Every week or so I'll sit down with Paul and we'll converse about the most recent movies he's seen, debate about their strengths and weaknesses, needlessly scrutinize or praise actors and directors, analyze his Netflix queue, and, hopefully, find another window into Paul's personality.
In our latest conversation, we discuss the new Marvel movie "Captain America: Civil War" and Paul explains his "Rambo" character on the field.
The last time we talked, two Superheroes were battling each other. This time we're talking and more superheroes are battling each other. Do you like this trend right now?
Yeah, I love it. This one was way better than [Batman v Superman]. This is probably one of my favorite superhero movies -- hands down my favorite Marvel movie. I think they nailed the characters. They got Spider-Man down pat. He was nerdy -- he wasn't too nerdy, he wasn't too cool – and his humor was perfect. He was strong. He caught the Winter Soldier's punch. He was lowkey giving Captain America and everybody their work.
He's a teenager, finally. I know in other movies they had him as a teenager but he looked old. Black Panther, I thought he was amazing. I think they nailed him. It was perfect. Ant-Man was the perfect comedic relief to this movie. Everybody had their roles, but Ant-Man made me laugh. They incorporated him perfectly into the movie.
Are you surprised this wasn't just called "Avengers 3: Civil War?"
I'm surprised it wasn't, but I understand why it was Captain [America's] because Captain was fighting for Bucky. I wasn't really feeling Iron Man. He kind of got on my nerves in this movie until the end. Then I understood what was going on.
Do you think Captain America is an interesting character still? I find him pretty boring. This movie gives him a little bit of a wrinkle though.
At first I would agree with you. But now I think this movie kind of set a standard for what Captain America really is. I used to call Captain America some dude on steroids, but he was holding his own this whole movie.
His morals, he stayed true to his morals and he was down for his boy and he wouldn't let him take out his boy. I see you, Captain America. He did his thing.
Is there any part of you that is tired of the Marvel movies?
I'm not [tired]. I think this movie just made me more excited for the Black Panther movie that's coming up. They're introducing so many more characters and I'm just like "Yes!"
Did you read the comics a lot when you were a kid?
I read the comics when I was little. I don't know Black Panther's story. I'm not going to act like I did. I don't know anything about him. I have to go back and research about him. I'm excited to get to know his character.
How much would you say your love for the comic books is contributing to the fact that you love these movies? Do you need to like the comic books as a moviegoer?
I think the comic books are maybe jading my opinion of the movie. I can sit through three or four hours of that any day. I wish they would drop them back to back because I'm in there. I won't get tired of them. They add new characters and it makes me want to go back and read more about certain characters.
Did you have one character in the Marvel Universe that you were attached to?
My favorite Marvel character all-time was hands down Spider-Man. But they just introduced him.
But they got him. I was so hype when they finally got it. I love how they introduced him. I love how they set it up.
Iron Man gave him a nice suit, too.
I love how they did all that.
I think that was the best scene in the movie in terms of dialogue.
Yeah. Before him…Hulk. He's probably my favorite. You incorporate the Hulk in any situation and it's dead. He was hands down one of my favorite Marvel characters. Still is one of my favorite. Seeing him develop throughout "The Avengers" was pretty dope.
The central theme of this movie was whether you want the United Nations to regulate superheroes, or let them reign free. If you're a superhero, what's your stance? Team Iron Man (regulation) or Team Captain America (freedom)?
I was Team Captain. I think I started on Team Iron Man, but after watching the movie, I'm Team Captain America. Not only did these people save the world multiple times from immediate threats, there would be no earth if it weren't  for these individuals.
Right, it's funny. New York City can get destroyed, or the entire earth can get destroyed. What do you choose?
A handful of people in Wakanda can get destroyed or [Scarlet Witch] saved hundreds of people from being killed. You're not looking at the bigger picture. Those deaths happened, it's sad, but they saved so many more people.
Right. It seems like a discussion that's at the center of the drone debate in this country.
When the lady was making Iron Man feel bad about her son. I was like, [Ultron] was about to destroy the whole universe. He was about to blow up the earth. What do you mean? Yes, your son was a casualty, but you're alive. I'm sure whoever else was in your family, none of them would have been alive. Your existence, you wouldn't be here it wasn't for them. I don't understand how he let that get to him. At the end of the day we're doing everything for the greater good. It's not like they were just being reckless. Yeah the Hulk might have been a little reckless, but the government did that to him anyways.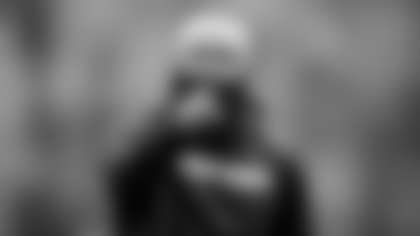 Lastly, you had the "Rambo" headband on this week in practice. Are you a huge "Rambo" movie fan? Is that why you changed your Twitter name, too?
I am. A couple years ago, before Bacarri Rambo got here – most people think [I chose Rambo] because I heard a song dropped by an artist and the song was called Rambo. No, it's not. I was Rambo before "Rambo" dropped. I was Rambo four years ago because Santana [Moss], after one of my fines, when I played the St. Louis Rams, I got a $20,000 fine for a hit. And Santana Moss, my OG, just started calling me Rambo, and I just kind of ran with it, because I'm violent. He was like "You play violent." So I embraced it. But Bacarri Rambo came here and that was his name. So I had to dead it before it could even ignite. That was two years in, my name was catching on, and then he came and I had to shut it down.
So there was a statute of limitations with his departure…
[Laughing] Yeah, I let it sit. And now I'm back. Rambo.
Sly Stallone had a big impact I would imagine as a kid then?
He did. He was my Rocky, Rambo...
Have you seen every "Rambo?"
I have seen every "Rambo." But do I remember them all? That's a different question. I would have to watch them all again to tell you my favorite.
On the field you'll have the helmet on, but you'll have the headband on metaphorically?
No, I'm going to try to see if I can find a thinner – I don't know what kind of material I can find, but I'm going to see if I can find a scarf or a looped-in headband so I can actually have my Rambo on in the field.
And does the beard stay this season?
The beard stays. It's not going anywhere
So that's part of your Rambo character?
This is me. I'm Rambo. Embrace it.