A weekly story on what Washington Commanders players are doing to give back to their communities.
Last Tuesday, James Smith-Williams started his day by helping Dunkin Donuts serve coffee and Halloween-themed donuts to staff and patients at Children's National Hospital in D.C. Smith-Williams took pictures with hospital staff, met with patients and families also helped Dunkin with their tabling and prep for the Hospital Boo Tour they run every year around Halloween.
"These hospital workers have a stressful and difficult job, so it was great to just laugh, joke around and hang out with everyone there," Smith-William said.
That evening, the defensive end hosted a private screening of "Black Adam" at the Alamo Drafthouse Cinema in Loudon, VA for members of Independence High School's varsity football team. The 25 young men and two coaches from the Ashburn, VA high school were treated to free popcorn and drinks throughout the movie. After the event, Smith-Williams talked about the importance of having strong support systems, the value of asking for help, exhibiting good character and ways to manage relationships with respect and dignity.
"The whole idea behind this event is fellowship and brotherhood," Smith-Williams said. "They asked me about how I managed my stress, what life is like at this level, what does it take, so it was a lot of fun."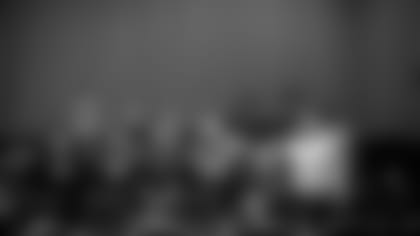 For the last 4-5 weeks, Daniel Wise has been working with D.C.'s "The Good Project," an initiative that promotes excellence, engagement and ethics in education with the goal of preparing people to become good workers and good citizens who contribute to the overall well-being of society. Wise regularly meets with a group of middle schoolers who have been flagged for attendance issues and speaks with them about the importance of going to school and getting to school on time. Last Tuesday, he was joined by DMV-born singer Ari Lennox. The attendance group, Wise notes with excitement, is getting smaller and smaller each week.
"It's all about speaking uplifting words. We just encourage them and let them know that someone else cares," Wise said. "It's important to me to get out the community however I can, be a positive light and spread some love."