Washington Redskins tight end Logan Paulsen knows a thing or two about labels.
Conventional tight end. Prototypical blocking tight end. Throwback player. Lumberjack.
These are all terms that have been used to describe and confine the fourth-year tight end out of UCLA that no NFL team was willing to spend a draft pick on.
As of Sunday, all he will have done since catching on with the Redskins is contribute in 55 games, appearing in 54-straight dating back to Week 7 of his rookie season. Only London Fletcher, DeAngelo Hall and Will Montgomery have longer active streaks of appearances in the burgundy and gold.
He leads the team in starts at tight end this season (10) and has been atop the team's depth chart for more than a month. Never one to draw attention to himself, Paulsen brings a businesslike approach to football and says he is OK with slipping through the cracks unnoticed.
That's exactly what happened on Sunday Night vs. the New York Giants, when Paulsen caught his career-high second touchdown of the season for the team's second score.
"I really pride myself in being physical in the running game and being a good pass protector; but when the ball is thrown to me, I've got to catch it," he said. "I think to be a complete tight end, you got to be good at both of those things.
"Just being as well-rounded and complete a player as I can possibly be. If you want to be that you have to take pride in all facets."
That's an uncommon mantra in a day and age where receiving tight ends rule the NFL landscape. Looking around the league, Paulsen doesn't see many peers playing his same position.
"I definitely think the way the position is going, now it's more to that athletic body type. Guys like me, while necessary, are kind of a dying breed," he said, reflecting. "Some teams use offensive linemen at tight end, some teams use big receivers.
"It's not an essential component of the position to block like it was ten years ago. You're looking at a transition to guys like Jordan Reed, Rob Gronkowski, and Jimmy Graham—guys like that."
Growing up playing soccer in California, Paulsen sometimes ponders whether he would have made it in the NFL if he were 10 years younger. Franchise running backs seem to be a dying breed as well, so why not their blockers?
"That's a really good question, and I don't know if I would have a job," he said. "Coming out of college, some teams wanted me to play offensive tackle.
"If I would have played in a spread offense in college, there is not really a place for me on offense, in terms of my body type and my athleticism. I might have played defensive line or tackle and if the position keeps evolving like the way it is now guys like me are going to get phased out a little bit."
For the second time since his arrival in Washington (including converted receiver Niles Paul), the Redskins drafted a tight end in April, taking Jordan Reed with the 85th overall pick.
The rookie out of Florida has made an instant impact on the team, breaking the franchise marks for receptions (45) and yards (499) by a rookie tight end. Reed also started four games paired with Paulsen as a second tight end.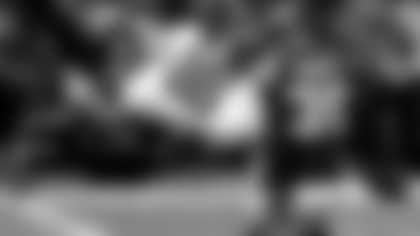 Paulsen said he couldn't be happier with the situation, as both players have defined roles in the offense.
"It hasn't really been a huge change in the sense of what I was doing last year," he explained. "At least right now, I am more of a conventional tight end and he is more of a receiving threat; a guy that is going to win one-on-one matchups in the receiving game.
"Those opportunities haven't really conflicted. I do what I do, he does what he does."
As far as what Paulsen does, he made every effort to make sure he can do more, starting with his offseason training, which involved a new wrinkle: basketball.
In an age where NFL scouts attend the Final Four basketball tournament in search of talent, Paulsen—a non-basketball product—figured he would give it a shot.
"I played a little more basketball this offseason because a lot of the upper echelon players like Jimmy Graham, Tony Gonzalez and Antonio Gates they played basketball in college," he explained. "Talking to our strength coach, it's something that can really help me athletically and with my body control.
"It's subtle, but I feel like it's helped with catching radius, body position and going up for a ball. It gives you more of a natural feeling.
"Like running routes, if you cross a guy up, you're working those fast twitch muscles to win a one-on-one match up. I feel like it's helped me a little bit on the field."
There are also inherent dangers in cross-training, especially with hyper-competitive athletes. But Paulsen had a good training partner in his wife, who played collegiate basketball.
"She's really good and there are times I can win because I'm bigger, but she's much more skilled than me," he said with a laugh. "I'm not going to say I let her win but she's very competitive. She has beaten me.
"I had a good group of people that understood my tempo and goals, so I feel like it really helped me. I want to put myself in the best position to be successful and that's what I had to do to be successful."
Asked who his favorite NBA star was, Paulsen said he had to give it to Byrd: "Larry Bird because Larry was a try-hard guy and I'm a try-hard guy."
Byrd just didn't have to chip DeMarcus Ware on third downs.