If it feels like a betrayal that Peter Rosenberg, a Montgomery County, Md., native and lifelong Redskins fan, is friends with Victor Cruz and works as a radio host in New York City, you're not paying close attention.
A longtime staple hip-hop DJ for New York's nationally syndicated Hot 97 station with a morning and late night show, and a frequent contributor to the ESPN-affiliated Michael Kay Show (he got Kay to wear a "You Like That" shirt one day, see below) and Ryen Russillo show in the afternoons, Rosenberg is one of the hardest working voices in the industry. But that doesn't stop him from injecting his passion for his childhood team with every opportunity he gets.
"I bring up the Redskins so much that it's a point of annoyance," Rosenberg said in a recent phone interview.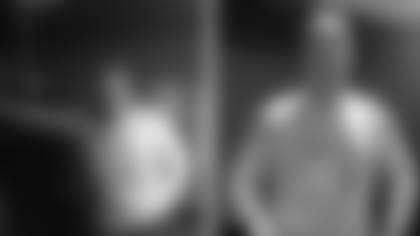 "I just don't care," he said. "That's who I am. Generally what makes the great radio personality in my opinion is honesty, so I could never fake it any way. I guess I could downplay it, but it's just now who I am. I've been around a long time. I believe you can get away more with being an out of town fan here than there. New York is a city that's completely made up of people from everywhere – it's what being a part of New York means."
Of course, then he stops and says he would never listen to a Cowboys fan on ESPN 980, not that that would happen anyways.
Aside from his daily radio duties, which involve promoting new hip-hop artists and hosting music events throughout the city, Rosenberg added some television on his resume, hosting MTV2's "Hip Hop Squares" and creating the interview show "Noisemakers." He's interviewed everyone from Jay-Z, Eminem, Snoop-Dog, Kendrick Lamar and Nicki Minaj.
That he now chats about sports, too, only adds to his list of passions and gives him the liberty to pester New York listeners with a Washington, D.C. area perspective.
"Yeah, they know. Everyone knows [I'm a fan]," Rosenberg said. "I'm wearing a Redskins hat right now. I'm very vocal about it and I'm always friends with players on the New York teams, I'm always talking trash…I'm pretty religious about them. It's not like I can hide it."
Rosenberg grew up in Chevy Chase, Md., and eventually attended Bethesda-Chevy Chase High School. His parents weren't big sports fans, so he relied on his friend to teach him about football. As an 8-year old approaching the 1987 season, it wasn't too difficult to latch onto the Redskins.
Doug Williams under center leading Washington to a Super Bowl victory that year sealed the deal.
"Their win in the championship game over Minnesota in '87-88, that win was the first win I remember really celebrating," Rosenberg said. "And then the Super Bowl I remember really well."
Back then, attending RFK Stadium was a big deal for him. He remembered his first game – his dad had scored tickets through his friends – the first week after the strike.
"Going to a game in those days was a big deal," Rosenberg said. "The waiting list and how difficult it was to get tickets to a game in the late 80s was unbelievable. It was as challenging a ticket that existed. It's not like now where you can go over to Stubhub. You just couldn't get tickets. You could try to scalp and get in, but getting tickets wasn't really a thing. The waiting list was 20 years long, so when I found out I was going it was like a freak-out."
Rosenberg gets nostalgic about those days and the dominance the Redskins had in the 1980s.
"The walk up to the stadium, with people playing Go-Go on the pales, it was a real D.C. experience in every way," he said. "Taking the subway downtown. Then, of course, the bleachers rocking."
Rosenberg has remained loyal since those foundational experiences. Even in the chaos and demanding schedule of his job, Rosenberg refuses to let anything come between him and his team, devotion at a "psychotic level," which includes wearing a rotation of 20 different Redskins hats, a different one every day.
"I don't miss a game under any circumstance," Rosenberg said. "I watched in Africa on my honeymoon… Even for the meaningless game, I don't go to the beach. I stay home and stream the game in the hotel room. We can be 3-12 and I will be in the hotel room. I have to watch every snap. I occasionally miss snaps from the preseason but I do not miss a regular season snap no matter where I am."
He went to three games this past season – one in New York, one in Atlanta, and the home playoff game – and lamented that he saw more than a third of a their losses in person. His fandom is not myopic, though. With enough experience in both the music and sports industries, Rosenberg tiptoes the line between his head and heart.
"I'm definitely excited," he said of the current team. "I will not downplay how crazy the end of last season was. It was absolutely thrilling and I loved it. As time has gone on since the season ended, I've tempered my excitement a little bit.
"I want to see this deal with Kirk [Cousins] get done," he added. "I know it will, but it's a hard spot for the Redskins as a franchise. You don't want to completely overpay even though you do believe in the kid and we all want him to be great, and we know he can be. I think it's a hard situation because it was one good year. But you want to see another one put on top of it. I'm not trying to hold him to a hard standard… you don't want to sour him on the franchise, you want him to feel appreciated, but you also don't want to be dummies who go throw out $25 million a year. It's a tough line."
His next big project will be a podcast with Mike Tyson (he's also a boxing/wrestling buff), in which the former boxing champ, when he's not making local Michael and Sons commercials, will divulge details and stories about his life, sometimes with a guest.
Rosenberg didn't see the Tyson commercial during the Super Bowl but got a lot of texts from friends about it. In an ideal world, he'd be the one sending those texts, having the same career, but doing it inside his home city, talking Redskins with other fans like him.
For now, he just hopes D.C. tunes in.
"I would be lying if I said I didn't want more recognition because it's home," Rosenberg said. "D.C. is not the city I go to and get recognized after New York. In your hometown, you want to be a hometown hero, and especially because I'm such a public fan, I would love for people to really know that in D.C. we have a guy who has a presence nationally."